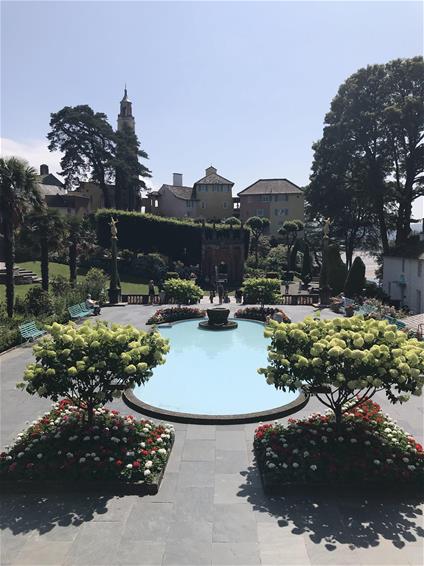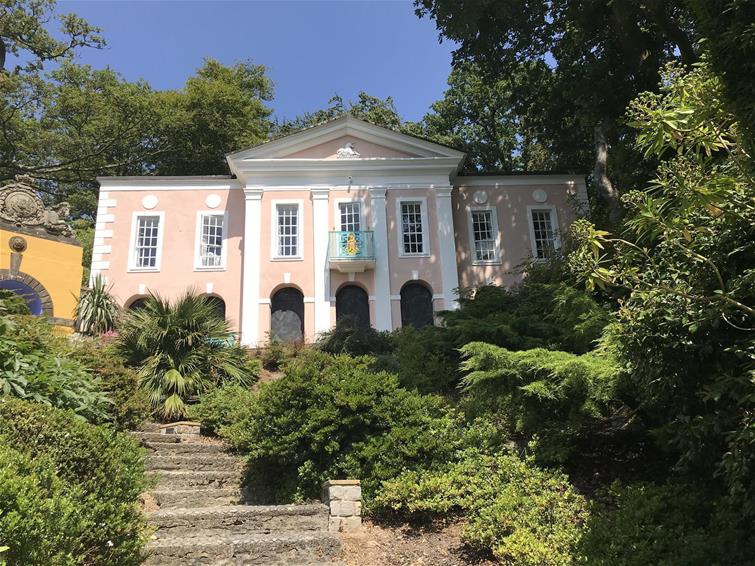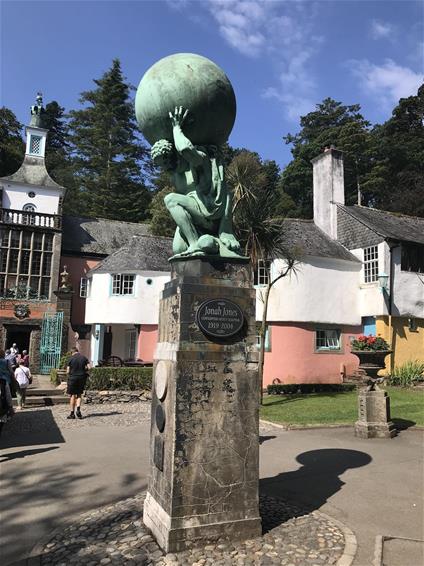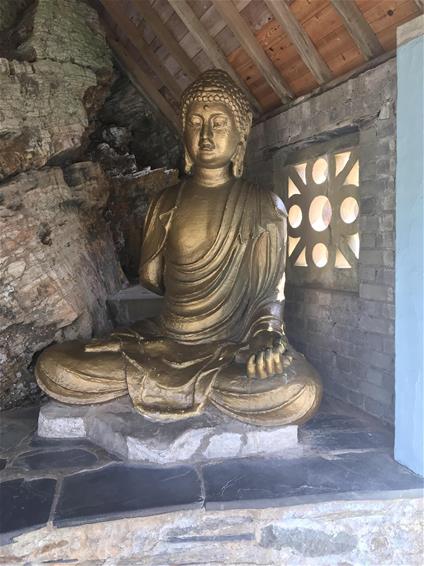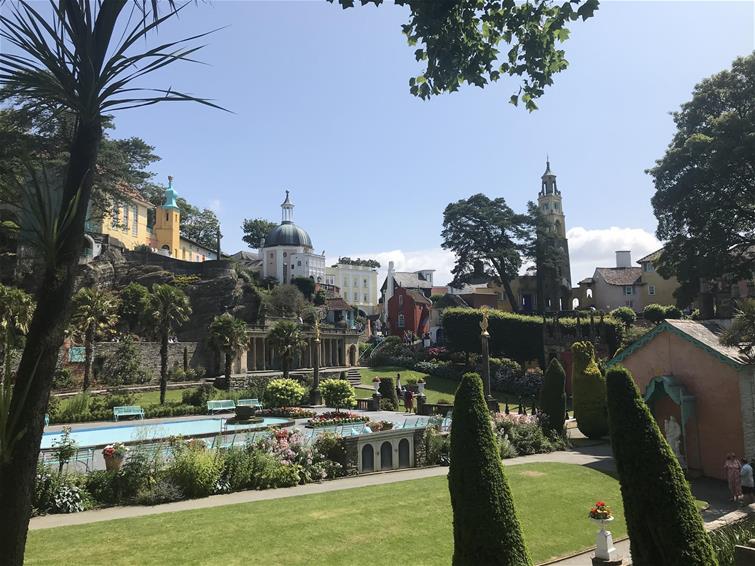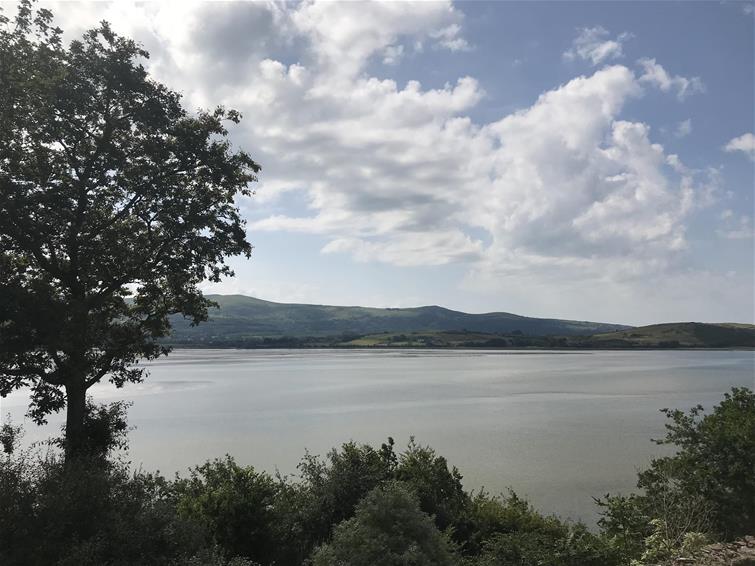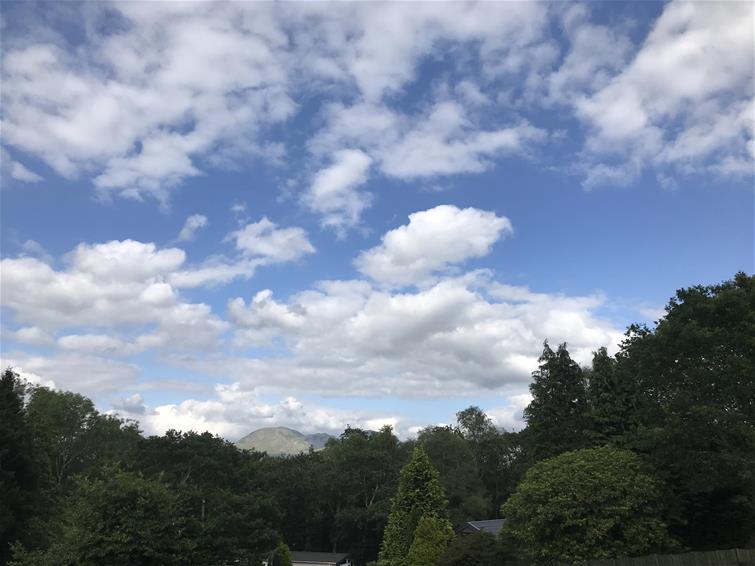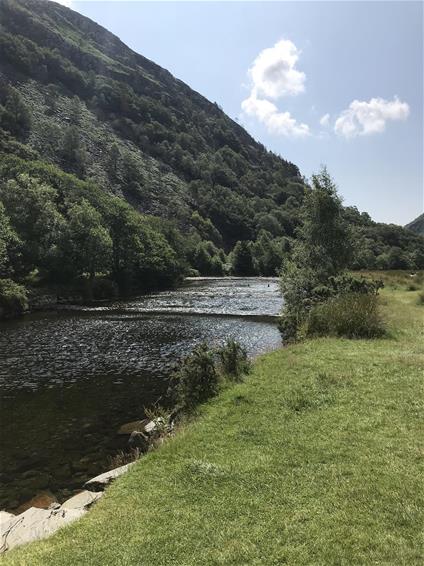 What a perfect couple of days in Snowdonia in mid-July!
Created by Sir Clough Williams-Ellis, Portmeirion was built to show how a beautiful site could be developed without spoiling it and is now one of Wales' most popular tourist destinations.
Situated on a private peninsula overlooking stunning coastal scenery, the Italian Riviera meets rural Wales with a riot of colour and architectural styles at Portmeirion Village.
Perhaps best known for as the location for the 1960s cult TV series The Prisoner ("I am not a number, I am a free man!"), there is much more to this beautiful village than a TV location. There is as you would expect a Prisoner tour each day at 2.30 but we missed this due to our leisurely lunch.
It comprises a cluster of colour-washed buildings around a central piazza, scenic surroundings and extensive woodlands, two hotels, historic cottages, gift shops, spa & award-winning restaurants.
Using an eco-friendly approach, he designed his architectural vision around a Mediterranean piazza. Endangered buildings and unwanted artefacts from all over the globe were transported and rebuilt to create a nest of loggias, grand porticoes and tiny terracotta-roofed houses, painted in bright colours.
You can learn more about Williams-Ellis's vision at the self-narrated, not to be missed audio visual show, which is held in a tiny room that seats about 20 people. A complimentary train ride through the Gywllt or woodland offers up unusual pagodas and eye-watering views.
We were advised if you pay in advance for lunch at the Castell Deudraeth entrance to the village was free – so as the brasserie looked extremely inviting, we decided to do this. After a morning exploring it offered a lovely change of scenery and was much quieter than in the village. This saves £12 per adult entrance fee and then you just pay for lunch.
We ate in the brasserie overlooking the garden, I had the Mussels while my friend had the tradition fish and chips – both were excellent and not too expensive (£15 per main). An expansive wine list also helped to while away a couple of hours.
Back to the village down a shaded trail which takes about 5 minutes, then a stroll along the coastal path which is a private path which is about 4 miles long – didn't do the full length as a drink at the quayside at Hotel Portmeirion was calling. A beautiful place to watch the tides in the estuary while enjoying the sunshine.
The village closes at 5.30pm unless you are resident in the hotels or cottages, which is a shame as it would have been lovely to stay to watch the sunset.
We didn't stay in the village but in a lovely manor house in the grounds of an upmarket holiday home park about 6 miles away. The Aberdunant Hall Country Hotel is highly recommended as a haven of peace in a beautiful setting in Snowdonia National Park. Excellent food and accommodation with exceptional views.
After a good night's rest we headed off to the village of Beddgelert which is a 3 mile drive away from the hotel. Famous for the story of Prince Llewelyn who went on a hunting trip and left his infant son in the charge of his faithful dog Gelert. On his return, the Prince was greeted by Gelert, who noticed the dog's muzzle was soaked in blood, and his son was nowhere to be seen. Llewelyn attacked the dog and killed him. However, within minutes he heard a cry and stumbled through nearby bushes to find his son, safe in his cradle. Beside the cradle lay the body of a giant wolf covered with wounds, the result of a fight to the death with his faithful dog Gelert.
Made up or true it doesn't really matter as there are some beautiful walks in the meadows by the side of the River Glaslyn, including a special spot for Gelert's Grave. Cafes and pubs in the tiny village offer home cooked food.
This area of outstanding natural beauty should definitely be on your bucket list of places to visit – sometimes you feel as if you could be anywhere in the world, with the lush vegetation and jaw-dropping mountain views but everywhere we went we received a very warm Welsh welcome.