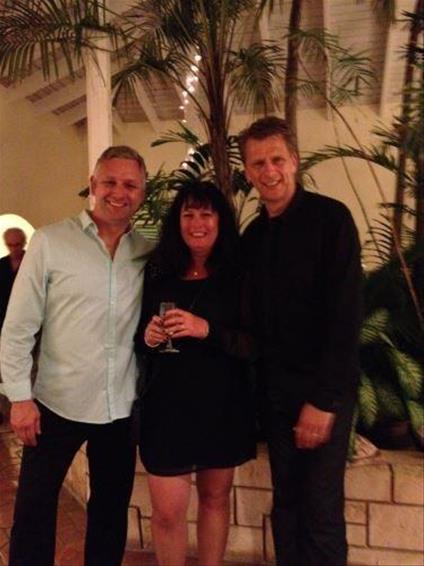 We travelled to Island of Antigua in the month of November.
I had travelled to Antigua before however to different accommodation. We decided to do a two centre so we could get a different feel for the locations and hotels
Our first stay was Blue Waters on the northwestern corner of Antigua. I would thoroughly recommend this hotel, it is set in 17 acres of beautiful tropical gardens and has everything to offer the perfect relaxing holiday together with excellent service from the staff where nothing is too much trouble for them.
Our 7 night stay here consisted of relaxing on the beach, swimming in the beautiful Caribbean sea, lounging around the pool, playing tennis and eating at the 3 restaurants.
Our room was a one of the beautiful Cove Suites. The Cove Suites' premier services and facilities make them one of the most luxurious accommodations in the entire Caribbean. The Cove Suites are amazing as there is 6 in each block so if there is a large group of friends or family these are ideal as you have seclusion and privacy. The Suites are set apart from the main resort, you will appreciate the Cove Suites' intimate location, set apart from the main resort. What I liked most was the swimming pool which are exclusive to every Cove Suite building.
You have uninterrupted views of the Caribbean Sea, without ever having to worry about getting up for a drink, as a dedicated bar service is available. Although we did not use the facility during the day it was handy at night when we would go to dinner to call reception and they would send you a golf buggy! Another niche feature is the Concierge Service which is available 8am-6pm. When we checked in we were given a mobile phone to place calls to the concierge, food & beverage operations and the management team, so no matter where you are in the resort, you'll only be one phone call away from added luxury!
Our amazing Suite overlooked the crystal clear Caribbean Sea, we had a huge bathroom and a large living area and the bed was huge and so comfy!
Restaurants – we would eat breakfast in the Palm Restaurant which was an amazing buffet, I have never seen so many varieties of fruit - I was in 7th heaven! Lunch would be either in the Palm or Carolyn's beach bar and restaurant where they serve lunchtime snacks, salads and smoothies and there is also the Pelican Bar or Veronica's poolside bar for daytime or evening refreshments. Bartley's restaurant name after Mrs Bartley who has been a housekeeper for over 50 years at Blue Waters and is open 3 times a week. We ate here on those 3 applicable nights, where they serve authentic Caribbean dishes. But our favorite was the Cove the stunning setting, wonderful views and amazing food. The Cove Restaurant offers a traditional fine dining option for dinner only in a fabulous cliff top setting.
Blue Waters offers 2 sandy beaches, 3 swimming pools (one for adults only), a Jacuzzi, tennis court, fitness center, complimentary WIFI and complimentary non-motorized watersports including kayaking, sailing, windsurfing and snorkeling. There's also a Spa where they offer a range of Elemis treatments, and for the kids there is a kids' club operating 6 days a week for ages 4-12 yrs, as well as a crèche for infants (a local charge applies for the crèche).
We did decide to venture out one day and visit the capital St Johns, we arranged our transportation through the hotel. The main attraction here is the duty free shopping however the town was full of cruise ships with at least 4 in port. Once the cruise passengers departed the town was much nicer and easier to get around, there's a cool little market which sells local arts and crafts but other than that not a great deal to see and a few hours is plenty.
So after 7 nights at Blue Waters we departed for Curtain Bluff where we stayed for our last 2 nights. The transfer time is approx. 40 minutes as Curtain Bluff is on the South Coast. It has a very laid back feel and the property and surrounding areas are stunning. We were shown to our room which was a junior suite just a stone's throw from Surf Beach, we sat on the balcony and listened to the sound of the surf - pure paradise.
There are two beaches at Curtain Bluff:
Surf Beach, this beach has great surf and generally more chilled out with an amazing stretch of golden sand and palm trees as well as the swinging hammocks.
Bay Beach has a Café and Bar as well as the swimming pool, basketball courts and Shuffle Boards. The water here is calm and clear, perfect for swimming, sailing a Hobie and kayaking.
Restaurants – We had breakfast in the Tamarind Tree, on our first night we ate in Seagrape under the stars and listening to the waves lapping against the shore very romantic.
On our 2nd day we took the full day boat trip to Barbuda, you catch the boat from St Johns and we were told it was a 45 minute journey but unfortunately it turned into 2 hours, the crossing was very rough and I would definitely recommend taking travel sickness pills. I did but poor John didn't and he was really poorly :(. However once we got there it was worth the horrendous journey, miles and miles of pristine sand and clear blue water where you were able to snorkel off shore. We had around 3 hours on the island which also included a BBQ with unlimited drinks on both the BBQ and boat. Thankfully the sailing back was a lot smoother!
This was our final night and we were lucky enough to be invited to a private party hosted by the owner of Curtain Bluff Chelle Hulford. It was an amazing night as we were able to meet the tennis players Andrew Castle and Annabelle Croft as they host a tennis clinic every November, together with the legendary West Indian bowler Courtney Walsh. This was a fantastic end to a wonderful holiday.
I would recommend Antigua to anyone who wants to enjoy excellent accommodation, fantastic food and a relaxing holiday.