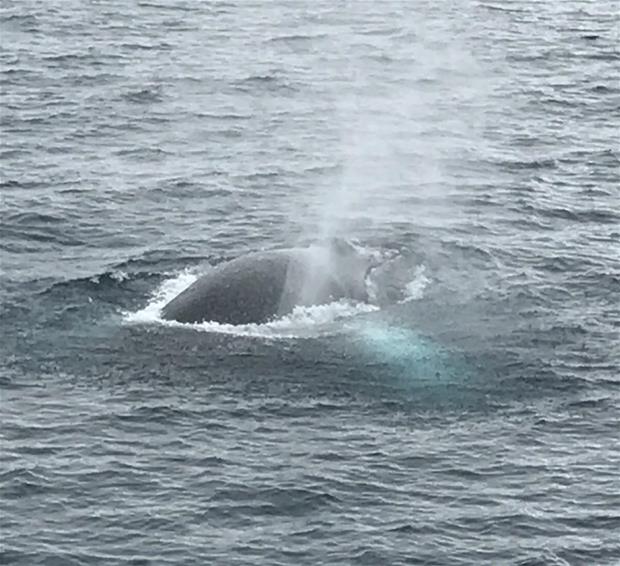 It has always been my dream to visit the Arctic and that's exactly what happened in June this year! I left Heathrow and followed the midnight sun to Longyearbyen, a three-hour flight from Oslo. I arrived at 1am to be greeted with daylight which was an amazing experience.
The next day didn't disappoint; a morning of sightseeing in Longyearbyen. A must is a visit to the museum where it gives real insight into what the area has to offer and also the history of it. Then it was off to board MS Nordstjernen, the Hurtigruten Expedition ship built in 1956. The ship was small and cosy. If you are looking for luxury and glitz then this isn't for you, but if you want to be laid back and causal its great - I loved it. The cabins are small but adequate. That night I was lucky to see humpback whales. The real highlight was the sightseeing of a blue whale, an amazing creature and so close to the ship. In fact, we anchored so we could get a better view of him. I feel very privileged to have seen such beautiful mammal, this will live with me forever!
The next day we took the Zodiac to the shore where we saw walrus and the crew asked if anyone wanted a swim. I was going to until I found out the water was only 2 degrees! The terrain is very rugged and we hiked for about two hours and all the time keeping an eye out for the polar bears.
We returned to the ship for a very hearty lunch. The food was excellent: buffet breakfast and lunch, a la carte for dinner and always fresh produce. All the meals were included as well as tea and coffee through the day. Drinks were extra and a small bottle of prosecco was approximately £7.50. In the afternoon, the Zodiac took us to see some amazing icebergs whilst out in the water, one starting calving. The sound was booming as it broke off and started to form large waves. That night a polar bear was spotted on an iceberg. The ship got as close as it could but was still about two miles away so I could only see him with very strong binoculars and sadly I wasn't able to get any photos.
The following day took us back on shore again for more hiking. It was freezing (-3) but walking for about two hours warmed me up. That evening we entered the high Arctic crossing 80o North, the furthest point you can go before you reach the North Pole. As I sat on deck at 11.30pm in complete daylight my thoughts turned to what an amazing trip I was having and how lucky I was.
It was more land adventures the next day and getting very close to a family of arctic reindeer, which was very cute. That evening we visited the town Ny Alesund, the northernmost functional civilian settlement in the world. There are bars and shops so finally I got to buy my compulsory souvenir magnet! We sailed through the night so we could dock in Longyearbyen just after breakfast.
After disembarkation, we were taken to a hotel so we could spend the day exploring and shopping. Although things are quite pricy they are of very good quality. There was a farewell dinner for all the passengers, which consisted mainly of Germans and Norwegians. I was the only English person but met some lovely Welsh and Scottish passengers. I would recommend this trip to anyone who has a sense of adventure, loves wildlife and being off the beaten track!