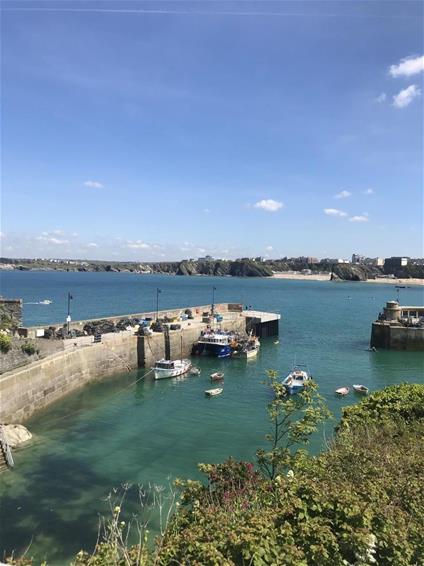 I decided to take my annual staycation to Cornwall this year as I hadn't been there since 1978 and I wasn't disappointed!
However, I am travelling with my dogs Doris & Bill so decided to break the journey in Somerset. I stayed at the Mason Arms, Odcombe, near Yeovil. It was a lovely hotel within a pub and extremely dog friendly. The food, service and staff were amazing and couldn't do enough to make you feel welcome.... I would recommend this hotel especially if travelling with your fur babies.
After a very hearty breakfast I set off for the Village of St Breward in Cornwall, where I would be staying in the Roost Cottage. The cottage is amazing has everything to make you feel home from home and the views are stunning overlooking Bodmin Moor and very dog friendly. The village and pub (The Old Inn) are a 15-minute walk away, the pub serves really good food and is very dog friendly. I ordered all my food on line with Tesco's and had it delivered to the cottage on Saturday afternoon so there was no need to worry about food shopping as its impossible when you are on your own with two dogs!
On Sunday, I decided to visit New Quay it has stunning beaches and views, as it wasn't high season it was easy to get around but could see it would be very different in July and August. I had a lovely lunch at The Harbour Fish & Grill with spectacular views of the beaches I even saw seals whilst I was there.... The restaurant is very dog friendly as is New Quay in general.
On Monday, it was Bude where I learnt to surf when I was twelve, to be honest it hasn't changed a bit. Beaches still stunning and the town has a nice relaxed feel and less touristy than New Quay. Today lunch was at The Beach Hotel and Restaurant, again amazing views, excellent food and service, very dog friendly. Would recommend the fish as it was freshly caught! After Bude I drove to Boscastle a lovely little town with a real community feel and some great local shops, just make sure you always have change for the car parks!
Tuesday was a visit to Wadebridge a lovely little town on the River Camel, would recommend it has nice shops, lots of coffee shops, bars and restaurants and a good wine shop! We then went on to Padstow, home to Rick Steins restaurants and cooking school as well as his shops. Lovely harbour, lots of nice shops and plenty to places to eat with some great views, plenty of parking and a very dog friendly little town.
Wednesday, I decided to have a restful day taking Doris & Bill for a walk in the village and picking up some bits from the grocery store which is also a Post Office and ATM, Jan who works there is so helpful! We had coffee in the Old Inn Pub, then it was back to the Roost for relaxing in the garden with my book and enjoying the beautiful Cornish weather!
Thursday, drove to Mevagissey approx. 45-minute drive and most of it is scenic. Mevagissey is an old twin harbour town and dates to the 14th century. It is very pretty has plenty of tea shops and quaint shops. However, there is a problem with the traffic as the streets are very narrow, wasn't very easy navigating around with 2 dogs. Would recommend a visit though and have lunch at The Fountain Inn…. Very dog friendly.
Friday, was back to Bude and catching up on the places I missed on Monday, just love this place and so dog friendly.
Saturday, we said goodbye to the Roost and St Breward. This is probably one of the best cottages I have stayed in for a long time. The Cottage itself was of a very high standard and very dog friendly, the views were breath-taking and Kate the owner was always on hand if needed. We drove back to the Masons Arms in Odcombe for our last night. We were welcomed with open arms, they had remembered us from the week before, hope that was a good sign!! After a 2hr drive, Doris and Bill let off steam in the gated run which you can use if you are guests at the hotel. The food, service, staff, accommodation and general ambience is amazing here, so dog friendly will return that's for sure!
If you are interested in a holiday like this, whether travelling with fur babies or not, please contact me.