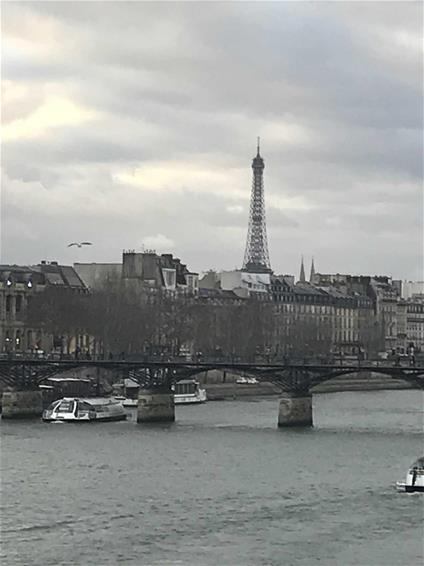 I love Paris but Paris in the winter for me is the best time!
We left Ebbsfleet on an early morning train, the business first product is great you get a lovely breakfast and great coffee.
2 ½ hours later we arrived in Gare de Nord then headed to the Metro to catch the train to Odeon around 10 stops but direct.
When we arrived at the Hotel Baume we were met with the usual exceptional service, this is one of my favourite hotels it never disappoints. We decided to upgrade our room to the Superior room which was well worth it. The Baume is a small boutique property in the excellent location of the St Germaine area with plenty of shops, bars and restaurants and within easy access to the Metro, however I personally think the best way to see Paris is by foot. Grab yourself a really good map and guide book and just keep on walking. On our first full day we walked around 8 miles taking in the sights and finding quirky cafes to drink coffee and eat pastries!
If it's your first trip to Paris I would definitely recommend the Hop on Hop off bus tour, you get a really idea of what Paris is like as well as taking in all the sights.
Below are my top recommendations to visit
1. The Eiffel Tower 2. Sainte Chapelle 3. The Catacombs of Paris 4. Musee du Louvre 5. The Pantheon - Paris 6. Arc de Triomphe 7. Palace at Versailles 8. Notre Dame 9. Shopping on the Champs Elysees 10. Montmartre 11. Sacre Coeur 12. River Seine Hop-on-Hop-off Cruise 13. Paris Hop-on-Hop-off Bus
Would also recommend Le Petit Casimir, a lovely local restaurant opposite the Baume Hotel.
After our 2 wonderful nights we headed back to Ebbsfleet on Eurostar. We took this trip in January, when Paris is less busy, lots of sales on in the shops and for me although it was cold it added to the romance of this magical city.
Please call or email for further details on trips like this to Paris or other cities.