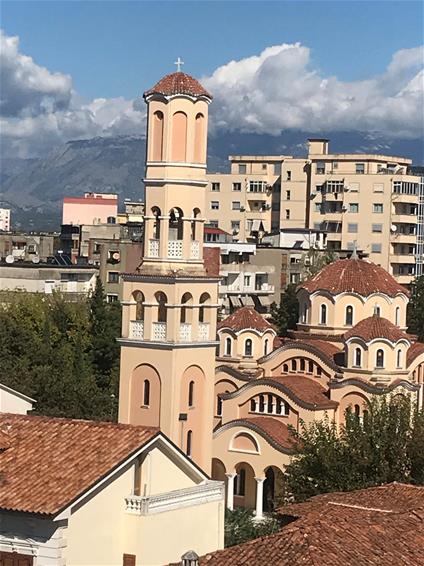 Check in very quick at Gatwick, the joys of travelling BA Club Europe. The flight was excellent, crew used my name, very professional and outstanding service.
We arrived at Tirana and I was met by my driver took about 30 minutes to transfer to the hotel, although traffic was very busy. Arrived at the City Hotel, small hotel in very good location. The hotel was very clean, staff very friendly and professional, room was a good size (single) would definitely recommend as excellent value for money.
I took a stroll and did a bit of exploring, there is a Mosque being built near the hotel it will be amazing when its finished. Had a lovely lunch at Artigiano, Italian/Albanian restaurant with a lovely rooftop terrace.
The next day the driver picked me up from City Hotel it took around 1.5hrs to reach Shkodra, you see some pretty scenery as its mainly rural. Arrived at Tradita Gege & Toske Hotel, nice hotel very traditional. I have one of the courtyard rooms, spacious and very clean. Exploreing the old town, start by the Mosque, follow the road round and there are some really good street bars and restaurants, I had lunch at the Shkodra Country Club, very good value for money. I met some wonderful street dogs, shame the locals don't feel the same! Headed back to the hotel where I had a wonderful dinner at the hotel restaurant although service was slow, however a local folk group did play for us which was fun.
Took a cab to Rozafa Castle, however its definitely not for the faint hearted as its very steep to reach the entrance and there aren't any railings to hang on to. Sadly because I suffer from vertigo I wasn't able to carry on. Took a slow walk back to the old town which took about 50 minutes. Had a drink at the rooftop bar in the Colosseo Hotel it has exceptional views of Shkodra. Treated myself to a massage in the hotel (40 Euros) also had a lovely dinner there too, for a four star hotel the prices were very reasonable.
Got up early as I wanted to visit the Site of Witness and Memory, it's a museum dedicated to the people of Albania who lost their lives or suffered under the Communist regime. It was very emotional as I had no idea this had gone on. The only way I can describe it is Genocide they wanted to make Albania an Atheist country and by doing so they killed a lot of religious leaders and destroyed churches and mosques, anyone who dared to speak out were often killed or imprisoned in awful conditions. The Museum was originally a prison so you clearly see what went on. This is an absolute must if you visit Shkodra it costs just over a £1 as entrance fee and left me feeling very privileged that I had seen what went on and also it was emotional. My driver then came to pick me for my transfer to Durres (approx. 100 mins) the drive was horrendous and I'll be honest I've made a formal complaint about the driver as I wouldn't want any of my clients to experience this!
I'm now at the Bleart Hotel in Durres, it's a 4* hotel that is kind of retro and I really like it! I have a huge room with a king and single bed, plus a large balcony and sea view. I ate lunch at the hotel it was excellent and very reasonable, I also had a lovely swim in the 25 metre saltwater pool it's not heated but once you are in its great. Tonight I had dinner in the hotel very good food and wine and excellent value for money. Apart from the horrific road transfer.
The next day I took a leisurely walk along the Boardwalk and back along the beach. The beach stretches for miles and is pretty clean most of the way. The sea however is very clear and warm even in October. I'm clearly at the old end of the beach as further up there is plenty of building works taking place and some new glitzy 5* hotels offering all-inclusive and lots of activities this is definitely a very developed area. There are a few shops and plenty of restaurants where I am staying. Had a very chilled out afternoon around the pool and the weather has been amazing.
I've spent my time lazing around the pool, swimming and reading. Tonight at the Hotel Bleat I had an amazing dinner of local dips (Beetroot, Saffron, Cucumber all in yogurt) with local fresh bread. Followed by grilled seafood platter (squid, prawns, octopus, crab and lobster) an amazing dessert no idea what it was but it was delicious.
I have been amazed by the standard of food in Albania, but I have to say The Hotel Bleart have excelled themselves and the service has been great, even if you don't stay here I would recommend you have a meal here, the local wine is also very good.
Next day I left Durres and travelled back to Tirana (1hr). I arrived back at the City Hotel where I had stayed on my first night and had a really warm welcome and the same room. I would definitely recommend this hotel for its location, service, cleanliness and breakfast. I walked about 25 minutes to Skandeberg Square and the Natural History Museum, if there is only one thing you do in Tirana make sure you visit the Museum, I spent around 2hrs here, I wish I had visited it on my first day as it gives an excellent introduction to the country, people, culture and history. The entrance fee is approx. £1.50 there are some amazing artefacts, there was also an a photography display (this is seasonal). After the museum I spent some time wandering around Skandeberg Square, named after the only Albanian hero! There is also an opera house and small park area where you can sit and watch the world go by. After this I went back to my favourite restaurant Arginto and had a wonderful late lunch.
I'm going home! The flight is full, the security at the airport is a nightmare, no priority for business class passengers, the lounge is ok, but I've had such an amazing time I don't care!
Highlights: The Museum in Shkodra Food at the Bleart Hotel (Durres) Staff ay the City Hotel (Tirana) National History Museum The people and their hospitality
I would definitely recommend Albania, however they need to improve the public transport as hiring an car is not for the fainthearted!
This trip has exceeded my expectations, I was dubious about coming especially as I was travelling on my own. I didn't encounter any problems or difficult situations apart from the drive from Shkodra to Durres. Amazing country, people, culture and history.
Please contact me for further details or to book an holiday to this still undiscovered beautiful country.