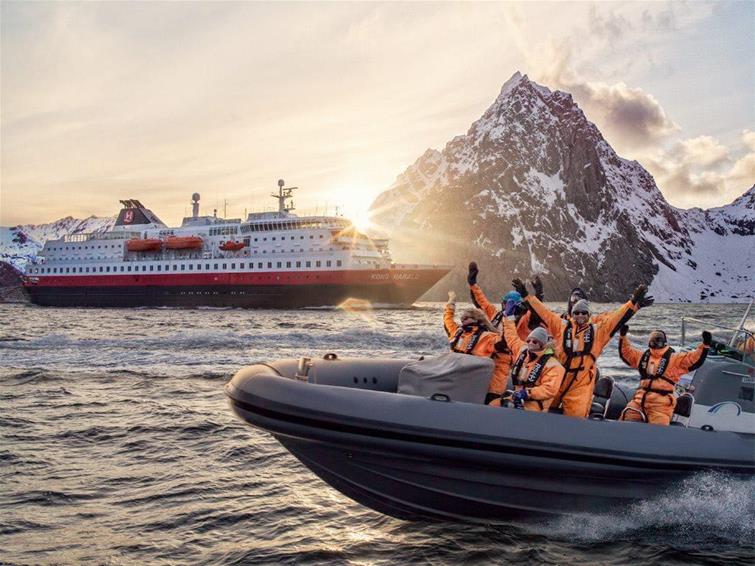 Expedition cruising is about as different to a traditional holiday at sea as is possible. On normal cruises, shore excursions consist of walking around cathedrals and museums, visiting beautiful islands in the Caribbean or visiting quaint Greek villages. Outings when expedition cruising mean visits to glaciers and waterfalls, fishing for piranha fish, tiptoeing through basking iguanas, learning about penguins and whales or watching out for polar bears.
Another difference is general life on board is very casual. Dress codes are almost unheard of and jeans and t-shirts are more appropriate than dinner jackets and cocktail dresses. Rather than production shows, there are lectures about the environment and wildlife that passengers will encounter from teams of biologists, geologists, historians, marine scientists and other experts. There are expedition teams onboard who also guide trips ashore such as kayaking or camping in Antarctica and hosting zodiac cruises up close to glaciers, rainforests and wildlife.
Expedition ships are also a lot smaller, holding anything from 200 to 500 passengers meaning they can navigate into little bays and convey passengers ashore by tender quickly and efficiently. In Antarctica, only ships with 500 passengers or fewer are allowed to offer landings and then only 100 people can be ashore at any one time. Many cruise lines limit passenger numbers to 200 and allow just an hour ashore, ensuring a smooth landing operation with the minimum waiting time. In the Galapagos, ships are not allowed to carry any more than 100 people and itineraries are carefully planned so there is only ever one vessel at each of the landing sites to ensure the wildlife is not disturbed.
WHERE TO GO? Antarctica is top of the list for adventure cruises. It's a long way to travel but visitors are rewarded with icebergs the size of houses, hundreds of whales and millions of penguins. Antarctica is the coldest, windiest and most remote place on earth; a frozen world almost 60 times the size of Britain that spends half the year in total darkness and is cut off from civilisation by the Drake Passage - 1,000km of one of the most feared sea crossings in the world.
Once Antarctica is done, it's time to swap penguins for polar bears on a cruise to the Arctic. There's lots of choice in the Arctic, with cruises around Spitsbergen, the nearest most vessels can get to the North Pole, and voyages along the coast of Greenland and through the Northwest Passage, the icy waterway between Greenland and Canada. A new must-do itinerary, the Northeast Passage, takes passengers across the top of Russia on a journey from Alaska to Norway.
Those who prefer warmer climes can get close to wildlife in the Galapagos, where the animals have no fear of humans. The islands, part of Ecuador but some 600 miles off the coast of South America and ships of all sizes and quality sail around the archipelago, from small yachts to luxury craft, but none is allowed to hold more than 100 passengers. Most will visit two islands a day during a seven-night cruise, each time taking folk ashore in small tenders or inflatable Zodiacs to see the wonderful wildlife which has no predators and therefore no fear of humans.
Or why not see gushing waterfalls, coral reefs and crocodiles in the Kimberley, a remote area in Northern Australia that's the size of England but with a population of just over 40,000 people and a couple of roads that become almost impassable in the wet, between November and April, when up to 50 inches of rain falls. Only a handful of cruise lines sail here offering different and unique experiences every day that travellers with a sense of adventure will love.
The Amazon rises in the Andes Mountains and flows 4,000 miles through nine countries in South America before emptying into the Atlantic. The river is so big that ocean-going ships can sail nearly 650 miles upriver from the Atlantic to Manaus, taking passengers on a real getaway-from-it-all adventure. You'll trek through jungle that's home to sloths, howler monkeys and colourful parrots, meet indigenous people, maybe kayak along narrow tributaries, and see piranha fish and caiman up close.
The Mergui Archipelago is a scattering of 800 islands off the southern coast of Myanmar in the Andaman Sea. You can expect to see monkeys and tropical birds ashore, and whales and dolphins at sea.
WHEN TO GO Antarctica cruises run between November and March, when much of the sea ice has melted. In November the continent is at its most pristine (but it will likely also be much colder); December and January is the time to see the most plentiful wildlife; mid-February to early March is the best time to spot whales.
Cruises to the Arctic (that's Spitsbergen, Greenland, the Northwest and Northeast Passage) run between June and September. In June and July, the days are long as the sun never sets.
Galapagos cruises operate year-round. The hottest weather is January to May, when it is most likely to rain. June to December is dry and a bit cooler.
The Amazon is warm and humid year-round (between 21 °C and 31 °C). High water season is December to May, low water from June to November, but this is rainforest so you should expect precipitation anytime. Ocean-going cruise ships are there in winter between December and March.
Cruise lines sail in the Kimberley in the dry season, April to October, when temperatures average 30 °C. During the wet, November to March, temperatures top 40 °C and roads become impassable due to flooding.
IS EXPEDITION CRUISING FOR ME? • Perfect for those with a sense of adventure keen to see places away from the tourist haunts. • Ideal for those who have cruised the Med, Caribbean and Baltic and want to do something different but not miss out on a few weeks at sea. • A ball for baby boomers who missed out on a gap year and fancy some soft adventure without having to rough it. • Spot on for those interested in seeing and learning about wildlife, nature and the environment. • Brilliant for teenagers who do not need constant entertaining. It's not a cheap holiday, but an experience they will never forget. • Expedition Cruising is still not totally suitable for disabled passengers although the new generation of expedition ships might be more suitable than the older vessels still in operation but getting ashore will always be a problem.
If you would like any more information then please call me on 01202 375180