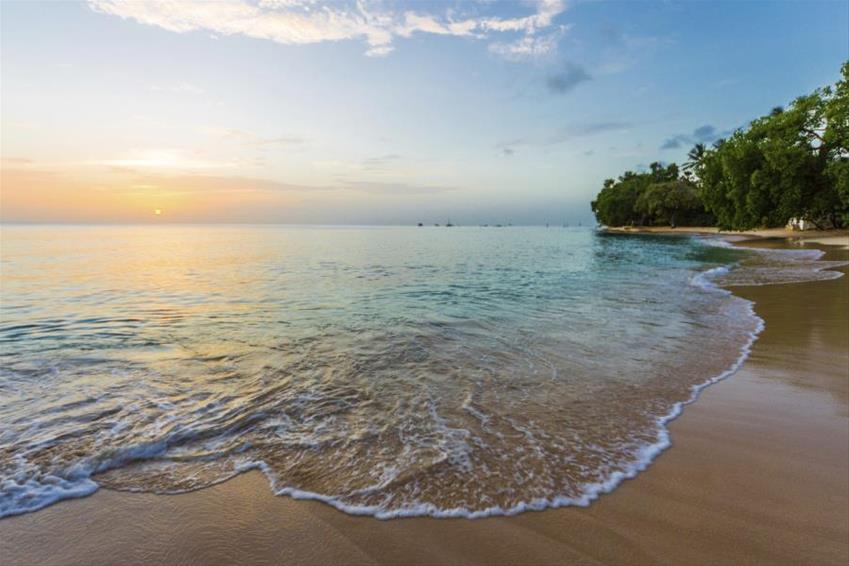 In May 2018 during an educational to Barbados I spent 36 hours learning about the Elegant Hotels properties on the island. Choose your favourite from my thoughts below.
The itinerary began when we checked into the adults only Treasure Beach located in Payne's Bay, the newest addition to the group and what a delight it was. This lovely oceanfront boutique resort is U shaped and offers Garden, Pool and Ocean View One Bedroom Suites. The restaurant and bar are positioned in the centre of the resort, an ideal meeting place should you want to meet other guests.
Bed and breakfast is great here as you can visit lots of great local restaurants such as Tides, Lone Star, Scarlet, IL Tempio and Cariba which is opposite the cliff. The BBQ night was great at the hotel. We had heard how amazing their young chef was and he didn't disappoint!
There was a part of the beach that had been damaged slightly in the storm, but I was reassured this would be sorted as soon as possible. What I took from this resort is how friendly all the couples were, and it is a little gem!
During my stay here, we took our first water taxi from Treasure Beach to Colony Club to have a look around. I stayed here a few years ago and it was still the same lovely property with an elegant feel with it's beautiful pool which flows through the lovely gardens. I have sold this hotel a lot and guests just go back many times. The location is great as you can just walk into Holetown where you are welcomed by many bars and restaurants. We enjoyed a lovely lunch in the restaurant by the beach before we took our next water taxi!
Next, we headed to the all-inclusive Crystal Cove. This is always very popular and after spending a couple of hours here I could see why. When I first arrived, I wasn't sure the pastel coloured buildings appealed to me, but I felt it had a very casual feel which a lot of people liked. The great camaraderie between the guests and the staff was clear to see and I would feel very relaxed staying here with my family. So many water sports are available at all the hotels, even free water skiing lessons! The beach was small but very nice. It has a charm of a seaside Caribbean village with lush tropical scenery in a picturesque cliff side setting. They even have a cave bar and a waterfall!
We then left Crystal to head over to the all-inclusive Waves which I was excited to see as I had quite a few delighted customers visiting earlier this year. I was very pleased to see this property and I really feel it is perfect for adults only. The reason is the hotel is split in two, the hotel is on the beach which offers interconnecting rooms for families and offers lovely ocean view rooms and suites. You then walk across the road at the back of the hotel to the adult spa area which is lovely and quiet and has the most amazing spa pool with luxury sun beds. With certain rooms at this hotel you get complimentary treatments. For example, for an Ocean Junior Suite you will receive four spa treatments per stay which is great.
Families cannot use the spa pool area, but you do have a smaller pool on the beach side, I am just not sure it is big enough if you like pools over the beach. The public areas in this hotel are just fantastic and to be honest this is probably my favourite property out of the Elegant hotels. I loved it and would be very happy staying here. Waves Shiso (Asian restaurant) has a great reputation so I would reserve a table straight away!
The day was going very fast so now we made are way back to Treasure Beach for a quick change. We then went for a site inspection and sundowners at the adults only House which took just three minutes along the beach. I just loved it and it is certainly another favourite of mine for those couples who want an amazing hideaway with the best service. Champagne breakfast, afternoon tea, it is all the little things at this property. Whilst enjoying our drinks, a couple came down for a drink at the bar to be greeted by their very own dressed up table on the beach as the staff found out about their anniversary. If it is personal service you are looking for, look no further!
That was enough for one day, so we went back to Treasure Beach for the evening and then in the morning after breakfast we headed over to Tamarind which is perfect for families and offers great activities for all ages. It has a contemporary feel and I really liked it. They have a lovely large beach and it is perfect for families. It doesn't offer all inclusive, but half board and full board are available. You can choose to eat at the many restaurants close by, the hotel restaurants and Daphne's which is also owned by the Elegant group and is positioned in between Tamarind and The House. A great option to enjoy Barbados!
We were now coming to the end of our stay in Barbados and we headed south to visit the all-inclusive Turtle Beach before flying home. This hotel offers great value for money and the room I saw was spacious, but I just think I was spoilt by all the other properties. I am always honest, so I will keep this brief. This was not my favourite hotel and It will need a refurbishment before I can confidently recommend it. There was a storm a few weeks before our visit and it has washed all the seaweed up onto the beach which didn't help.
I hope you enjoyed my feedback and I can honestly say booking an Elegant Hotel gives you great value for money. You can dine around at most of the other hotels which is great, so you will never get board of the same restaurants. As well as the dine around you can use all the facilities at the other hotels including the amazing water sports!
You are spoilt for choice in Barbados with Elegant Hotels.