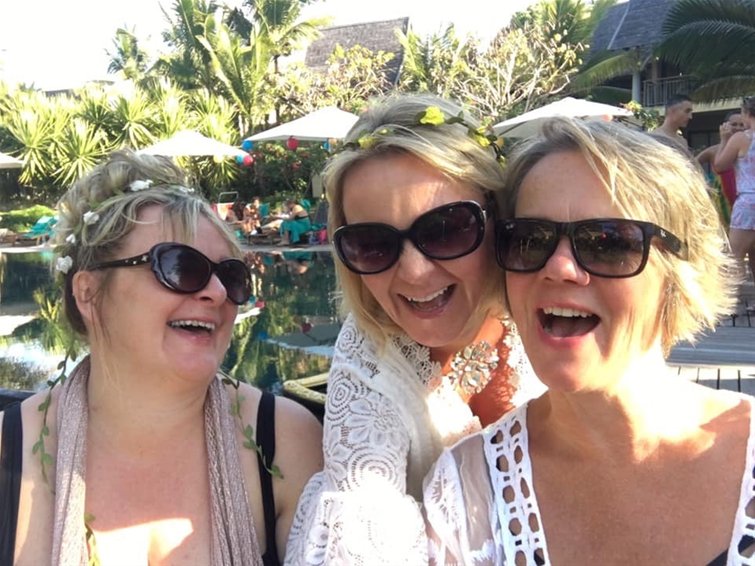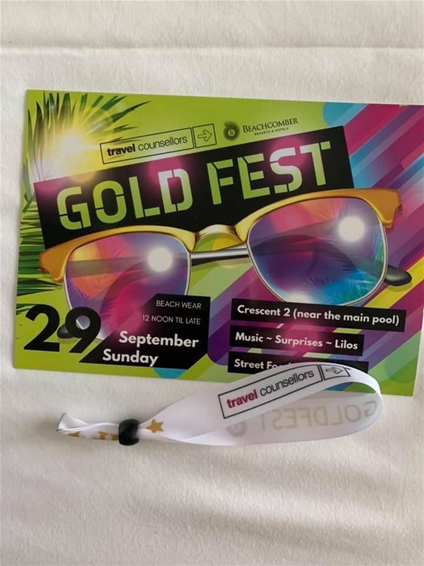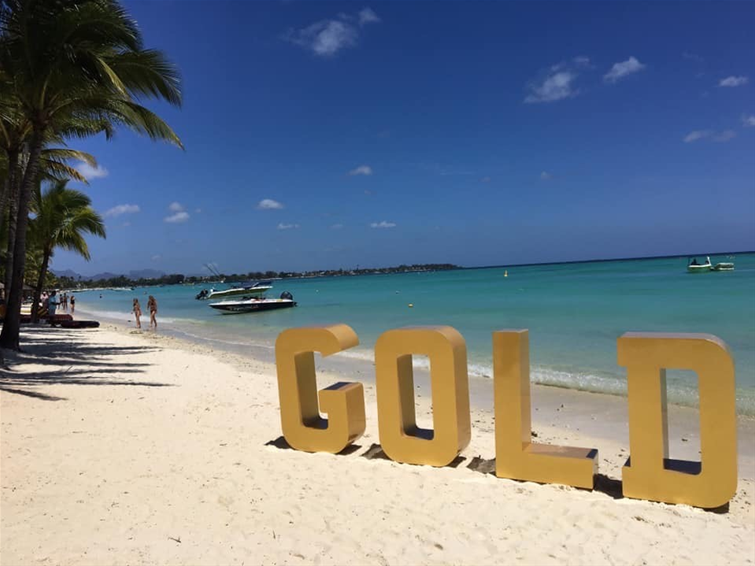 Well this really is one of the best trips I have been on, Beachcomber Resorts & Hotels looked after us in style!
My hotel for a few days was the gorgeous Trou Aux Biches Beachcomber Beach Golf Resort & Spa which sits on a beautiful beach northwest of the island. This is the first eco-friendly resort in Mauritius and the accommodation is housed in lavish chalet-style suites built in crescents, tucked away among the lush tropical gardens.
On arrival we were welcomed on the beach where a huge 'GOLD' sign was sitting to showcase our success which was lovely. Champagne on ice before having a lovely lunch at Oasis and we could then use the facilities and relax by the pool. In the evening we had a welcome aperitif at Crescent 6 before heading to an exclusive dinner at Caravelle and ll Corallo.
On the Saturday we had our Gold Conference (well you have to do some work!) after this we headed off and spent a brilliant day on the east coast to enjoy the party ambience of a speed boat trip. We departed from Point Jerome to Blue Marine Park where we visited sites such as the impressive waterfall and Gran River South East. We then had lunch on the beach which was lovely. A long day but worth every second. Other options were Sea Kayaking, swimming with the dolphins, the Wild South West tour which is a scenic drive along the west corner of Mauritius or you could go to the races.
In the evening we dressed up for our Indian themed night and was transferred to the sister hotel Victoria Beachcomber Resort & Spa. Later we went to Grand Baie Bar & Vous and mixed with the locals.
The following day was our Gold Fest and what an amazing experience and really gave me an insight into just how the incentive groups work within a hotel. Crescent 2 had been privatised just for Travel Counsellors and was transformed into a magical festival for the day, well away from any of the other guests. There was lunch, dinner and drinks provided along with plenty of surprises and entertainment throughout. It was absolutely amazing, so relaxed and the weather was fantastic. A great way for colleagues to introduce themselves to others in the company.
The following day I visited Royal Palm which is one of the best hotels in Mauritius, definitely worth a visit for me to update my knowledge.
For our last evening at Trou Aux Biches we had a Gala dinner right on the beach. Wow, the theme was 'Barefoot Chic'. A beautiful fishing boat with it's lit up sail came to the beach delivering our fresh Tuna and our company sign was lit up in the ocean which was just amazing. The evening was faultless and in my opinion should be on every distinguished company's bucket list for celebrating their success with their employees.
The only negative part of this trip was returning home too soon but what an experience and certainly sets me up for organising any company event going forward.
A great choice as well for couples or families as they even offer amazing villas to give families that privacy but still allowing them to use the hotel facilities.