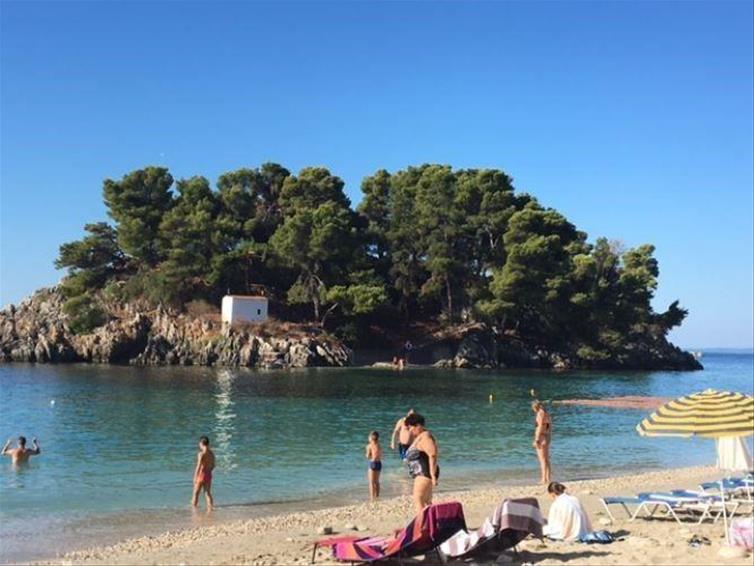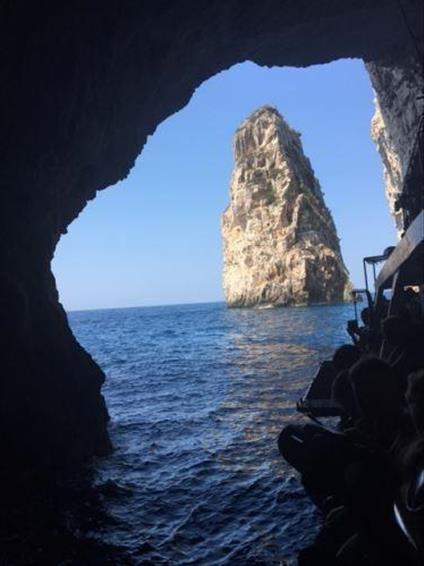 We opted for a two-week beach holiday and due to recommendations, we decided to travel to Parga in Greece. It is located on the North West of the mainland and just over an hour transfer from Preveza Airport. We set off to Terminal 2 at Manchester Airport and we checked in. There was no queue and a very quick service.
After a very expensive breakfast we headed to gate 300 where we waited and then headed off to take our bus to the aircraft. We boarded our yellow ASL Boeing 737-700 aircraft which was quite small with a configuration of 3 & 3 with 26 rows. We opted to have group seating which does guarantee you are sat together however, if you do want to sit in certain seats you can pay extra for this. They offered food and drink on board if you wanted it.
The flight took 3 hours and once we arrived in Preveza it was a quick exit from the airport and then we took a coach which took 1 hour 10 minutes. I would suggest that clients buy a bottle of water when arriving to Preveza for the journey, especially in the summer months.
We checked in and headed to our two bedroom apartment (number A2). This was a fantastic position; the views are fantastic and you look over the pool area. You must pay for air conditioning locally at around €50 per room per week and then they gave us the security box complimentary.
It didn't take long before my 13-year-old son was in the pool, and we could watch him from our balcony.
Our apartment in Eleni was basic but spotlessly clean with two large double bedrooms, bathroom and kitchen and dining room. You get one key and the air conditioning only works when the key is in the electric socket. There is a bar and you can order basic food during the day like Greek salad, pizza and toasties.
The swimming pool was lovely and spotless, there were plenty of sunbeds and no getting up early to secure one which is a refreshing change.
The location of Eleni is on a hill so it isn't ideal for those with walking difficulties however, saying that I have back problems and at the time I couldn't walk up hill too much so we walked down in to Parga each evening and then got a taxi back for €5.
A good thing to point out is that you can also use the facilities at Alea Resort (Nostros restaurant) which is across the road as long as you are buying drinks or food. They have very comfortable sun beds and a larger pool. You can also use their shuttle bus which goes into Parga Town and Valtos beach. You pay €10 euros each week for your pass.
The first night we made our way down to Parga Town which is all downhill. The views at every level were amazing and this is the most beautiful place. It isn't commercial which I love and to be honest if you ask anyone if they have heard of Parga they either say no or yes, I have been many times.
For our first night, we ate at Kyma Restaurant on the front which was a lovely authentic Greek restaurant serving lovely food.
We found the restaurants lovely on the way down or in town. My favourite was Hellenikon which is off the town centre and up a side street and Sakis which has the most amazing views and worth booking for the festival. The Parga festival is usually on the 15th August for one night. It gets so busy on this date so it is ideal to pre book a table here so you can see all the fireworks and boats.
Places we went to eat and had a great meal:
Stephano Fish Restaurant, Filomila, Hotel Salvatore (Greek night), Oscars, Hellenikon, Sakis, Helena, Kasta
One day we took a boat trip to Paxos and Anti Paxos which was a great day out. You have at least two opportunities to swim from the boat and one of the stops you can swim in the caves. You get around 3 hours in Paxos so you can get some lunch. I would recommend going to the bakery on the way down and take some breakfast on the boat for when you get hungry.
We took the Gaios boat as it was lower and goes into the caves which is great.
One day we went to Valtos Beach which was lovely and it took 20 minutes downhill to walk it. If you walk along the beach you come to Tango Beach Club. This is a great location where you can pay for a sun bed which was €8 for an umbrella and two sun beds. Alternatively, you can sunbathe by the pool where you can get food and drink throughout the day whilst music is playing. There are lots of water sports to be enjoyed here.
When we left Valtos Beach we took the express boat to Parga Town to get some supplies before our taxi ride back up to Eleni.
On another day, we went down to the town beach which is much pebblier and the children swam to the island which was fun but I personally preferred Valtos.
You can arrange many trips with your representative Steve who meets you at the apartments. Even if you are not booking a trip I would go to the meeting on Friday morning as you learn so much about the area.
Conclusion:
The Eleni is a fantastic choice for a family or couples as they offer two bedroom apartments and studios.
The studios are understandably a little more basic and offer a put-up bed for the third person so this is only suitable for 2 adults and 1 child really. You can request that two studios are next door to each other as the balcony is shared which is a lovely touch. We met a lovely family in the next two-bedroom apartment and sat many nights with them on the balcony.
Maria Studios are adjoining the Eleni and have their own swimming pool but you can use this if you wish.
We will definitely return to Parga, we had one of our best holidays and it was so reasonable.