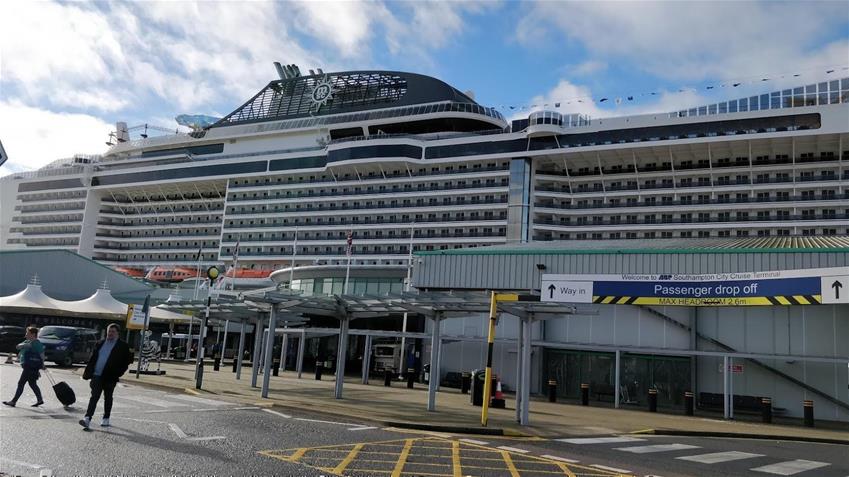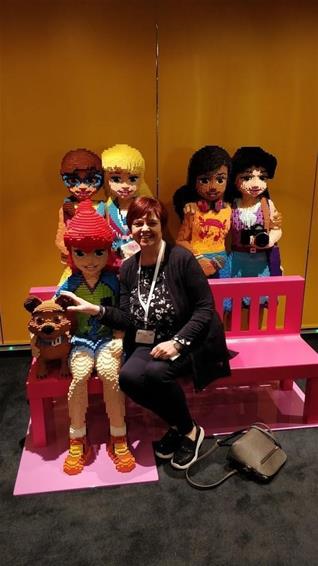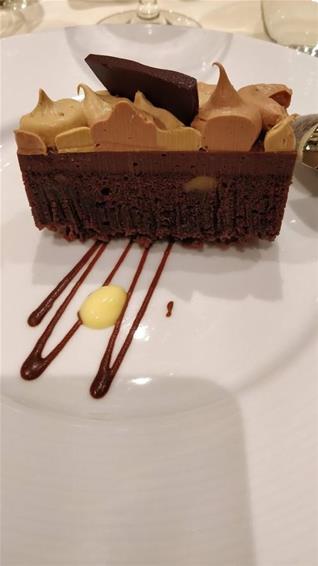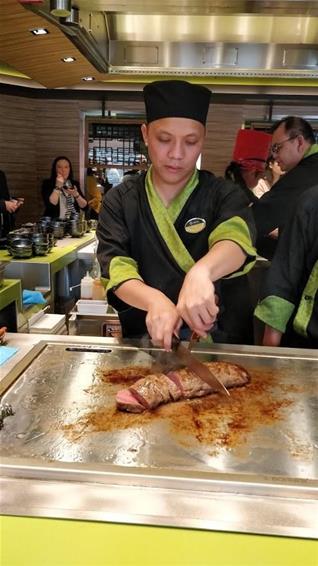 MY OVERNIGHT STAY ON THE MSC BELLISSIMA
Having attended the (CLIA) Cruise Lines International Association Conference in 2018, I was fortunate to be invited to the Friday/Saturday of the launch weekend of the fabulous new MSC Bellissima. A magnificent looking ship accommodating 4500 passengers.
ON ARRIVAL
On arrival at the Southampton port, there before me was the stunning 19 deck beauty at sea, MSC Bellissima. After a very simple and quick check-in I was ready to board and as I was travelling with hand-luggage only, I was able to take this on board with me.
MY CABIN
Upon boarding, I quickly went off to find my cabin on Deck 9 – a lovely spacious balcony cabin with a huge double bed, a spacious wardrobe and a lovely bathroom. A unique feature of every cabin on this ship is ZOE, a virtual personal cruise assistant ready to answer all my questions about the ship. Facilities also included air-conditioning, an interactive TV, minibar, hairdryer, telephone and safe. Wi-Fi is also available at an additional cost. This was to be my home for the night and a very comfortable one it was too! The Daily Program was also in my cabin telling me what was going on throughout the day, now all I had to do was find my way around!
EXPLORING
After a very quick unpack, I went off to meet some fellow Travel Counsellors ready to explore the ship. We met in the Infinity Atrium and the first thing that caught my eye was the two-deck inside promenade which features an LED dome where the ceiling changes to fit the mood. It's lined with bars, shops and speciality restaurants. We were lucky enough to be able to sample tasters from many of these restaurants, so we just had to give them a go! With everything from the delicious steak at the Butcher's Cut to Tapas, Sushi and French food it was all simply divine. A little concerned about over-indulging before lunch we decided to leave the food and drink behind and set off to look around the rest of the ship.
We had a quick look at the different types of cabin available: interior, ocean view, balcony (like mine) and suites. The suites were beautiful, some covering 2 decks with a living area on level 1 and a Master bedroom on Level 2, a lovely big balcony with a whirlpool bath. These duplex suites have 2 bathrooms and 2 walk-in wardrobes as well as all the standard facilities. There are also some family cabins that can accommodate up to 10 people in comfort – such an advantage for families wishing to travel together. We then headed up to Deck 19 to have a look at the Arizona Aquapark which is amazing for families.
It was a bit of a chilly day in Southampton so we went back inside and wound our way back down the decks to check out everything else on offer. The amusement area, the spa, the gym, the casino and the Yacht Club area. I was blown away by the facilities for children and families on this ship. There's a full-size bowling lane and an F1 Simulator, so authentic that it's apparently the same as that used by professional F1 drivers. There's an interactive cinema, an interactive maze and a virtual games arcade all on Deck 16.
There are 5 different kids' clubs and 7 different rooms filled with toys, games and high-tech equipment to suit every age group from toddlers to teenagers. I bet there's never a dull moment for younger guests! Fabulous too, as it allows plenty of time for their parents to spend some quiet time, whilst knowing that their children are being well entertained and looked after.
THE YACHT CLUB
The Yacht Club is a luxury ship within a ship! The Royal and Deluxe Suites with their unique facilities are to be found here, but there are also Interior Suites available too. The Yacht Club has its own grill, sundeck, bars, pool, restaurant and lounge. These areas are all exclusive to the Yacht Club, so if you're looking for peace and privacy, a private butler, drinks included and the highest quality menus to satisfy the most discerning palate then a Yacht Club cabin is definitely for you……and me!
DINING & THE CHOCOLATE SHOP
After a good couple of hours exploring the ship it was time for lunch, which was being served for us in the Posidonia Restaurant, situated on Deck 5. Menus are changed daily in the two main restaurants, but they always offer a wide choice of quality cuisine. The desserts on cruise ships are always my favourite and this was no exception!
The afternoon for us was taken up by Conference sessions and then it was time for a couple of drinks and a look in the shops. Jean-Philippe's Chocolat was definitely my favourite! You can see the chocolate and macarons being made before your very eyes – my idea of heaven! After a few tasters it was time to get changed ready for dinner.
Dinner was again in the Posidonia Restaurant. There is of course always the choice of going to the Marketplace Buffet, which is open 20 hours a day. Alternatively, you can choose to eat in the Speciality Restaurants for which there are very reasonable packages available.
EVENING ENTERTAINMENT
There was live music and entertainment going on in most of the bars so something for everyone. We firstly headed for the Live Show in the London Theatre where the ships' singers and dancers put on a fantastic 'Solid Rock' Show. Then it was off to the Sportplex which had very cleverly been transformed into a party venue for the evening and my goodness MSC certainly know how to party! Unfortunately, we didn't get to see The Cirque du Soleil show on board but it's sure to be spectacular.
BREAKFAST & DISEMBARKATION
After a few very comfortable hours sleep in my cabin, it was unfortunately time to pack, have breakfast and disembark. Breakfast was in the Marketplace Buffet which was very good. The ship wasn't full for my stay but there seemed to be plenty of seating and plenty of staff very efficiently clearing tables. The food was good with plenty of choice. Disembarkation was very easy, and I was sad to be saying farewell to the beautiful MSC Bellissima after such a short stay.
I hope this gives you a brief idea of the quality and range of facilities onboard. Having cruised previously on an older MSC ship, I have to say that I was very pleasantly surprised. I would be more than happy to embark on a cruise on her and recommend her to my clients, particularly families. For couples without children, I would highly recommend the exclusivity of the Yacht Club.