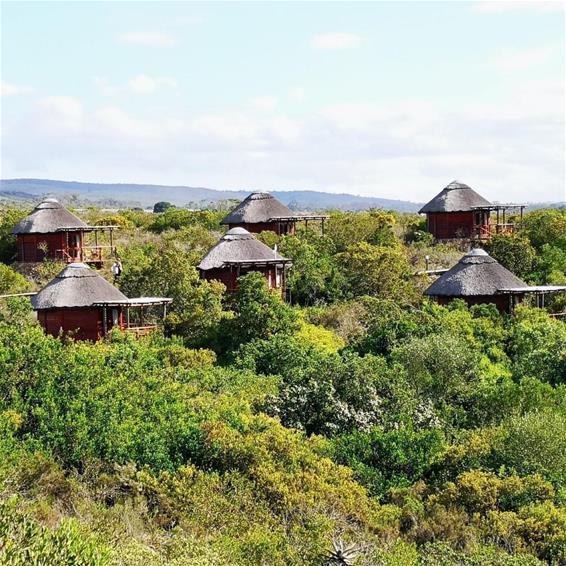 It is now a myth that you cannot see the big five close to Cape Town.
We took a leisurely drive for 3 and a half hours along the N2 and stayed at the beautiful Garden Route Lodge near Albertinia. The lodge is comprised of rooms attached to the main building; individual chalets and then 2-bedroom chalets.
With my two kids, we stayed in a two-bed chalet which has its own check in area. We were greeted with a welcome drink and my youngest daughter was given a cap so that she does not get sunburnt.
The chalet has an inside and outside shower and bath which is lovely and had its own plunge pool which we made use of before going on our first game drive. There is a wide variety of animals and birds however it must be known that due to the worst drought conditions in over 50 years, the game farm is only operating at 2/3 capacity to avoid animal suffering. All the animals except the elephants, lions and wildebeest feed off the natural surroundings. The lions and elephants are the only animals that are kept in separate areas. The reasons are simple. Let the lions free with all the other animals and they would wipe out many of the other animals that cost a lot to be reintroduced into the area. The elephants are also very destructive and wasteful, breaking down a lot of trees and eating vegetation which is still very sparse.
Dinner and breakfast are buffet style, so this allows you to choose your own food and have a little or as much as you want. Once again, the lodge already had colouring in pens for the kids at the table to keep them occupied.
Key reasons that I loved this spot. • Malaria Free • Close to Cape Town (less than 4 hours) • Kid friendly without being overrun by kids • Wi-Fi for the business people if you really can work in these gorgeous surrounding • As the sun doesn't rise that early in the morning, you can have a longer lie in than if you were further up north. • Very friendly South African hospitality.