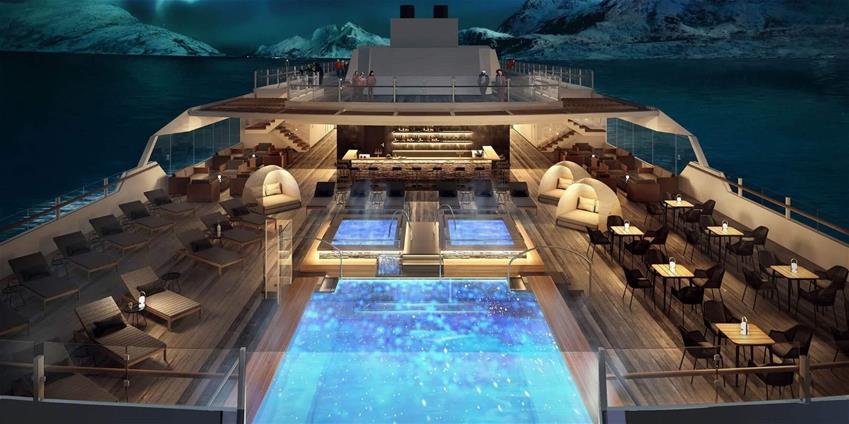 Are you active and love the outdoors? Are you inspired by travel, destination immersion and like educational experiences? Well, expedition cruising might be just what you are looking for.
Your trip will be filled with adventure, conservation, education and out-of-this-world excursion experiences. There is a lot of emphasis placed on visits made ashore, the wildlife and visiting remote destinations, many of which can only be accessed by smaller or specially built ships. Hurtigruten are launching two new expedition ships, one of which will be hybrid and powered with large battery packs to reduce emissions. They are also the first cruise line in the world to have banned all unnecessary single-use plastic, including straws.
When you travel on a Hurtigruten Expedition voyage you will not just cruise past stunning scenery, you will immerse yourself in it and take part in exciting landings on small fleets of polar circles and zodiacs and then land on remote beaches for the ultimate exploration experience.
Destinations visited by the Hurtigruten Expedition ships include Antarctica, Iceland, the Northwest Passage, North and Central America, Svalbard (Spitsbergen), Russia, Norway and South America.
Whilst this type of cruising is not cheap, it will include the following; • An introductory Photography lecture to help you capture the stunning scenery you will experience. • Guidance from the Expedition Team with experts on hand for each itinerary. • A programme of activities designed to immerse you in every destination including onshore exploration. • A science programme designed to teach you about the environment you are visiting. • All meals with ship beer, wine, soda and mineral water in all restaurants with meals. • Complimentary wind and waterproof jacket. • Loan of boots, trekking poles and all equipment (not hats, gloves or scarves). • During the day you might find yourself kayaking, snorkelling, whale watching, stand up paddle boarding, visiting UNESCO sites, beach cleaning, hiking, dog sledging, visiting National Parks; in fact Hurtigruten offers over 300 excursions on 4 different continents, you will be sure to find something that suits you!
If you are concerned that the ship will be a bit basic and be lacking in comfort and amenities think again! The Expedition ships carry between 100 and 530 passengers with a range of accommodation, including accessible cabins, from inside cabins to expedition suites, all of which have en-suite facilities. At the end of the day, after a casual or fine-dining experience, you can look forward to snuggling under a soft duvet in your cabin.
Some of the facilities on some of the ships include floor to ceiling windows, two-storey panoramic lounge areas, inside and outside observation decks, an infinity pool, a gym and a hot tub! There is low-key evening entertainment which usually takes the form of a recap of the day's activities and a presentation of tomorrow's programme or maybe sitting in the lounge with your new expedition friends watching the stunning scenery pass by.
An expedition cruise is definitely on my bucket list; I rather fancy the most remote continent - Antarctica which is the coldest, driest, highest and cleanest continent on Earth. I would love to get close to icebergs and encounter penguins, seals and whales in their stunning natural habitats. I might even do a polar plunge, but then again, I might not!
If this type of cruise 'floats your boat' please get in touch as I would be delighted to tailor-make a trip to suit your requirements. You will have the most amazing holiday with memories to last a lifetime!