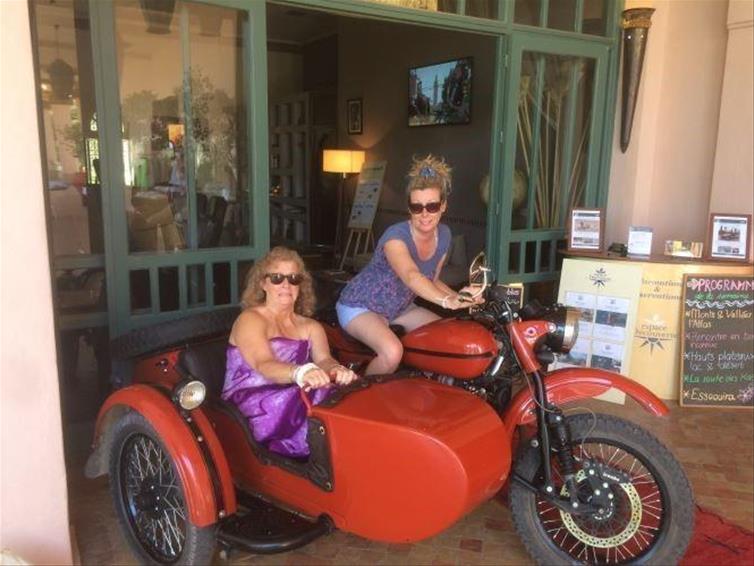 An early flight from London Gatwick got us into Marrakech Menara Airport around three and a half hours later. Stepping off the plane was like opening the door to a steam room, it was rather warm! The airport building was architecturally stunning with holes in the fabrication to allow pools of sunlight to filter through the Jali-style fretwork.
We easily found our waiting transfer and 20-minutes later we had arrived at our Riad within the city walls of the Medina. Characterful, cool and inviting, the Riad, which means a traditional house with an interior garden or courtyard, had the added advantage of a rooftop terrace and provided the perfect start to our trip. The hustle and bustle of street life was left firmly outside the doors of the tranquil haven that was to accommodate us for our first night in Marrakech.
Our host suggested that we might like to experience a hammam and massage and arranged for us to visit one a couple of minutes' walk away. Once inside, we were shown to a room where we were sloughed and massaged to within an inch of our lives but it was great! Had we been a bit braver we might have opted for the more authentic experience which would have seen us at a public hammam. After covering yourself in black soap, leaving it to soak in and then washing it off, the hammam ladies arrive to scrub and exfoliate EVERY part of your body from head to toe! The amount of dead skin that gets removed is staggering, and a little mortifying too.
Marrakech is often described as the 'Red City' with many minarets, mosques, palaces and gardens including one created by Yves St Laurent called Jardins Majorelle. We decided to explore the Medina feasting our eyes on a multitude of experiences; traditionally dressed people and those in more Western attire, cars weaving around other vehicles, calèches (horse-drawn carriages), cargo-laden rickshaws, the wonderful aroma of spices and the general hustle and bustle of a city at work.
In the evening we dined on traditional Moroccan falafel, humous and grilled vegetables; being the last day of Ramadan no alcohol was being served but the mint lemonade was a thirst-quenching treat. Returning to our hotel, we enjoyed a chilled bottle of rosé wine whilst cooling down in the small dip pool, a perfect way to end our first day in Marrakech.
After a good nights' sleep and a fabulous breakfast consisting of local bread, pastries, cereals and a mushroom omelette, we took a taxi to Club Med La Palmeraie, our home for the next 3 nights, and only a 15-minute journey north.
After checking in, we were taken to our room which looked out onto the beautifully manicured gardens. We had a sumptuous lunch in the buffet restaurant, with so many choices it was difficult to decide what to have. I plumped for a bespoke salad prepared by the chef in front of me from ingredients that I had selected from the huge range available; avocado, lettuce, carrot, artichoke, mushroom, tuna, tomatoes, onion, sweetcorn…….
There were two swimming pools, one of which was an adults only Zen pool. There were plenty of sunbeds, umbrellas, cabanas and shady areas to protect you from the midday sun. Platters of fruit were brought to your sunbed by staff every morning, followed by the welcome addition of a cool orange or lemon juice drink. The resort can be as relaxing or full-on as you like with a range of activities to try, maybe for the first time. These included golf, mini-golf, cycling, running, trapeze skills, Pilates, yoga, a fully-equipped gym, horse riding, tennis and volleyball.
Our time at the premier all-inclusive Club Med was excellent. The resort is very relaxing, staff are very friendly and the grounds are wonderfully maintained with many water features. Nothing is too much trouble; the multi-lingual staff are always on hand to offer assistance and solve any problem that might arise. The hotel offers a complimentary air-conditioned shuttle service into the city several times a day.
The local souks sell pretty much anything that you could wish for. However, it is customary to haggle and you can expect to pay around 50% of the original price. In the evening, the area around Djemma El Fna Square is an eclectic mix of snake charmers, water sellers, acrobats, dentists, magicians, storytellers, dancers and you may even see a boxing match! Djemma El Fna is one of the symbols of the city since its foundation in the eleventh century, it is a very lively and popular place attracting around one million visitors a year. The square is edged along one side by the souk and on the other sides you will find hotels, gardens and cafes with narrow streets leading in to the alleys of the medina quarter.
The towering Atlas Mountains can be seen from the city to the south and, in winter the snow-capped peaks are visible against the clear blue winter sky. Be aware though that, in the summer, the city can reach temperatures of 50°C in the shade!
Our time in Marrakech came to an end all too quickly but it is a place that we shall happily revisit. The warmth and genuine hospitality shown to us by the Marrakchis was fantastic and they are incredibly proud of their city. If you are looking for an easy-to-reach short haul destination which is steeped in history, offers a rich and cultural heritage then Marrakech is definitely a place that you should consider.