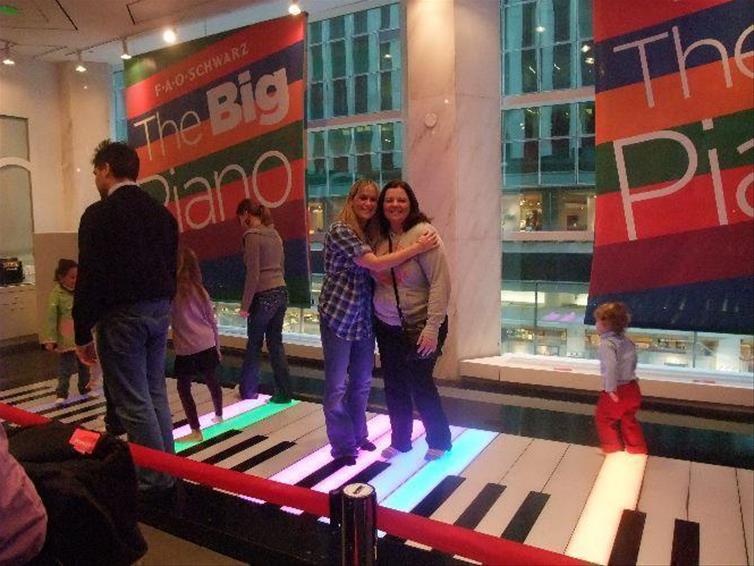 I have just come back from a fantastic trip with Continental Airlines to New York. I flew directly from Heathrow to Newark & then we took the train to Penn Station. Accommodation in New York ranges from classy & famous hotels to ones that offer basic bedrooms for crashing after a day & night of high excitement.
We stayed at the Affinia 50 on our 1st night, located on the corner of East 50th Street & 3rd Avenue. The hotel was extremely comfortable (6 pillow choice on the menu!), there are spacious suites & guest rooms on the 22 floors & on the 2nd floor of hotel there is a gym, two tv rooms, coffee/tea facilities and papers etc... We checked in & then headed in a cab to the Upper west side of Manhattan. Dinner at Calle Ocho Restaurant on Columbus Avenue which I would highly recommend. The place had a fantastic vibe & everyone was extremely friendly.
On next day we had a hosted breakfast & a site tour of the Affinia 50, the hotel is in a great location for sightseeing & I would recommend it to couples or families or business travellers. New York is best experienced at ground level where you can balance museums & sight-seeing, Manhattan is easy to navigate but I would recommend that you purchase a ticket from Citysights NY & do the Downtown Loop tour.
We had lunch at South Street Seaport, on a good day there are fabulous views of the city & Brooklyn Bridge! Then it was off to Macy's department store! In the evening we checked into The Benjamin – a few doors up ! Great night with drinks in the hotel bar & then a limo cab to Little Italy for dinner. Then it was back to the comfort of The Benjamin hotel which is 125 East 50th Street. Hard to choose a pillow from a choice of 12 on their menu! This hotel was more luxurious, offering the facilities of a fine dining restaurant & a bar.
On Sunday morning we had a beautiful breakfast in the hotel & then a site tour of the rooms/suites & facilities. We had a day of shopping & sightseeing, in the evening we went to visit the Affinia Manhattan hotel. Its location is a step across from 7th Avenue & on the doorstep to Madison Square Garden, the Empire State Building, 5th Avenue shopping, Broadway and Times Square. The rooms were slightly 'tired' but the hotel is about to go under a huge renovation, the staff were excellent. I would be happy to recommend this to anyone who wants to be smack bang in the centre of the city!
After a fabulous meal in the hotel's restaurant called Niles we went to the top of the Rock. The viewing platform is a few metres lower than the Empire State but the views are even more spectacular. To save queuing, book tickets beforehand ! On Monday morning we went to visit 5* The Surrey Hotel, located in Manhattan's Upper East Side. It is a stunning hotel with beautiful, tasteful decor. Every facility from gym, spa, bar, Michelin star restaurant, in-room dining & private rooftop garden is available here. Central Park is 4 blocks from the hotel. Then we meet up with "On Location Tours" & went on the tour of the "Sex & the City Hotspots". We followed in the footsteps of Carrie, Samantha, Charlotte, and Miranda, the tour includes more than 40 locations from the show, so if you are a fan eager to learn more, or a tourist looking for a more entertaining way to see Manhattan's then this is the tour for you!
We then travelled out to Newark Airport by private transfer to start our return journey home with Continental Airlines. We were hosted in the business lounge & I was very fortunate to experience the Business first service on the direct Newark to Belfast flight home. We experienced supreme comfort in our sleeper seats & thoroughly enjoyed a delicious 4 course meal. Holidays in New York can overwhelm even the most blasé traveller. From skyscrapers to museums & department stores, New York is the city that does it bigger, louder & faster than any other. I had a great trip & made many great friends. I would encourage everyone to sample a bite of the big apple!