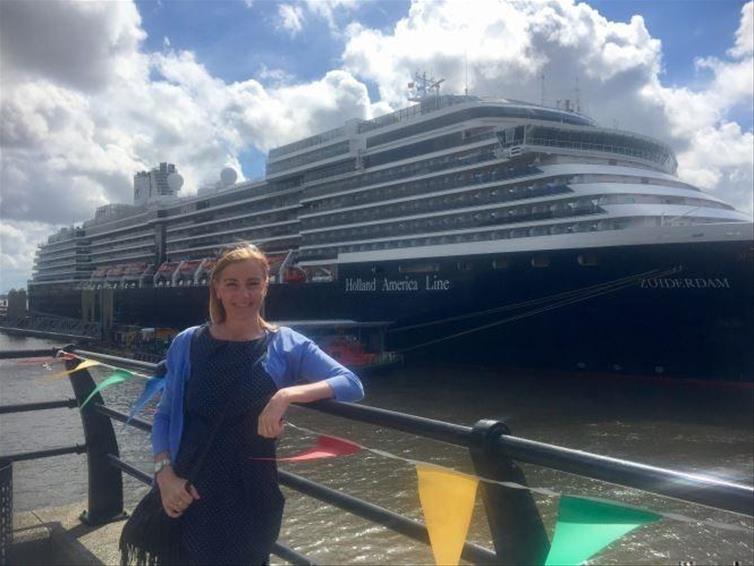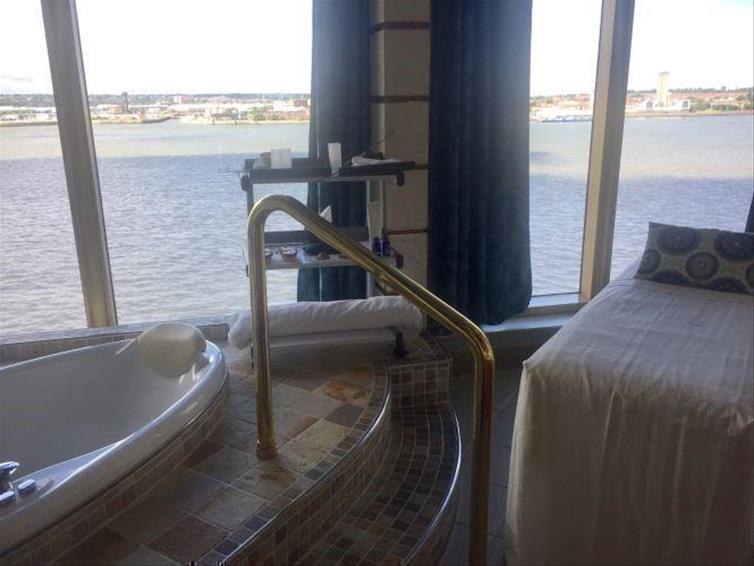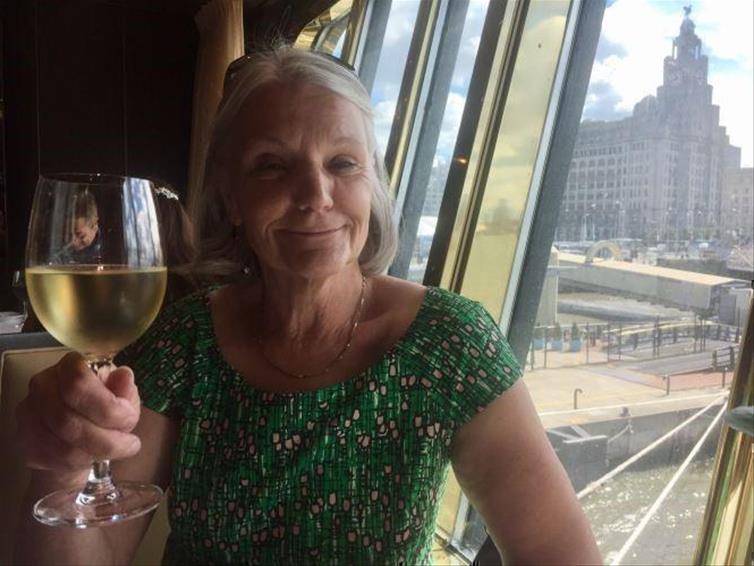 In August I was invited to Liverpool to visit Holland America's ship, Ms Zuiderdam, which is one of their Vista Class cruise ships, so called because of the amount of glass used around the ship which means the majority of the staterooms on board have ocean views or balconies.
There are four ships in this class which are all named after points of the compass (in Dutch) – the others being Noordam, Oosterdam and Westerdam. The mid-sized Vista Class ships carry around 2,000 passengers. Holland America is an American owned cruise line, so named as it originally operated as a shipping, passenger, cargo and cruise line mainly between the Netherlands and North America. Today they cruise to over 400 ports of call all over the world.
On this visit I was able to take along a potential customer with me, so I took my Mum! Once on board we enjoyed a coffee in the Lido Marketplace, which is the casual dining restaurant where breakfast and lunch is served every day, where we sat and planned out our route for our self-guided tour of the ship. Today was a beautifully sunny day for the Zuiderdam to arrive in port, really showing Liverpool off to visitors at its best, so the first thing we did was get out on deck to soak up the sunshine!
The deck area was spacious and modern, the open-air pool flanked by two spa pools, and at one end of the ship private cabanas for hire.
Then as we explored the inside of the ship there were quirky modern art pieces at every turn – from polar bears in the tranquil Lido Pool (which has a retractable roof), a huge Waterford Crystal seahorse in the atrium, and pieces by famous artists including Andy Warhol.
Also inside, the Greenhouse Spa has lots of treatment rooms, some with views out over the ocean while you enjoy your massage or bubble bath – bliss!
We weren't able to look inside any staterooms properly today as the ship was mid-cruise and full, but we did manage to get a quick peek in some as we walked past them being cleaned! We were able to visit the Neptune Lounge though, which is a private lounge on the same deck as the Suites, only available to Suite passengers. The lounge has its own concierge, snacks available all day, comfy sofas, internet stations, newspapers, and a large flat screen TV – definitely worth the upgrade.
We stopped off for a little rest in the cinema screening room, which had the most comfortable cinema seats ever – not sure I'd be able to stay awake for a whole movie if I sat in one of them for too long!
After our tour we had a three course lunch in the main dining room – we got there early and chose a table by the wide windows for a wonderful view of Liverpool in the sunshine while we sampled the cuisine on board. To start, I had a delicious roasted Roma tomato soup with basil foam, followed by beef tenderloin with fondant potatoes, mushroom confit, port glaze (probably the most tender piece of beef I've ever eaten), and chocolate peanut tart with rum raisin ice cream. It's safe to say I was pretty full up after all that – three clean plates it was so delicious!
After lunch we attended a short presentation about Holland America and the Ms Zuiderdam – which thankfully was very interesting otherwise we might have struggled to stay awake after our fabulous lunch! We learned about the enrichment programme on board, which is something that Holland America Line pride themselves on, providing lots of opportunities for passengers to learn on board – including a collaboration with BBC Earth, hands-on culinary experiences in "America's Test Kitchen", an expert destination programme where you can get a more in-depth knowledge of the destinations you are visiting, through to workshops to enhance your digital skills and make sure your photos taken on the cruise are tip top! Children's activities too are all based on learning about the destinations they are visiting in conjunction with BBC Earth.
I would recommend this cruise to my clients who want a classic luxury but casual experience, who want good food and service, and are really interested in the destinations they are visiting, as the enrichment programme will really help you to get the most out of each destination, and share the experience with like-minded travellers.
After our visit the Zuiderdam was off to complete her European summer programme, then she heads over to Canada & New England for the autumn, and the Caribbean for the winter.
If you'd like to know anything else about Holland America or any of their ships or itineraries please get in touch. And if you'd like to take a look you can see more photos from my day on Ms Zuiderdam on my Facebook page www.facebook.com/catherinemackeyTC