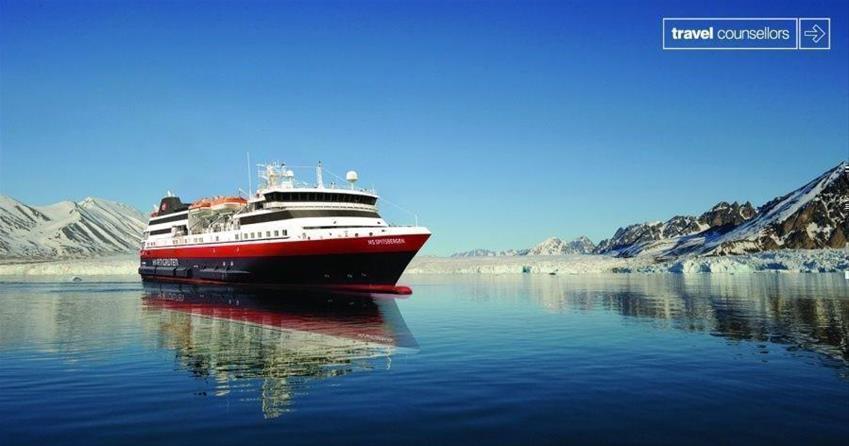 Never heard of a Hurtigruten Cruise before? That's because they don't do 'cruises'; they do 'voyages', and the most spectacular ones at that!
What's the difference? With 'Hurtigruten', the ships are simply the means of getting you to the most wonderful places on earth, mostly inaccessible by other cruise lines. Just when you thought you knew everything there was to know about cruising, or like me, you are one of the many people who 'don't do cruising' , this could well be for you! The ship is your comfortable 'base-camp' at sea.
There's no 'formal' entertainment on a Hurtigruten voyage: no on-board casinos, no West End shows and no formal dressing up. The entertainment is the spectacular scenery passing by the floor length windows every day. The entertainment is watching a working ship at work: delivering and receiving freight, people and food: always fresh produce which goes to making the most delicious meals from 'Norway's Coastal Kitchen.'
The Lonely Planet Guide named Hurtigruten's classic voyage as 'The World's Most Beautiful Voyage; and rightly so, taking in 12,000 nautical miles of Norway's stunning coastline, crossing the Arctic Circle to the Russian border. Sailing in the summer months will bring you the stunning landscapes of the Midnight Sun, whereas sailing in the autumn and winter months will enrich you with the autumnal changes in the forests by the fjords and the spectacular Northern Lights. Travelling deep into the Artic Circle, in the winter months, you'll experience them in all their glory: Hurtigruten are so confident of you seeing them, being so much further north than Iceland, that they even promise a return 6 day voyage free of charge, if you don't. What better entertainment can there be?
Hurtigruten have been going since 1893 but mainly (and still) as a postal and freight service along the Norwegian coastline. On board, the ships are beautiful in the Scandinavian way: clean, crisp and functional. Locals pop on board, going about their daily lives and relying on Hurty to get them from A to B.....it's a true experience of real life.
On board, there are fascinating educational talks by wildlife experts, by National Geographic accredited guides who talk about what you can expect to see in the places you visit. Fancy kayaking in the pristine Arctic waters? Fancy King Crabbing? Fancy sled riding with huskies? With Hurtigruten you can do it all.
Hurty are extremely environmentally aware. On the 2nd July 2018 , their 125th birthday, they banned completely all single use plastic across the fleet. They continue to make inroads by looking into producing uniforms which are also 100% plastic free and have even converted their ships (not all done yet) into hybrids wherever possible, using as much bio-mass as possible from fish waste amongst other things! On their shore visits, you are 'kindly invited' to help with litter picking along the shore, as a payback for being privileged enough to experience the most spectacular scenery and wildlife in the remotest of areas. And who wouldn't want to be part of that!
Most ships have an 'Expedition team' who are experts in nature, guiding, culture and history. They bring the Norwegian coastline to life with their lectures and insider knowledge, and deliver photography classes too in preparation for any wildlife visits the following day. Bring your camera!
Hurty don't only voyage along the Norwegian coastline (and high into the Artic Circle to Kirkenes on the Russian border), but they also voyage to Alaska, Antarctica, Svalbard, the Northwest Passage, Greenland, Iceland, North and South America and even the Caribbean and Central America. Not bad for a Norwegian postal company!