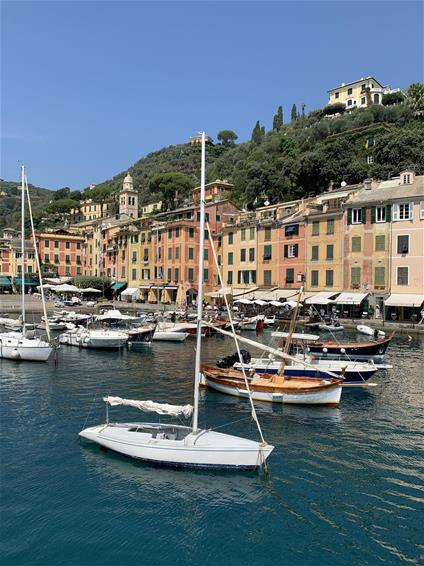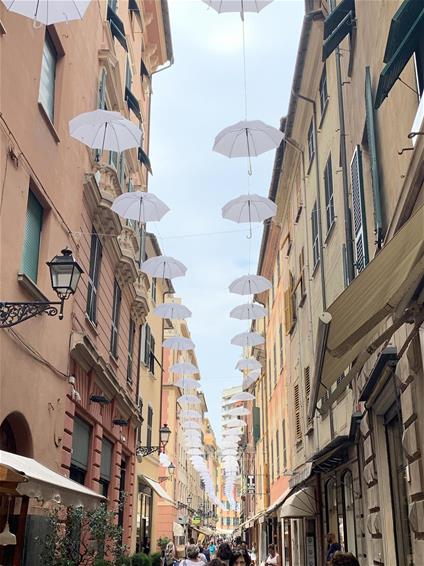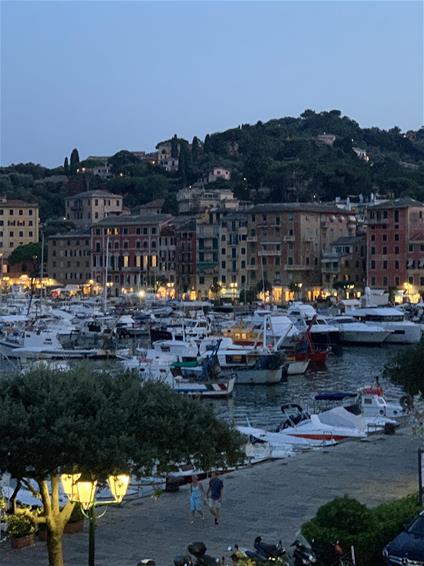 It may not be the first destination that springs to mind for a short break, but the Italian Riviera is ideally placed if you only have a few days to get away. Flights are available from a number of UK airports, we flew from Manchester to Genoa, with a flight time of around two hours. There is an airport bus which will take you to the city centre for 6 euros, the journey time is around half an hour.
I have visited Italy many times having worked in Rome as an au pair in my teens which I thoroughly enjoyed. When I have returned it has been to revisit Rome, I also love Milan and spent a summer in Tuscany. Having never been to the Italian Riviera, which stretches from the French border down to Tuscany, I was keen to explore a new part of Italy. The Riviera has well known resorts such as San Remo and Portofino but also smaller towns and villages that are quieter and typically Italian. Unlike the French Riviera this part of the Italian coast is predominantly rocky with towns and villages built into the hill sides. The area is popular for walking holidays, particularly around the area known as Cinque Terre, five villages that are built into cliffs between Porto Venere and La Spezia. If you don't have your hiking boots they are also a spectacular sight from the sea, with plenty of boat trips from Santa Margherita and Rapallo which allow you to experience each village.
Having four nights to spend on the Riviera we decided to stay the first night in Genoa and explore the city before moving further south. Genoa is a coastal city built into the mountains, it is known for being the birth place of Christopher Columbus and is a famous port city and Italian financial centre.
If you only have a short time to spend in the city, must sees include Piazza de Ferrari with its impressive fountain, conveniently positioned at the end of the main shopping street Via XX Settembre. The Porta Soprano towers can be seen from most of the city as they are high on the old city walls and are worth the climb for the views of the city and coastline below. San Lorenzo Cathedral is a peaceful spot amidst the bustle of the city, and the harbour area, developed by architect Renzo Piano for the 1992 Expo has an aquarium, restaurants and shopping areas.
Genoa, like all Italian cities has numerous outdoor cafes and restaurants which provide a welcome opportunity for a break from sightseeing and shopping. Enjoy a simple gnocchi with the locally made pesto, ice cream or espresso. The bakeries are filled with delicious cakes and pastries and warm focaccia bread straight from the oven.
For the next part of our journey we decided to travel by train. Italy has a great rail network and it is an easy and inexpensive way to get around if you want to visit a number of cities and resorts on your trip. We travelled down the coast from Genoa to Santa Margherita Ligure, two tickets cost around 10 euros and the journey time is half an hour to an hour depending on which train you catch. The trains run frequently and are also great for day trips down the coast if you decide to base yourself in Genoa city.
There are some beautiful hotels in Portofino which is a popular, if expensive spot on the coast around an hour south of Genoa. If you are looking for luxury The Belmond Hotel is nestled in the hills overlooking the harbour and will provide you with a private yacht for trips up and down the coast, there are also some more reasonably priced hotels, particularly if you are visiting in the spring or late summer.
We stayed in Santa Margherita, a beautiful little town which is 20 minutes away from Portofino and has a range of hotels to suit all budgets. It has a promenade stretching the length of it's coastline, taking in pebble beaches, restaurants and cafes and a marina where in summer yachts drop anchor to visit the resort.
The town is typically Italian and attracts local tourists from cities such as nearby Genoa and Milan. Particularly in August the resort is busy with Italians taking their summer break, outside of summer it is quieter and generally less busy. The climate is typically Mediterranean, although temperatures can be high during the day in July and August it is still cool enough in the evening to dine outside comfortably.
Following a walk along the promenade enjoy a coffee or a spritz, an Italian favourite made with bitter orange liqueur, prosecco and soda, while having a break to people watch. There is a beautiful church in the centre of town surrounded by winding streets full of shops and cafes. If you enjoy shopping the best time is early evening when the temperature is cooler, many shops stay open until late evening having closed for a couple of hours in the afternoon for lunch as is traditional in Italy.
The local ferries are a great way to experience different resorts in the area. They run frequently up and down the coast and cost from around 6 euros return. Portofino is only a short distance from Santa Margherita by either ferry or bus. Explore the winding streets with both designer and traditional shops, Castello Brown, a castle and museum built in the 16th century, and the beautiful Chiesa de San Martino. Then take a break for lunch in Piazza Martiri Dell'Olivetta the main square overlooking the harbour. Picturesque San Fruttuoso with its Abbey in the bay is also a must see, as is Rappallo a town further down the coast. Here you will find wider selection of hotels and Lidos providing access to kids' facilities, swimming pools and private beaches for around 15 euros per day.
Back in Santa Margherita there are plenty of restaurants to choose from for dinner, serving everything from pizza to locally caught fish and seafood and fine dining options. The local wine is excellent and is served in the early evening with antipasti, locally called 'aperitivos', ice cream shops are also open late into the evening and are a popular family meeting place.
Having enjoyed a relaxing few days exploring the coast we caught the train back to Genoa and the airport bus from the station, again an easy journey taking no time at all.
So, if for your next trip you a looking to do a little more than the usual city break and don't want to travel too far this could be just the place for you.