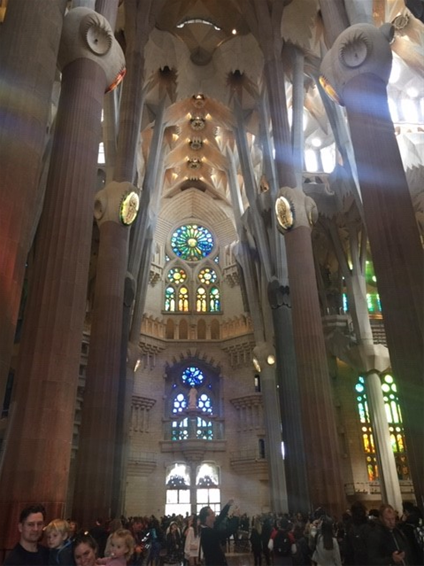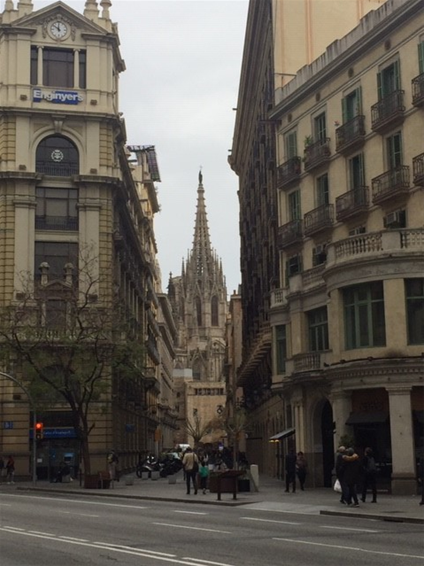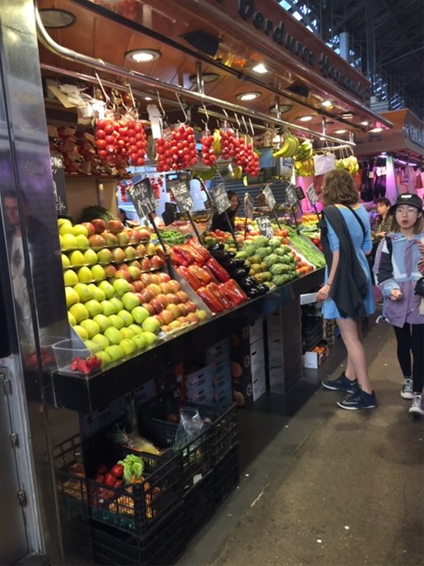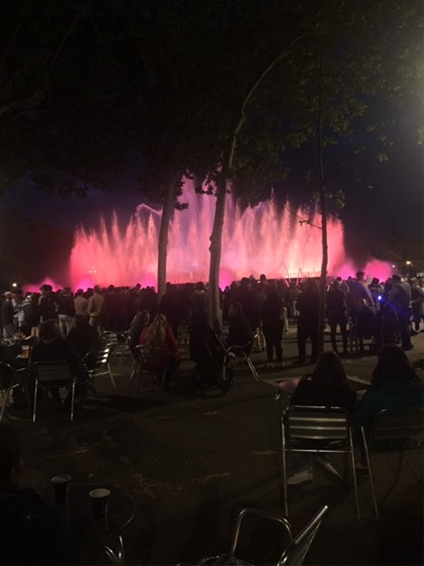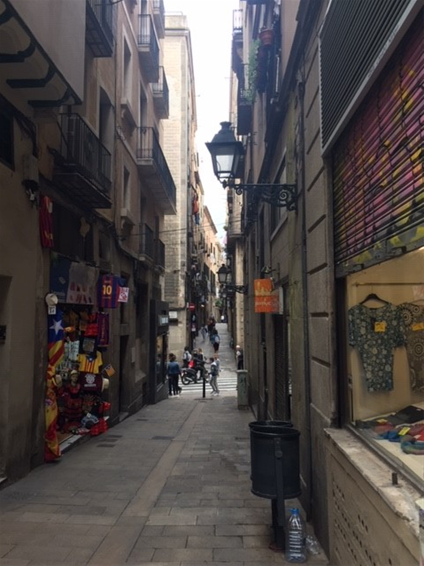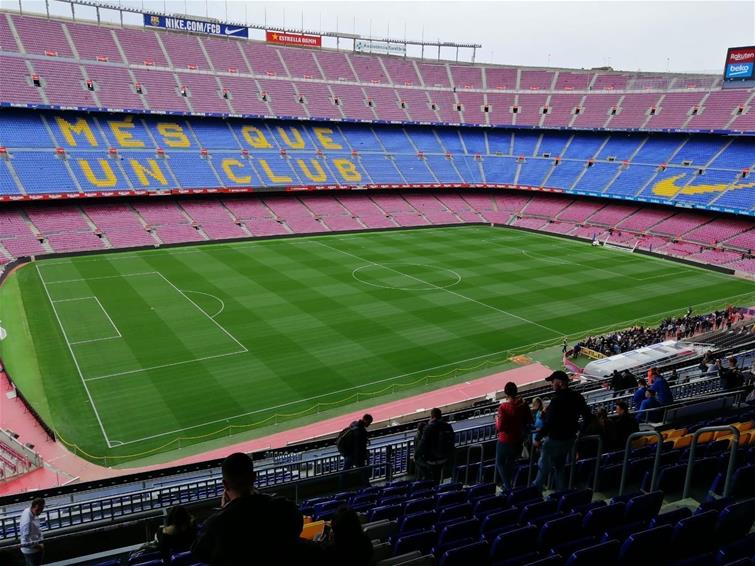 I wanted to take Paul and the kids away for a city break so we opted for Barcelona. I managed to find really good flights travelling in April with Easyjet, and we opted for the 4* Aramunt Apartments in the Eixample district for 3 nights. Our flights departed on time and we were in Barcelona within 3 hours. I hadn't pre-booked an airport transfer as it seemed quite pricey, so I was a bit concerned when we arrived that it would cost a fortune. I needn't have worried as its very well organised outside the airport and our transfer took approx 30 mins and cost €25. From the outside the apartments didn't look that impressive however check in staff were really friendly and although our room wasn't ready they were more than happy to store our luggage so we could go and get our first glimpse of the city.
Our apartment was located approx 10 mins from the Plaza Cataluyna and Las Ramblas so it was in a fabulous location. We opted to grab some lunch and was advised to steer clear of the main tourist areas as you will pay a premium for food. We just opted for some sandwiches and drinks and this wasn't expensive at all. After lunch we wandered back to the apartment as we were able to check in. I was really impressed with the standard of accommodation, everything was really modern and had everything you need and more for a short break. Our room overlooked the main street but wasn't noisy at all. These apartments would work really well for families as they do give slightly more room than your average hotel room and I would definitely recommend them.
After checking in, we continued exploring just to get our bearings and we stumbled across the fabulous food market of La Boqueria, this place is definitely worth a look around as it is just full of fresh produce, food stalls and flowers, its really busy and has a great atmosphere. Las Ramblas is lovely and a hive of activity with loads of shops, market stalls and street performers. One thing that everyone says about Barcelona is that the pick pockets are rife, I have to say I never witnessed anything of the sort, although I've since learned its more of a problem on the underground system, so just keep your wits about you, and you'll be fine. We did eat on Las Ramblas the first night and whilst the food was reasonably priced, the drinks are really expensive our meal cost 116€ for the 4 of us and this was literally for pizzas and drinks!
The next day we had pre-booked an open top bus tour, as we thought this would be the best way to see the City and to get our bearings. We were lucky as there was a bus stop very close to our apartments which was an advantage to us as most people opted for the main bus stop in Plaza Cataluyna to board so we managed to get our pick of the seats. There are 3 routes you can take and we opted for the longest which took us over to the Sagrada Familia, Park Guell and the Nou Camp. With the tickets you can obviously hop on/hop off as you please but we just decided to do the whole route. It was actually quite chilly so being on the top desk wasn't so much fun, but we laughed about it. Once the route was finished we went back as we had tickets for the Sagrada Familia, the beautiful unfinished church of Gaudi. This wouldn't normally be something we would do, but its quite iconic so we felt we really should see it. We opted for tickets including the audio guide, which started off really well but we soon managed to lose our bearings so we were listening to information and it was obvious we were in the wrong area of the church! The church is absolutely stunning from the outside and once you're inside the sun shines through the stained glass windows and its just beautiful, you really should visit. Our tour cost £108 for the 4 of us.
One thing we did find was although there are loads of restaurants to chose from, the food did seem to be exactly the same in all restaurants, so it was really a case of finding who offered the best prices. On average an evening meal cost 100€ for 4 but again this only ever included 1 course.
The next day Paul and George had tickets for the Nou Camp so they went off on the bus, whilst Emily and I went for a wander around the Gothic Quarter. I should say we bought the 2 day hop on/hop off bus tickets as we felt it was better value at approx £112 however the other reason was so Paul and George could get to the Nou Camp. The only annoying thing with this, was the fact they had to do the entire tour again so a journey that would've taken approx 20 mins on the underground took 90 mins on the bus. If we ever went back I actually wouldn't do the bus tour as it did seem a bit of a waste, but hindsight is a wonderful thing. The nice thing about Barcelona is you can wander and just stumble across pretty little streets and lovely old buildings. The shopping is also really good both the major high street stores and the quaint little boutiques. I love just wandering and stumbling across little nooks and crannies. The boys had a really good time at the Nou Camp and said it was well worth a visit. That afternoon we took the other bus route which took us over to the Olympic stadium and the cable cars of Montjuic, this route was much shorter and gave us a chance to look at the other parts of the city. We also watched the dancing fountains which was lovely and attracts quite a crowd, make sure you check the times of the displays as it does vary from season to season.
We spent 3 nights in Barcelona and it was lovely, I would highly recommend it, there's no right or wrong place to stay as everything is easily accessible, I stumbled across a fair few properties I'd initially dismissed as I thought the location was wrong, but anything within half an hour of Las Ramblas is totally fine. Barcelona is an expensive City so bear that in mind when deciding on how much spending money you may need. The weather wasn't great when we were there but in the summer you have the added bonus of a beach so you can spend a few days exploring, then a couple of days chilling out on the beach. Accommodation varies greatly in price and I personally thought the apartments we stayed in were fab, and would work well for bigger families as well. You don't have to spend a fortune to stay here either, just bear in mind that all hotels will charge a city tax which is anything from 2-5€ per room per night and will be collected when you check in. Our break cost approx £900 for the 4 of us including flights and accommodation.