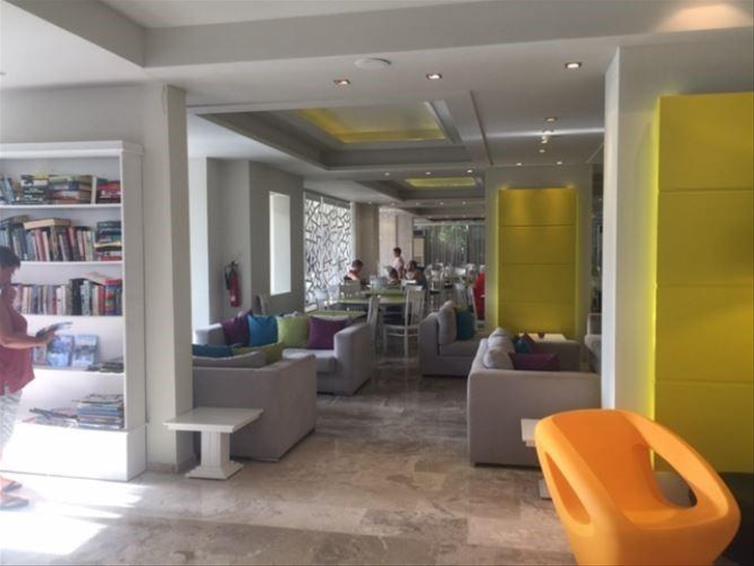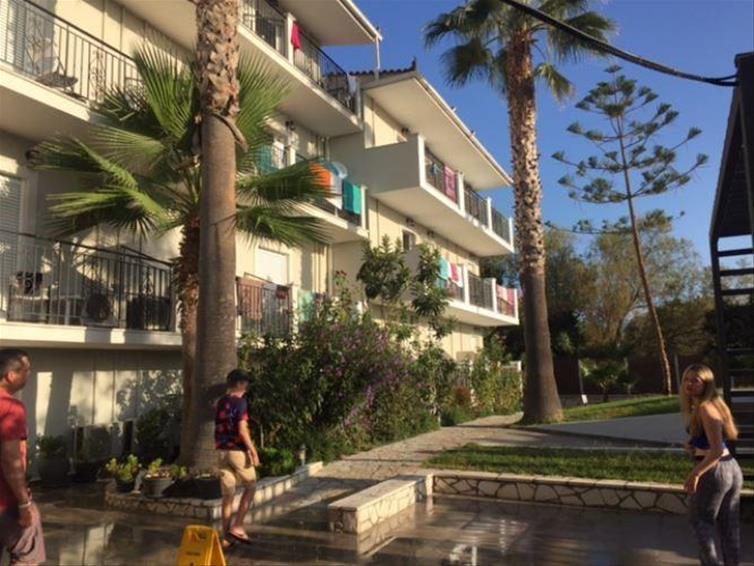 This was our first visit to Zante and we weren't disappointed. Our home for seven nights was the Smartline Margarita in Laganas. I had done a lot of research prior to booking and had previously sent some friends here, who came home with very positive feedback.
We were allocated our room for the week, and initial impressions were good! Our view was out over the front of the hotel with fields and mountains in the distance. The hotel is much smaller than we have stayed in previously, but this seemed to add to the friendliness of the place. It's a family run hotel and both owners are on site daily along with other family members. We had a brief walk around the hotel which has two swimming pools, one for families and one for adults only, both were of a good size with plenty of sunbeds, despite us traveling in August.
Food at the hotel was excellent, and they actually have their own allotment where they grow vegetables, fruits and herbs, so all of this is used when preparing the meals. Every night there was a different selection of meals, and they were always hot and very tasty while accompanying the hot food was a nice selection of salads and puddings. The hotel employs two entertainers and I have to say they work their socks off to entertain the kids during the days and the adults in the evening.
We had a quick wander around the resort, and to be honest, Laganas is definitely a resort tailored to the 18-30 market, with the main strip designated with countless bars and clubs, so if you're after peace and quiet, this is not the resort for you! Having said that the Smartline Margarita is located approximately 15-20 mins walk from here, so no noise is heard. We wandered down to the main beach and its lovely golden sand and crystal clear warm waters. Sunbeds here were around 3 Euros to hire, so not expensive at all. The beach is also home to the turtles, and we were fortunate enough one evening to see a baby turtle making its way down to the sea. They are very protective of these creatures and the beach is closed after a certain time to enable their safe journey to the sea.
No trip to Zante is complete without a trip to the famous "Ship Wreck" beach known locally as Novagio Beach, often featuring in the 'Top 10 beaches to visit in Europe' lists. The beach is quite small but stunningly beautiful, unfortunately, it does get very busy with boats arriving every few minutes to drop visitors off and the beach itself is not very big, but it's definitely worth a visit. The boat trip we opted for also took us to the Blue Caves where we were able to have a swim and Xygia Beach. The water here contains large amounts of sulphur so it's very good for the skin leaving it very soft, we were also able to swim here. Our trip cost us 80€ for the 4 of us. Most excursions can be bought from the vast array of outlets along the strip or from the reps locally. It is worth shopping around, as most do seem to be selling the same trips. Our rep locally advised us to book through her as it had insurance included, however, the same trip through her was 148 Euros so it's quite hard to justify the difference in cost. We also visited Zante Town which is beautiful, with its quaint harbor, Orthodox churches, buzzing streets and local cafes, there's definitely something for everyone and it is well worth a visit
Eating out if you opted for self-catering would never be a problem, as there are restaurants in abundance and most seem to be offering a vast array of food ranging from local Greek cuisine to Indian, Italian & British, so plenty on offer and prices seemed very reasonable. We had an evening meal out with drinks and main courses and the bill was a little over 70 euros but we received massive portions so it didn't feel overly expensive.
We fell in love with Zante and despite Laganas being a very busy resort, I would most definitely return. The Smartline Margarita is a lovely hotel and the warm welcome you receive throughout your stay is a sure fire way of enticing clients back year after year.