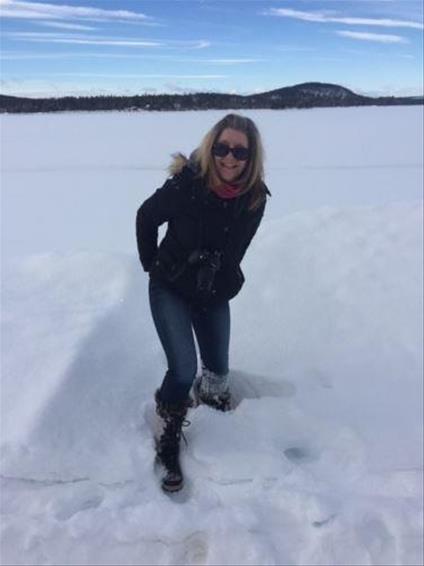 I was given the opportunity to sample the delights of Swedish Lapland courtesy of Simply Sweden and to say I was excited was an understatement. Most people hear the word Lapland and will almost certainly think of Father Christmas. Swedish Lapland is completely different and you will not see the big man himself here!
Our home for the next 3 nights was the 3* Hotel Akerlund located in Jokkmok, a 2 hour drive from the airport in Lulea. This hotel is hopefully going to be featured in the Simply Sweden programme for the winter 2017/18 season. The hotel is very small with only 26 rooms although the hotel is quite basic it more that serves the purpose for holidays in this area.
After breakfast which was excellent we were issued with our warm clothing, this is excellent as like me prior to leaving the UK I had no idea what you needed for a trip to Sweden. I was given my thermal coat, trousers and shoes and they were mine for the duration of the trip, the only other clothing required is suitable layers and most importantly wool base layers, an absolute must!!
A walk around Jokkmok followed and then a visit to the Sami museum which is a fascinating insight in to the Sami Culture followed by a lovely lunch. That afternoon we went to visit a Sami Reindeer herder. I was so looking forward to this trip as we were able to get up close and personal with the reindeer which was amazing and then a traditional evening meal followed cook and prepared by Anna our Sami herder and was eaten by a roaring fire in a teepee.
After this experience we then embarked on searching for the Northern Lights. We all knew that this would take time and after nearly an hour of driving around the area we were not disappointed and we were given our thrilling show!! For anyone who has not experienced the Northern Lights it's really quite hard to put into words. The sky was full of colour and various shapes danced across the sky. One tip though, don't be fooled into thinking your smart phones will capture any images, you will most definitely need a good camera and where possible a tripod.
The next day and we were off Husking Sledging this was such a great experience. We got to meet the dogs prior to the ride and they clearly absolutely love their jobs. We were taken across frozen lakes and through stunning countryside, stopping every 5 minutes to give the dogs a rest, although most were anxious to get going again. Another lunch under canvas and was very hands on, literally cooking your own food over the fire. These excursions are widely available in this area.
We ate this evening at the Hotel Jokkmok which is much larger than the Akerlund, we feasted on reindeer, which is the staple diet for this area. After dinner we attended a cultural activity which was 1hr 30 min Taste & flavour experience learning about all the various foods this area has to offer.
We were leaving Jokkmok today and on route back to the airport we went to visit the Tree Hotel. This place is amazing and I would highly recommend a visit. The property has 7 rooms all with their own unique design and theme, all rooms are suspended above ground and are nestled in the trees giving amazing views of the surrounding countryside. The rooms offer a unique experience and make the perfect twin centre option with Jokkmok itself.
This has been my first visit to Sweden and I have to admit I fell in love with the place. I wasn't really sure what to expect but I will say I would love to return with my family and experience everything again. I wouldn't say it's a cheap place to go but if you're looking for something different and want to experience the Northern Lights, Huskies & Reindeers I can't think of a better place to suggest. I thoroughly enjoyed my visit and cant wait to return.