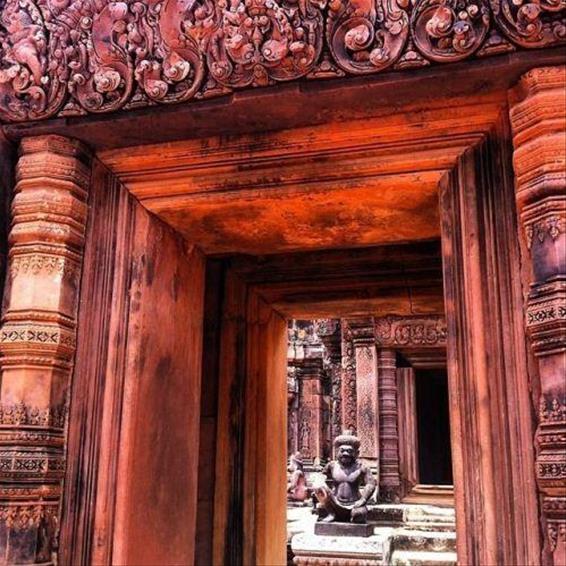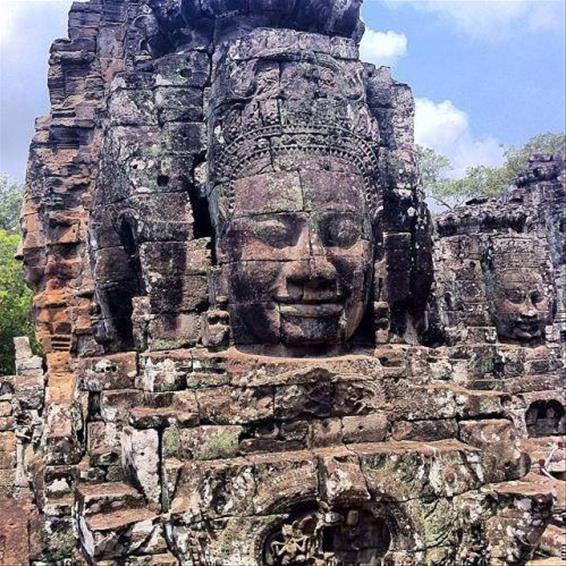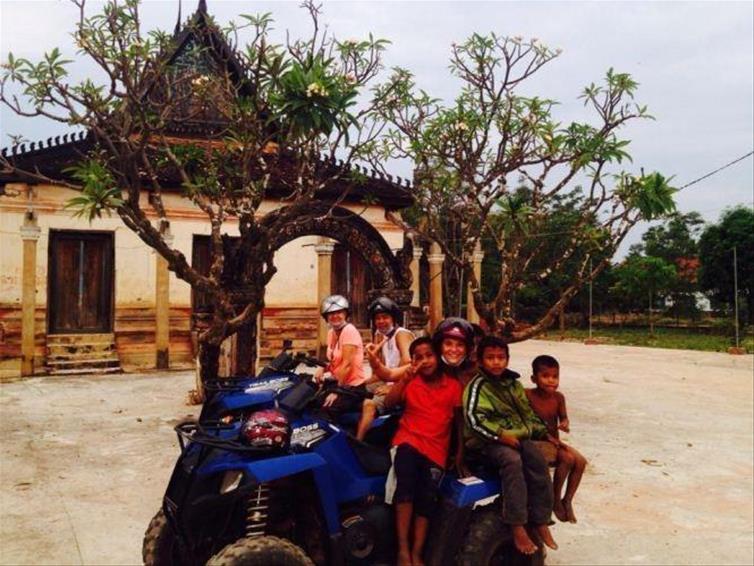 Siem Reap in Cambodia is a wonderful destination to visit. There are some amazing sights and activities to enjoy and the people are delightful. It is the base for exploring the World Heritage Site of Angkor. Angkor Wat, the best known temple was built round 1150 AD by Suryavarman 11 and is dedicated to the Hindu god, Vishnu. Even though I'd seen countless images of the temple, crossing Angkor Wat's moat, the size and scale is overwhelming and a testament to the architectural audacity of the ancient Khemers.
I also visited Angkor Thom which has at its centre the enigmatic Bayon, bearing 216 huge heads glaring down from every angle. On my Angkor Temple Pass ($20 for 1 day, $40 for 3 days and $60 for 7 days), I also explored Ta Prohm (where the Tomb Raider movie was filmed), where tentacle like tree roots are slowly strangling the surviving stones of this exotic temple. Banteay Sri a beautiful pink temple with the finest elaborate carvings in Cambodia was also well worth the visit. 75 km from Siem Reap, Beng Mealea was a worthwhile choice to see nature at its most voracious. It's the titanic of temples, a slumbering giant lost for centuries in the forest. It's not included in the Angkor Pass but its only $5 entry fee.
In addition to visiting the stunning temples, I also got to experience a real rainforest adventure, only 30 minutes from Siem Reap. From zip lines to sky bridges to platform lookouts to abseiling down from tall trees, Flight of The Gibbon is Asia's original jungle canopy adventure and its great fun. Getting back to nature has never been as exciting! Another must see whilst in Siem Reap is the incredible Phare Circus. Uniquely Cambodian stories are told using theatre, dance, acrobatics, juggling and other modern circus arts, accompanied by high energy music. It's ridiculously impressive and great value at $15 for a ticket. Shows are daily at 7.30pm.
A great way to see the villages and countryside is on a quad biking tour, which is great fun. It was $30 for the two hour countryside and sunset tour with Quad Adventure Cambodia which included a pick up and drop off from our hotel, the Park Hyatt Siem Reap. I got to see exotic pagodas, buffalos and rice paddy fields and saw families at work and play.
I stayed at the stylish Park Hyatt. It's a beautiful luxury hotel which enjoys a prime location, amidst the vibrant town of Siem Reap and the hospitality was warm and wonderful.
For most visitors to Cambodia, visas are obtainable upon arrival at both Phnom Penh and Siem Reap International Airports. A single entry visa fee for a tourist for 30 days is US$ 20.
The US dollar remains king in Cambodia. I didn't need to change any USD's into the local currency (riels) as USD were widely accepted/preferred. There are now credit-card-compatible ATMs (Visa and MasterCard only) in most major cities including Phnom Penh, Siem Reap, Sihanoukville, Battambang and Kompong Cham.
A visit to Siem Reap can be combined with other destinations in Cambodia such as the Phnom Penh, a rapidly changing modern city on the banks of the mighty Mekong. The 'killing fields', a gory reminder of the atrocities of the Khmer Rouge, are a short drive away. Sihanoukville is a popular beach resort town in Cambodia, about 225 km southwest of Phnom Penh. Song Saa Private Island, a haven of sustainable luxury with discreet one and two bedroom pool villas is a 35 minute speedboat ride from Sihanoukville.
If you have around about three weeks, then I'd highly recommend a tour combining the best of the three Indochina countries of Laos, Vietnam and Cambodia. Please get in touch if you're interested in visiting this part of the world. I'd love to help you plan and book a wonderful and memorable trip.