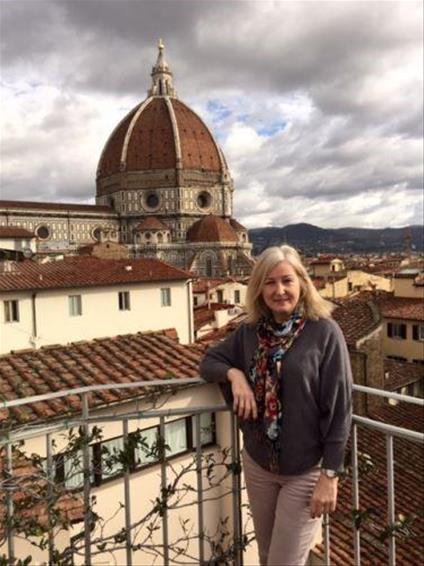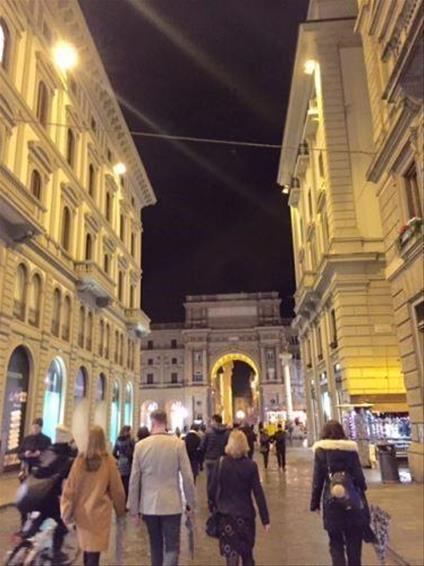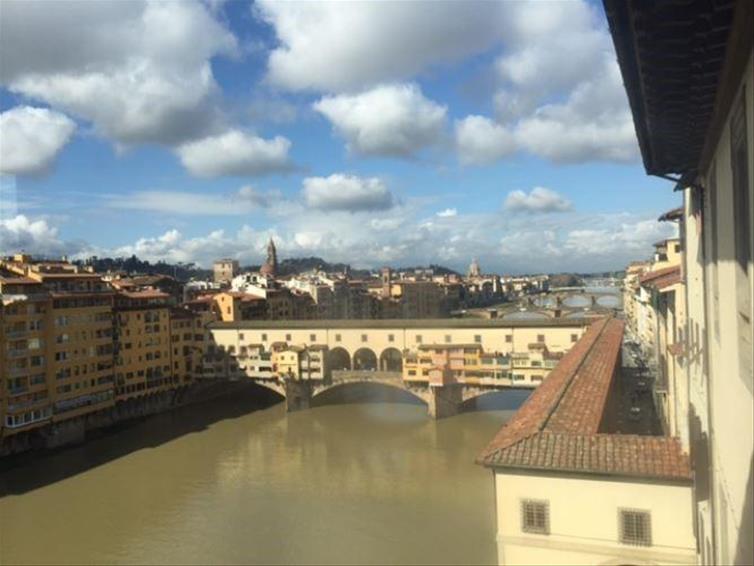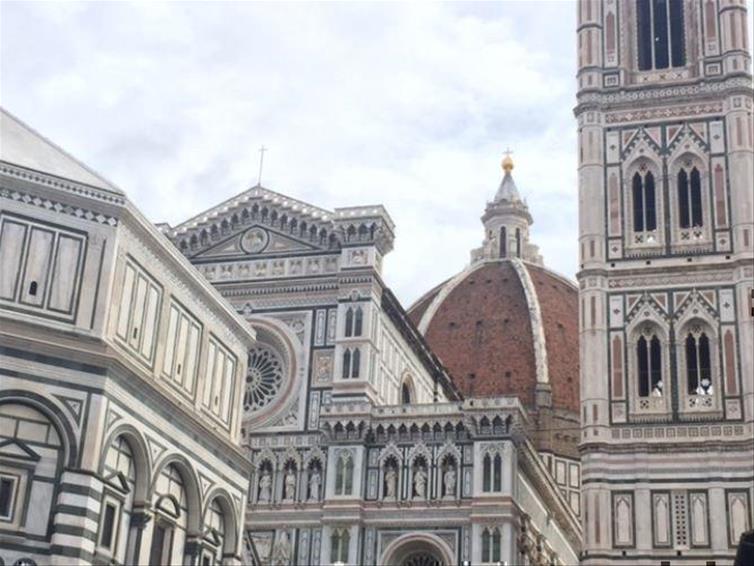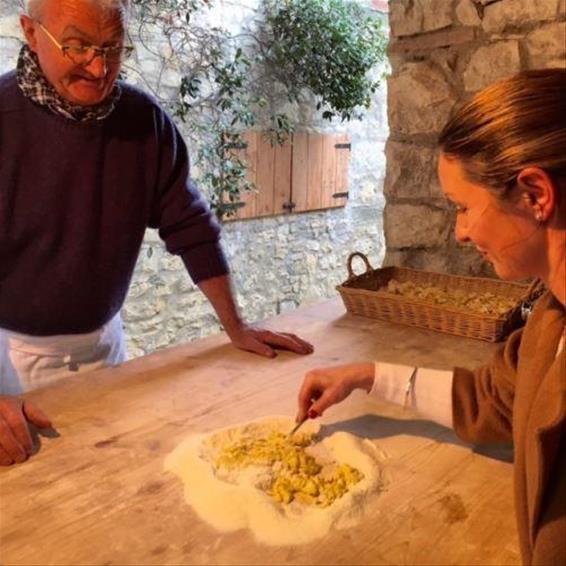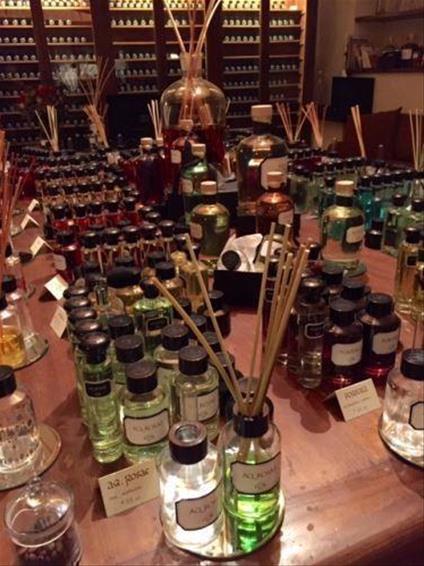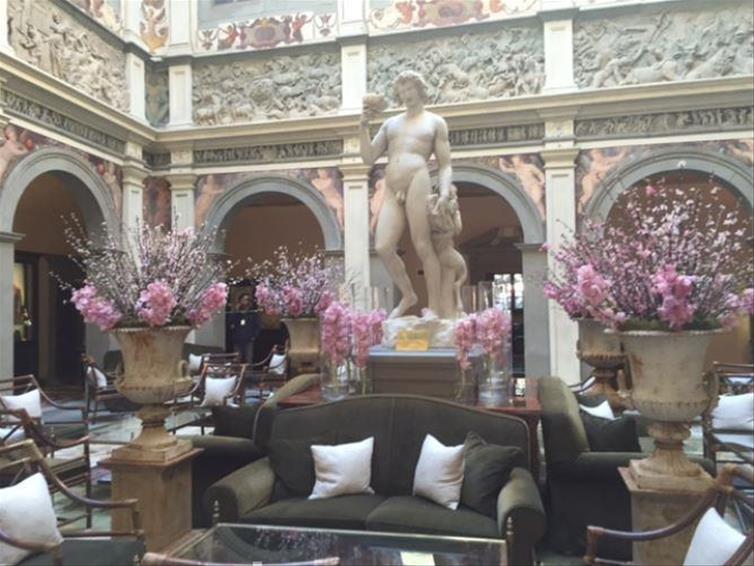 There could be no better setting, on the banks of the River Arno, for one of Italy's most beautiful and atmospheric cities. The birthplace of the Renaissance , Florence contain a stunning array of art and architecture within its compact and vibrant centre. The city also offers great shopping and the finest culinary traditions of Tuscany, in particular olive oil, meat dishes and chianti classico wine.
I visited Florence for an early Spring two night City Break – I would recommend a 3 or 4 night stay particularly if it's your first visit. Florence Airport is served by Vueling Airlines from Gatwick and City Jet from London City and is around a 20 minute car transfer from the historic centre of Florence. Another option is to fly to Pisa and take the train to Florence or a car transfer is around one hour. Pisa is served by British Airways from Heathrow, Easyjet from Gatwick and Luton and Ryan Air from Stansted. I flew on BA from Heathrow to Pisa, Florence is also wonderful to combine with Venice or Rome, both of which are connected to Florence by regular and convenient train service. The railway station in Florence is centrally located.
I stayed at the intimate and atmospheric 4* Hotel Brunellesci, which gets a special mention in Dan Brown's novel Inferno and is located just around the corner from Florence's Duomo, a stone's throw from Uffizi Gallery, Piazza della Signoria and the world famous shopping street, Via de Tornabuoni. I also visited Rocco Forte's deluxe Hotel Savoy which stands on the Piazza della Repubblica and has a fabulous restaurant serving delicious authentic Tuscan food and the luxurious Four Seasons Firenze, an exceptional city resort hotel with beautiful peaceful gardens and an outdoor pool, located 15 minutes walk from the Duomo.
On my first day I took a city walking tour with a private highly knowledgeable guide provided by the local Abercrombie & Kent office. It was a great way to get my bearings and an overview of some of the sights of note that include the Duomo - Cathedral of Santa Maria del Fiore (buy a ticket to climb the tower, on a clear day you'll enjoy spectacular views) , Galleria Dell 'Accademia, also called Michelangelo Museum and home of the famous 'David', Uffizi Gallery, containing the world's richest collection of Renaissance paintings and sculptures, Pitta Palace and the Boboli Gardens. Just around the corner from Uffizi Gallery is Ponte Vecchio.You've all seen pictures of this famous bridge, and it really is quite beautiful.
It's worth noting that many of the museums and galleries including Uffizi Gallery are closed on a Monday. I highly recommend that you include a guaranteed timed entrance to the Uffizi so you can avoid the lengthy queue or purchase a Firenzecard which is the official museum pass of City of Florence. It costs 72€, it is valid for 72 hours starting from the first entrance and it allows you to enter only once into all the museums of the Circuit and to visit permanent collections and temporary exhibitions. With the card you can enjoy the priority access to museums with no need to make reservation.
I wandered through San Lorenzo markets. The San Lorenzo markets are actually comprised of two separate markets. One is better known as the Central Market (mercato centrale), which is a two-level, indoor food market. The other is the outdoor market full of stalls selling leather, clothing and souvenirs. It runs from the Church of San Lorenzo along Via Ariento all the way to Via Nazionale. The market is as markets go – a cheap and cheerful place to search for a bargain, although definitely not the best quality items (and not always a bargain), but popular with tourists as much as Italians. Butchers, fishmongers and delis are on the main floor of the Central Market , while fruit and vegetable sellers are on the top floor, this is as much a place for locals to do their food shopping as it is for a quick lunch spot for local workers. If you're visiting be sure not to miss out on Perini's delicatessen, on the Via Ariento side of the market. Specialising in salumi (they have a particularly impressive selection of proscuitto, including proscuitto of wild boar, goose and venison), cheese and everything that goes with it (homemade sauces, chutneys, 12-year-old balsamic vinegar and infused oils, for example), you can try everything before you decide what you'd like to take home with you.
Sant'Ambrogio market, on the other side of town, is a slightly smaller market, much like the Central market, although decidedly more for locals than tourists. With stalls outdoors and indoors, any time of the year, it is a colourful place to get a taste of Florentine life as you mix with locals buying artichokes or fresh pasta, household items such as cheese graters, plants or cheap clothing.
On day two I headed to the Chiant region for a food and wine experience. The Podere Campriano is located in the heart of Chianti Classico area, between Florence and Sienna, on a natural terrace above the village of Greve. On arrival I began a wonderful cooking demonstration. Dishes are prepared in the well– equipped farmhouse kitchen and I got to discover the old recipes and cooking methods passed down by the delightful owners' grandmothers. All this culminated in a tasting of an unforgettable lunch inside the historic family cellar, followed by wine tasting. Highly recommended!
Around 4pm, I arrived back in Florence and stopped in the Santa Croce district for a lesson on essences at an artisan perfumery. The olfactory journey begins as sensorial experience referred to as the ''Perfumer's Ritual''. Fitted with white cotton gloves, the perfumer meticulously lays out some of the rarest raw materials in the world; incense from Oman, the Taif Rose, sandalwood from Mysore, Florentine Iris extract… all blended with skill to create unique and bespoke scents.
After the perfume lesson, I walked back from Santa Croce and enjoyed a little retail therapy (Benheart is a fabulous place to shop for quality leather) followed by local Italian ''aperitivos''.
''Through these old streets I wonder dreamily; Around me Florence sweeps her busy tide of life, quaint palaces on every side.'' William Leighton.
Please get in touch(clare.bullock@travelcounsellors.com / 020 3603 3120) if you'd like to visit Florence, I'd be delighted to help plan and organise your trip whether it's your first one or one of many.