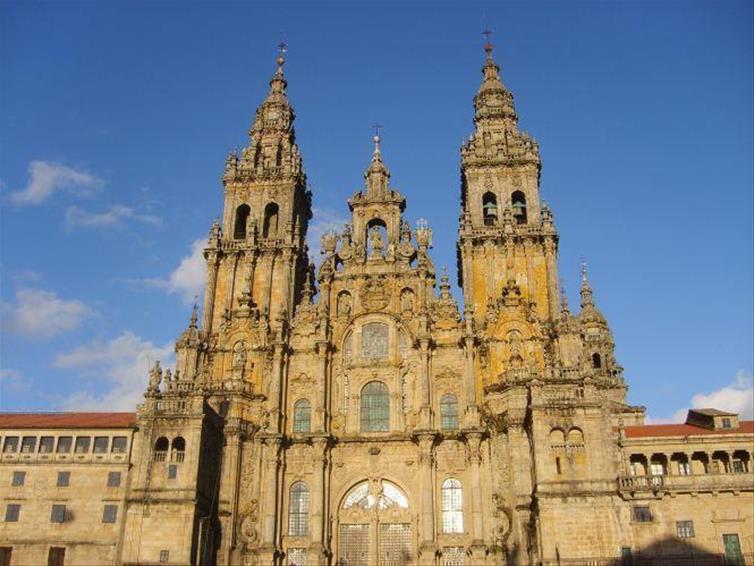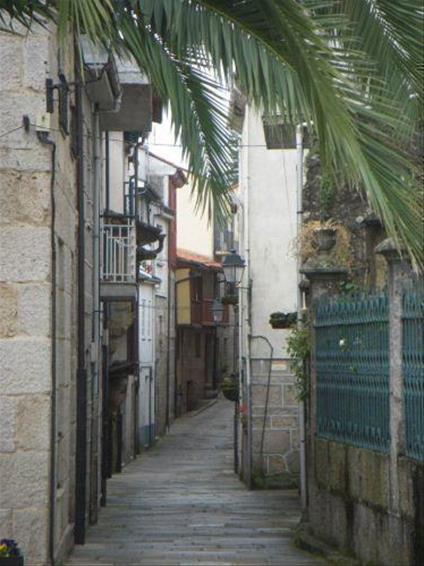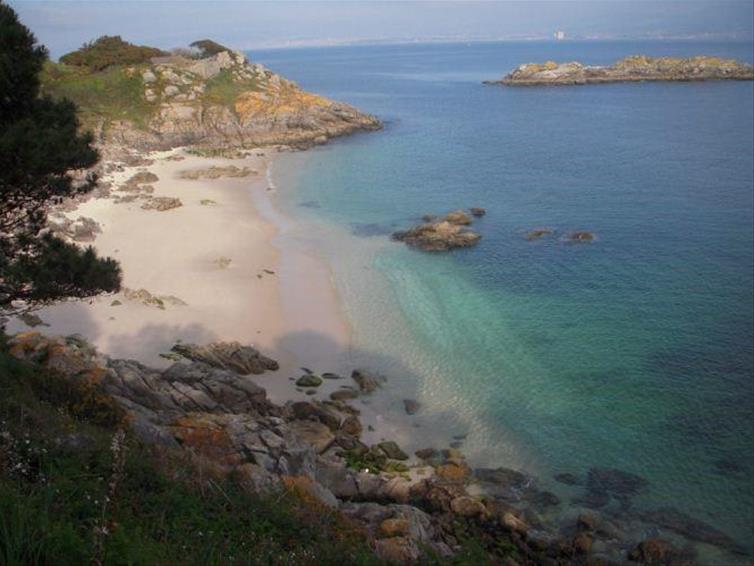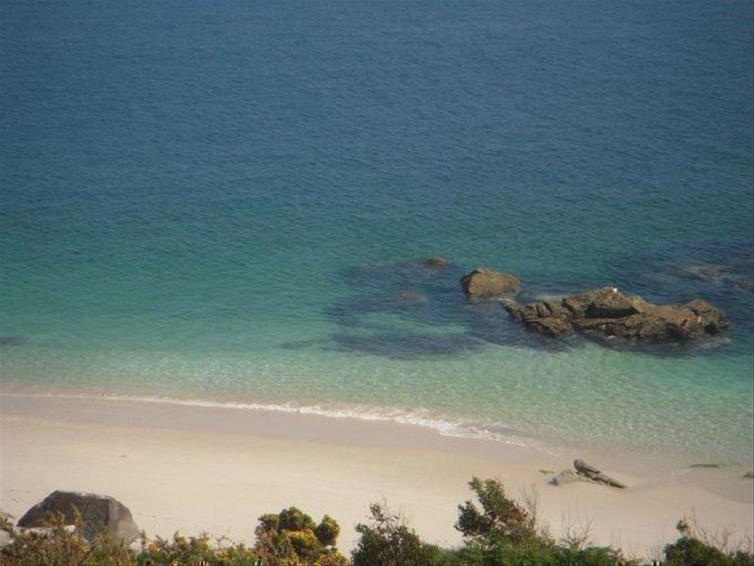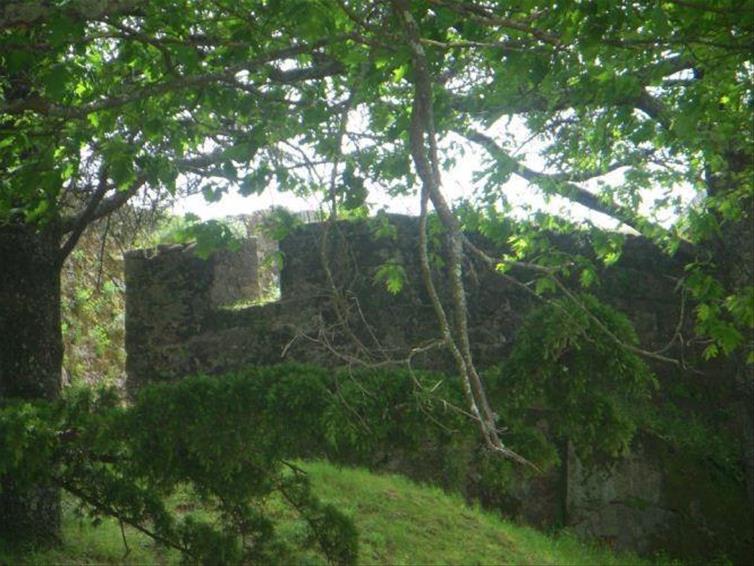 We flew to Oporto where we picked up a car and headed north towards the Spanish border. This is the only international land border I know of with no security, no stopping, and no signs – nothing to indicate that you are now in a different country- and in a different time-zone. Portuguese time is the same as UK, but Spain is an hour ahead. Galicia is just as far west as Ireland, so the Sun sets after 10pm in May, so it was still light when we pulled up at our hotel in Vigo.
The next day we wandered around the Vigo harbour complex, and booked a boat trip to the Cies Islands at the Tourist Info Office (€16pp). We had brunch in a pavement café (Spain is cheap) and then walked up through the Old Town to the O Castro to see the views, and back down to the harbour to catch the ferry. The Cies Islands are a nature reserve and well worth a visit. We later learned that this beach was voted the best Beach in Spain.
Outside the towns, the Galician roads are excellent. There are brand new motorways with no traffic. We drove to Pontevedra which is a wonderful medieval market town with glorious buildings, winding alleys, churches, museums and roman ruins, but not "touristy". I would highly recommend this.
Galicia seems to be the place where the Spaniards go on holiday. Few people speak English and there is very little globalisation outside Vigo. It has been hit hard by the recession but is stunningly beautiful, mountainous and very green. I was surprised how big the towns are, and at no time did it seem "remote". It looks quite similar to Wales, but covered in vineyards. If you want Spain to be like Spain, this is the place. Everywhere (outside Vigo) still shuts all afternoon, and they sell wine and seafood everywhere. In one "Pulperia" I studied the menu:- "¿Qué es esto?" I asked "Barnacles with cheese" explained the waiter. "And this?" "Barnacles with meat". "What about this?" "Barnacles in sauce". "Not the sort of place to come if you don't like barnacles!"
We took a tour of the Mino Valley, a picturesque grape growing area on the Portuguese border. It was a beautiful journey through mountains and vineyards with virtually no other cars on the roads. We stopped in Ribadavia, an ancient town where the Mino cascades beneath a medieval bridge. This place is absolutely fantastic, a real step back in time and where tourists are a novelty.
We walked around the lovely Santiago and took in the Cathedral (free entry; audio tour =€3), museums, shops, cafes, along the river, and restaurant. There was a free open air pop concert in the Cathedral Square at night, and the alleyways were still heaving with locals and tourists at 2am. The brandy in the bar was served in a bucket. Santiago would still be a must see place if there was no cathedral. The town itself is both a tourist attraction and a university town, it caters for pilgrims and students, there is no hint of the recession elsewhere, and it is beautiful.
We drove to Noia, a fishing town on the coast which had some interesting backstreets, but like so many places closed at 1pm. We followed the coast road towards Finistere- the most westerly point on mainland Europe- in search of crashing Atlantic waves. This part of the coast is called "Costa Del Morte" as so many ships have been wrecked there. We found the perfect spot near Lariño. By this time the sun had come out, and we spent the afternoon on the beach.
We stopped at a pretty fishing village called Muros on the way back, where we were served tortillas bigger than our own heads for €4.
One of the places we stopped at was Cambados, another ancient seaside town. This one had been renovated and sandblasted so it looked new and tidy and was a joy to wander around.
We drove back into Portugal, and took advantage of the extra hour to have dinner in a tiny village on the coast- literally 10 minutes from the airport. The village is mainly holiday homes, with a great beach, crashing waves and a restaurant with a tremendous vista. I recommend Restaurante Salitre on Avenida Banhos.