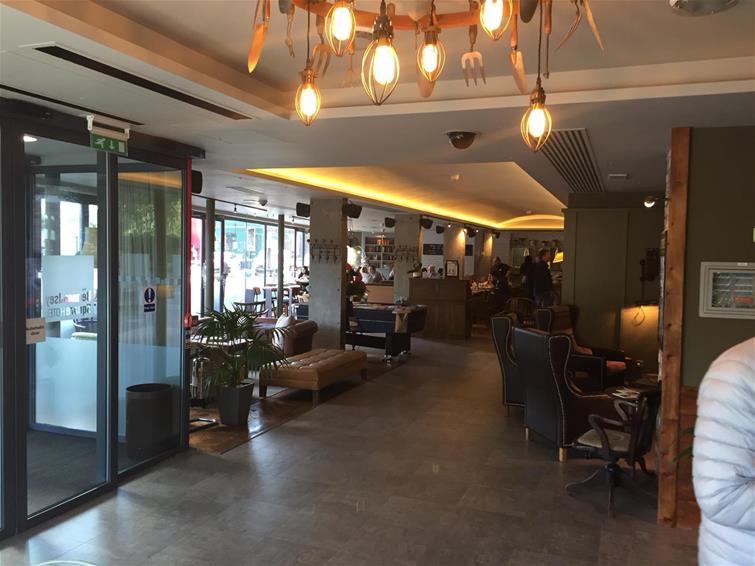 My husband and I managed to get away for a brief overnight stay in London. I had booked a voucher that gave us access to The Shard along with a 3-course meal at Marco Pierre White's New York Italian restaurant at London Bridge. This was reason enough in itself to add on a hotel stay. I have not previously stayed in this area of London and it made sense to me for us to be within walking distance of these attractions.
Having done some research into hotels in the area, we decided to book The Bermondsey Square Hotel which is a quirky 4* hotel within walking distance of London Bridge, Borough and South Bank. We arrived early evening and checked into our Club Rom which offered us access to the Club Lounge. From here we had views over the square below where markets are held on a weekly basis. The room was a good size with the bed in the middle of the room and great amenities. The hotel does not offer a bar however they are happy for you to bring your own drinks into your room and provide you with a fridge and glasses. Breakfast is served in the 'b2 at home' lounge on the ground floor. We had booked a rate inclusive of continental breakfast which was a buffet style. You can order hot breakfast from a menu if you wish.
Marco Pierre White's New York Italian is situated in The Mecure London Bridge. This was a quick taxi ride from our hotel (I wasn't going to walk this in heels!) and upon arrival I loved the setting and décor. Unfortunately, both the service and the food were a slight let down for us both. We couldn't decide whether we had booked our table too late or the fact that we were eating from a set menu had an impact. The first two courses were served too quickly and closely together and we never received the bottle of wine we ordered. Once the main course had been served, the staff seemed to disappear meaning we then waiting a long time for desert and further drinks. Perhaps I had expected more with it being a Marco Pierre White restaurant however I wouldn't rush back here.
We left our luggage at the hotel upon check out before venturing to The Shard. The weather was on our side with a beautiful, Autumnal day. We met my brother at the entrance of The Shard and quickly ascending to level 69. The lifts take you up 2 floors per second! There are 2 viewing platforms at The Shard; The View at level 69 and Skydeck at level 72. There is a bar on both levels and level 72 is partially outdoors. On level 69 there are key London attractions listed on the side they can be viewed from. We spent a good hour across both floors taking in the views and pointing out various landmarks.
Following our visit to The Shard, we wandered towards Borough Market and spent a short time wandering through it before stopping for a drink. There was a great vibe to the market as we wandered through and we all wished that we had more time to spend here.
All in all, our 24 hours in London was a great break from our everyday routine and thoroughly enjoyed. I would highly recommend this hotel and would be tempted to stay here again so that we could further explore this great area of our capital city.