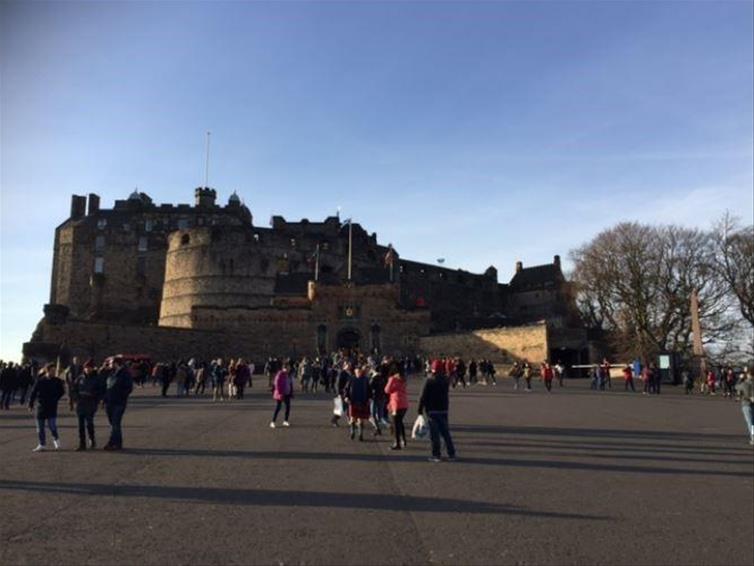 Today I spent a few hours in the beautiful city of Edinburgh. I haven't visited Edinburgh since I moved to the south-coast almost 13 years ago! I knew I loved the city but I had forgotten just how much.
As I am staying with family in the Scottish Borders, we drove to Newcraighall and used the park and ride to travel to Edinburgh by train. A quick journey saw us arriving into Edinburgh Waverly, right in the heart of the city. Edinburgh is easily accessible either by train or a short flight, depending on where you are travelling from. We exited straight out onto the famous Princes Street where you are greeted by a vast number of shops and right next to the 5* Balmoral Hotel. If you turn around when you walk out of the station, you'll see the magnificent Edinburgh Castle perched upon the top of a hill right behind you.
As we only had a few hours in the city, it really was a whistle-stop visit. But, as my husband had never visited before, my in-laws wanted him to see as much as possible in the short space of time we had. We started off with a coffee, plenty of coffee shops to choose from, and then we were fuelled for a couple of hours of walking!
Our first stop was a walk up Princes Street with a couple of trips to the shops. A true shopper's paradise! On the opposite side to the shops are the Edinburgh Christmas Markets. A Big Wheel and plenty of food stalls were visible and there was lots of activity in preparation for Hogmanay in a couple of days.
Once we reached the top of Princes Street, we turned back around and walked back down and towards the castle. With a buggy in tow, the hill to the castle looked to be a challenge! With a few stops on the way up to admire the view, architecture, and just to catch our breath (!) we were at the entrance to the castle before we knew it. I was blown away at the views from here and how beautiful this city really is.
From the castle, we walked down the Royal Mile where we were able to take in The Scottish Whiskey Experience, The Witchery Restaurant, St Giles' Cathedral, The Hub (where the Edinburgh Festival is organised) and The Royal Chambers; home of Edinburgh City Council.
I would have loved to have spent a full day wandering through the city, visiting the Christmas Markets enjoying a glass of mulled wine, and generally soaking up this amazing city's vibe. I will most definitely be back to do it at a more leisurely pace!