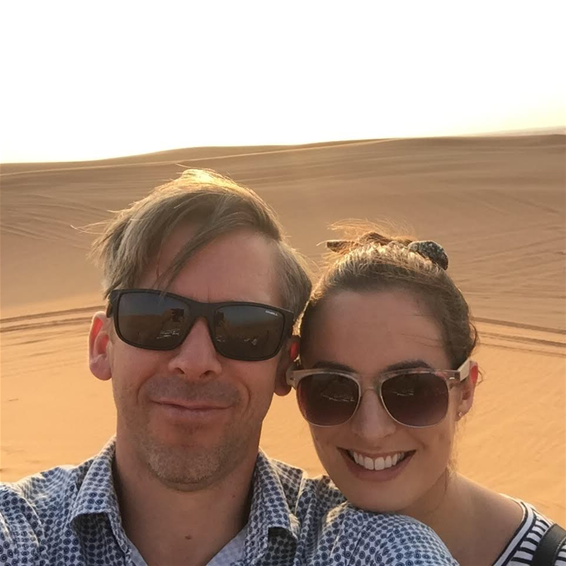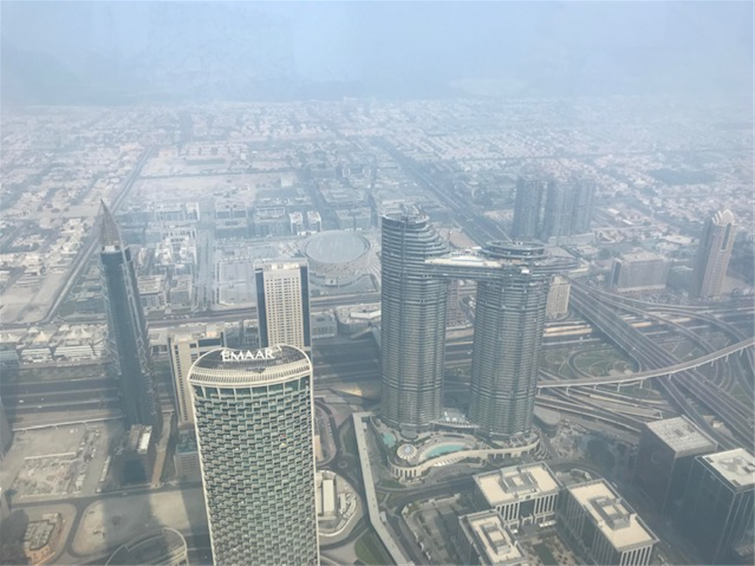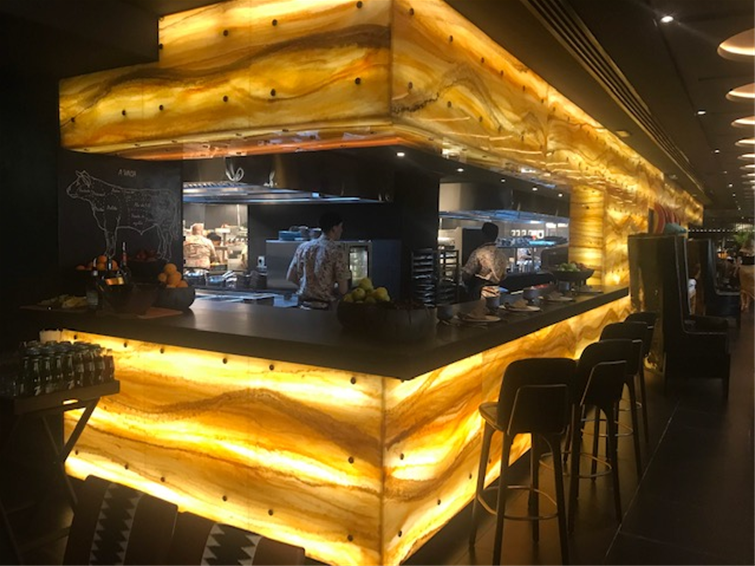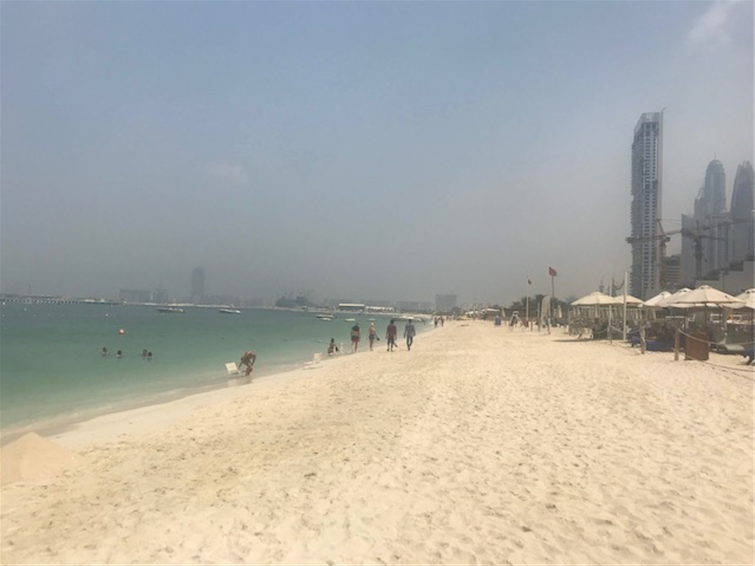 I was lucky enough to travel to Dubai in 2015 on a fam trip and instantly loved it! Since then, I have been trying to sell this incredible city to my husband. Fast forward to this year and I finally managed to do just that! We decided that this would be an adult only trip, much to the dismay of our eldest daughter, and booked our flights to depart a few days after school went back in September.
We flew out of Gatwick with Emirates who are one of my favourite airlines. The on-board service is fantastic and as we had no children with us, I was able to enjoy movie after movie without being interrupted.
Upon arrival into Dubai, I had booked us a private transfer which we found with no problem and after a short drive, we arrived at Hilton the Walk. Located on the marina, this 4* hotel is over the road from its 5* sister property, Hilton Dubai Jumeirah. We were booked in for 2 nights at both properties and you can use the facilities of both hotels when staying at either. We were upgraded to a 2 Bedroom Apartment at The Walk which would be fantastic for families. With a main bedroom that overlooks the sea and The Walk's pool, a separate twin bedroom, 2 bathrooms and a further separate toilet and a decent sized kitchen, a family could easily go self-catering here. The hotel is within walking distance to shops and restaurants and as soon as we had freshened up, we headed out to find somewhere to eat. By this time, it was almost 11pm and still 37 degrees and very humid!
We were up and out early on our first morning as we had tickets to go up the Burj Khalifa first thing. There is a taxi rank directly outside Hilton the Walk so we jumped in one and after about 25-minutes arrived at Dubai Mall. We used taxis over the course of our trip and found them relatively cheap although if we were to go back, I would try out the tram as this accesses most of the city.
The entrance to Burj Khalifa is through the mall and on our way, we saw some of Dubai Aquarium which was amazing. We arrived at the Burj Khalifa and soon found ourselves in the elevator on our way to the 124th floor at the speed of 10 metres per second! As we had booked our tickets for 0930, it wasn't too busy. As soon as we walked out onto the observation deck the 40-degree heat hit us! Dubai is known for its hot and humid weather and this can cause fog on a morning which I hadn't considered for our visit to the Burj Khalifa. As I had been to Dubai before, I was able to pick out key areas of the city and along with maps around the observation tower, I was happy that we had identified plenty of key parts of the city, even with the fog.
Once we were back on solid ground, we made use of our 72-hour hop-on hop-off bus and travelled back along the coast to The Mall of Emirates where we saw 02nd December Street; a popular street in Dubai connecting the city and was renamed so when the UAE celebrated its 40th anniversary, as well as the iconic Burj al Arab and Jumeirah Beach Hotel.
Brunch on Friday's in Dubai is a must do and having spent some time researching where to go, we had booked ourselves into Toro Toro at the Grosvenor House Hotel. I was very excited about this experience and it did not disappoint! On arrival we were given a glass of sangria and shown to our seats where a party atmosphere was already in full swing courtesy of the in-house DJ. With a South American theme throughout the décor is amazing and the food compliments this. My husband's personal favourite was the Cordero a la Notera which went down beautifully with a glass of the Spanish red! Brunch here runs from 1500-1800 and you are then given a complimentary drink in the bar upstairs where the party continues into Friday night.
Saturday saw us halfway through our trip and changing hotels to Hilton Dubai Jumeirah. This was my favourite hotel of the two and as you walk into the reception area, you can instantly feel the difference between the 4 and 5* properties. As we had another excursion in the afternoon and didn't have access to our room, we spent the morning chilling by the pool. This hotel has a good size pool and the sun bed area takes you down to the beach where the hotel has its own private section. What I loved when we were laid on our sun beds were the ice-cold flannels being served by the pool staff – these are so refreshing in this heat.
In the afternoon we were picked up from out hotel by a tour company and taken out of Dubai to the desert. If you haven't been to Dubai before, a must do is a desert safari. You are taken about an hour out of the city in a 4-wheel drive in small groups of about 6. Once you arrive, you are given some time to buy your typical tourist gifts from a small shop. My advice here would be to ensure you take your cold drinks from the hotel as we paid about £9 per bottle of water!! After the drivers let the air out of the tyres, we were off into the desert for some dune bashing. As we set off, we were told by the driver to let him know if we felt sick and he would pull over. The look on my husband's face was not good and I thought I was in for a rollicking at the end of the bashing! Having said that, it only takes a few minutes for you to get used to the hair-raising drive and we soon started to enjoy ourselves. This trip is amazing and allows you to see the desert which is of course, what Dubai started as.