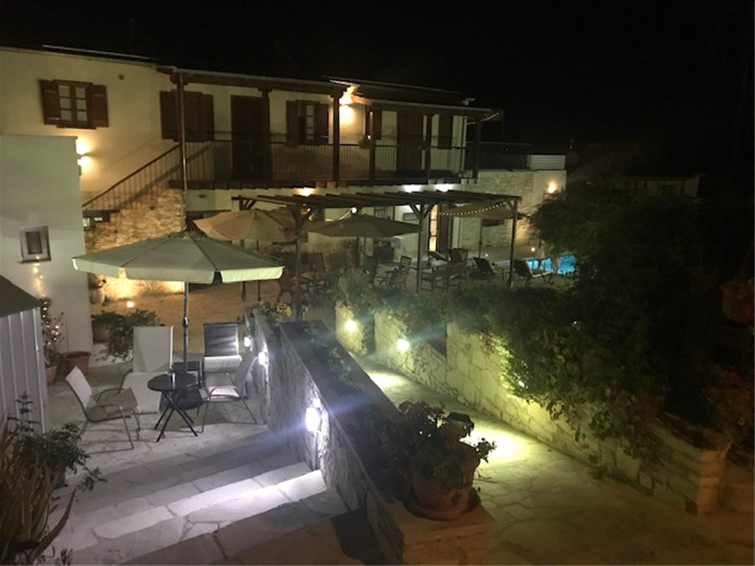 For our summer holiday this year, we decided to head back to the beautiful village of Kalavasos in Cyprus. Having visited 2 years ago, we fell in love with the tranquillity of the village and how it was a complete escape from our everyday lives.
As before, we travelled with extended family making us a group of 10. Flying with easyJet, we didn't depart Gatwick until mid-afternoon, so we decided to book into My Lounge in the North Terminal and avoid the hustle and bustle of the airport terminal. As we were classed as a group, we had our own private area in the lounge. All the children were kept happy with the constant supply of food and access to a PS4 and football table whilst us adults were able to relax over a glass of wine before we flew.
We landed late into Larnaca and had hired cars again due to the village being slightly remote. By the time we collected the cars and arrived into the village, it was after midnight and we went straight to bed.
For this trip, we tried out apartments that we had used before; Charalambos Holiday Cottage. This accommodation is made up of 5 apartments each with their own kitchen. It is rare for accommodation in the village to have a pool. Where we had stayed previously had a small plunge pool however at Charalambos, they have a good size pool with sun beds to cater if all apartments are occupied. As we are a family of 5 it can be hard to find a room large enough to accommodate us all. At Charalambos, they offer a 2-bedroom apartment with plenty of toys, games and other necessary items when you are travelling with smaller children. Our kitchen was a separate entity completely and soon became the groups main kitchen due to this. Andreas, the owner of the apartments is a lovely Greek guy and very accommodating. We were provided with his mobile number in case of any issues whilst we were there and he popped in to check on us on a number of occasions throughout our week where we were delighted to be given fresh cakes and pastries from Larnaca and he would stay to share a beer and chat with us. Andreas even made a special trip to the village on the evening we left to give us all a farewell gift and to say goodbye!
Due to our accommodation having its own pool, we spent half of our week chilling here. Kalavasos has all you need should you not want to travel far. Dinner was eaten all but one evening at one of the three village tavernas; since our last visit, George's taverna has closed as the owners have retired. Our firm favourite across the group soon became the Retro Tavern. Offering homemade Greek dips, generous sized Greek salads and kleftiko on Friday nights (must be pre-ordered), I would highly recommend a meal here. As with our last visit, we spent one evening at Tochni Tavern, located in the village of Tochi approximately a 10-minute drive from Kalavasos. This restaurant is part of a hotel and located on a hillside overlooking Tochni. We decided to share the meze here and the amount of food that was served could have filled us for days! Be sure to order for at least 2 less people should you decide to visit.
A couple of days into our trip, we decided to head out to Mazotos to visit the Camel Park there. This tourist attraction could fill your day as it has a restaurant, swimming pool and kids' activities. As we had become accustomed to the tranquillity of our apartments, heading into a busy tourist attraction didn't appeal for the whole day, don't get me wrong though, you could easily fill a day here! Having looked around the park, fed all the animals and taken a customary camel ride, we were happy with our visit and headed back to our own 'private' pool. The highlight here was all 10 of us riding on the camels!
On our last day, we decided to spend the day at Fassouri Waterpark which we had visited on our previous visit. We arrived for the park opening and were once again, one of the last families to depart having been asked to leave the lazy river due to the park closing! Another fun-filled day complete with all ages of our group having something to keep them happy including my 14-year-old braving the kamikaze slide!
This beautiful village is unquestionably a favourite family destination for us, and we will be back. If you prefer to be off the beaten track, don't mind hiring a car and like to escape the hustle and bustle of everyday life then Kalavasos could be for you! Let me know if you would like to know more.