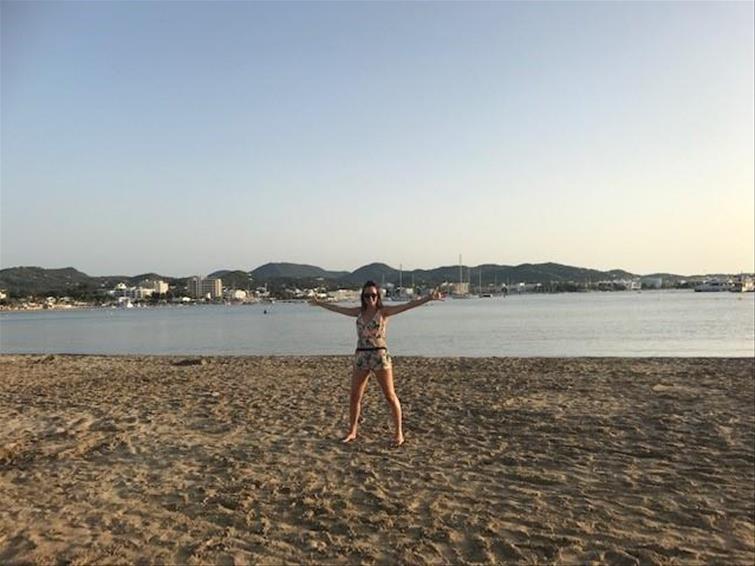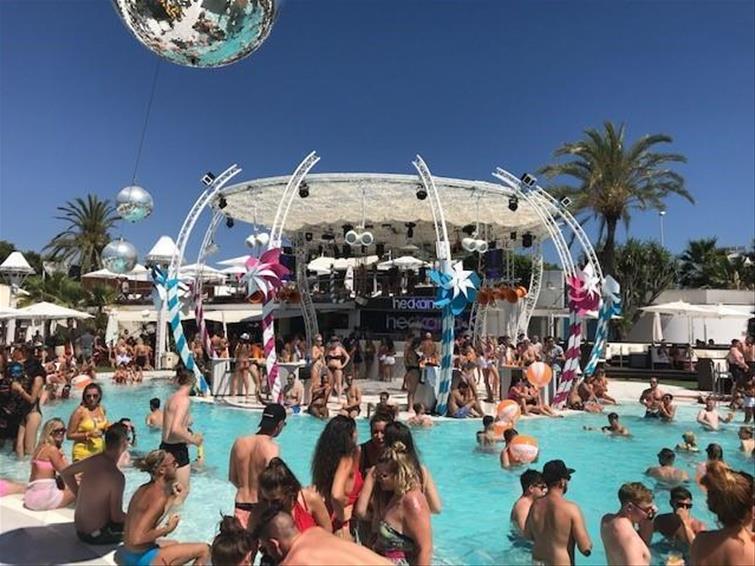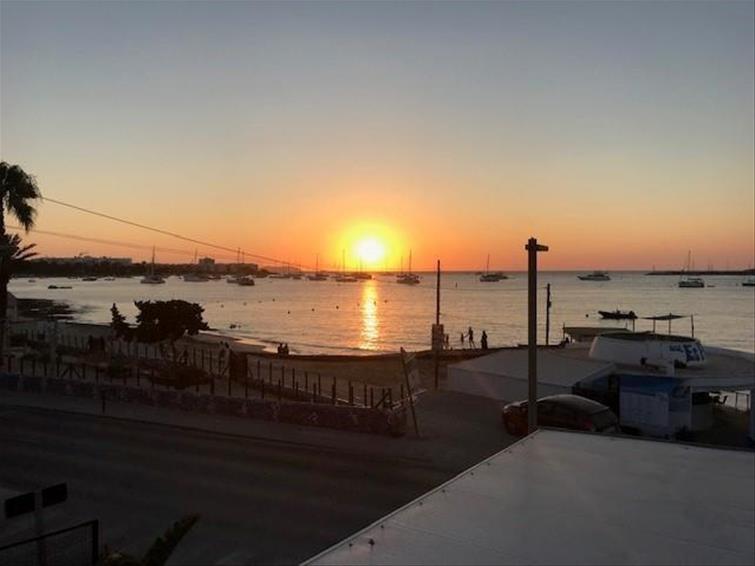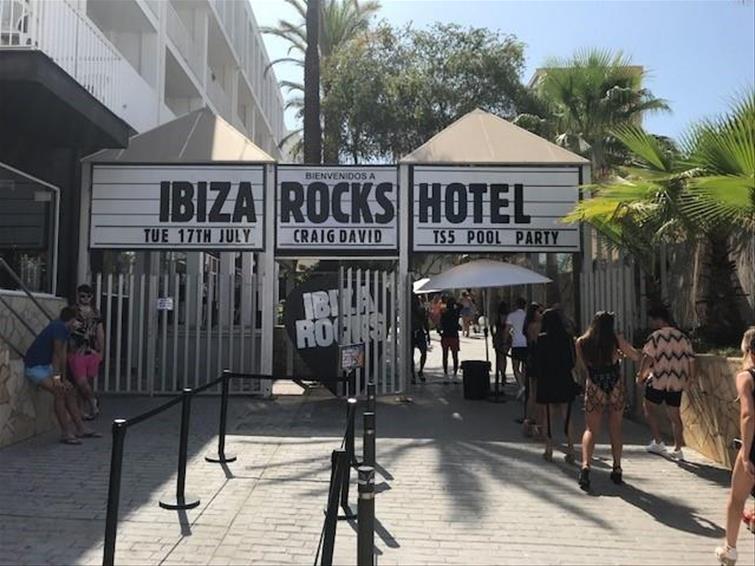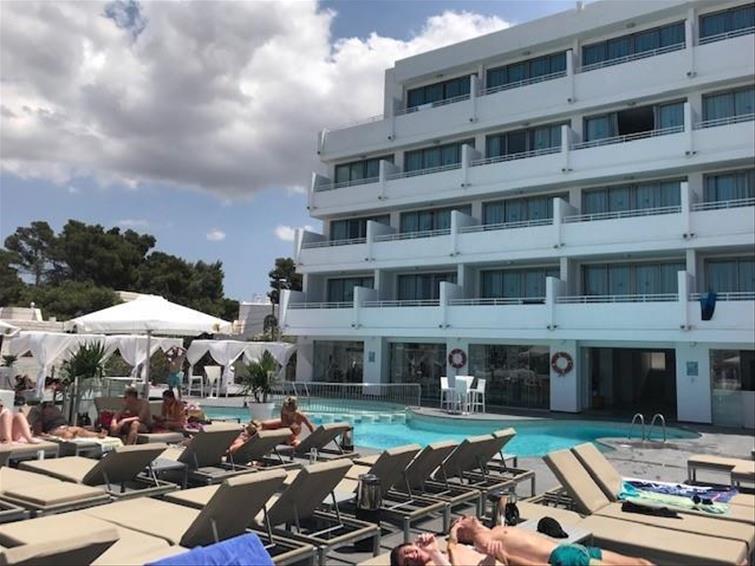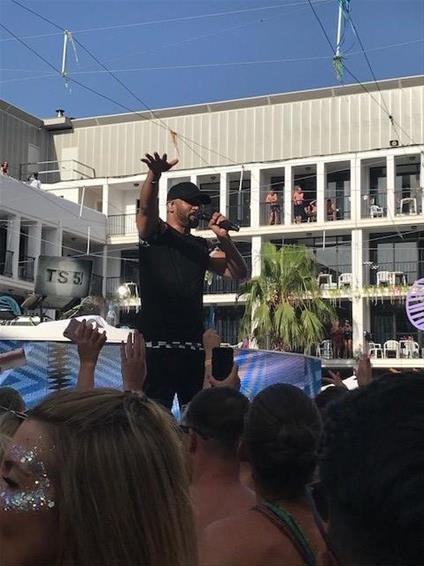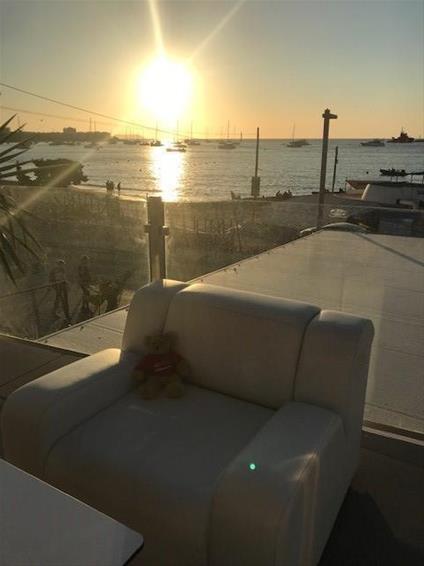 Myself and a couple of girlfriends have been talking about a trip to Ibiza for ten years and we finally managed to go this year. As Craig David fans, we knew that he was playing his TS5 Pool Party on a weekly basis at Ibiza Rocks. Working around this, we booked a three-night trip, staying in San Antonio Bay.
An early start out of Gatwick saw us flying at 5 am but with a quick flight of two hours, we were in a taxi by 9 am heading towards San Antonio Bay. We stayed at the Marina Playa which is an adults-only hotel. Situated across the road from the beach and about a 30-minute walk to the centre of San Antonio, this was the perfect setting for us. Although our room wasn't ready when we arrived, the hotel was very accommodating and provided us with a place to change and store our bags, so we could head straight out to the pool. By 10 am it was already pretty hot!
There are plenty of sun loungers and beds at the hotel and if you want shade, there is a place throughout the day which doesn't get the sun. After lunch, a resident DJ arrives and plays music from the venue into the early evening. This isn't overpowering and adds to the mood of simply being in Ibiza.
We had booked a studio room which was located at the back of the building. We had requested a pool view however these were all fully booked and on arrival, we were pleased we hadn't got one. It was nice being located at the back of the building so that if we wanted somewhere quieter to rest, we had it. The room was fine for three to share with twin beds and an additional sofa bed. The kitchenette facilities were adequate for what we needed. Just around the corner from the hotel are a couple of convenience stores where you can get basic supplies.
On our first evening we walked along the promenade and had dinner in one of the restaurants overlooking the beach. Following this, we continued to wander towards San Antonio and explore some of the bars and clubs. As we had had such an early start, none of us were up for a big night however we were offered free entry into one of the super clubs, Es Paradis. Not wanting to waste this opportunity to see one of the super clubs, we spent about an hour in here. There is a reason you are offered free entry into Ibiza clubs, and that is because it is so early, they have hardly anyone in there. This club hosts water parties where the club fills with water to almost waist deep. Luckily for us, we had not chosen one of those nights to visit! Having heard how expensive Ibiza is for drinks, we only discovered this when we drank here – make sure you have factored in a small fortune for drinking in the super clubs and beach clubs. A round of drinks for the three of us cost about EUR50!! It was great to see this club as the décor and design is incredible. I would have been happy to attend one of the water parties, had I gone prepared, but unfortunately, as we arrived when it was quiet, we didn't really experience the full super club vibe.
After a couple of hours in the sun at our hotel on our second day, we decided to go to Ocean Club for the Hedkandi party. Ocean Club was a short walk from our hotel and tickets could be purchased on the gate for day entry. Prices do vary depending on the theme, Hedkandi cost EUR20.00 per person. One thing to bear in mind for these beach club parties is that if you decide to leave, you are not able to re-enter. I was nervous to attend a beach club as my preconceptions were that it would be full of super glamorous men and women with to die for figures. Don't get me wrong, these people were there in abundance, but I did not once feel like I shouldn't be there. All manner of people attended the day we were there, and my understanding is, this is the norm. Don't let TV programmes such as TOWIE put you off attending a beach club! I would highly recommend Ocean Club for its parties. From the minute we arrived, until we left, there was entertainment from the staff and amazing music being played. While our ticket gave us entry for the day, what is an additional extra is if you want a bed. If there are a large group of you then these are worth it. You receive table service for both food and drink and of course, have a place to sit or relax other than the poolside.
After leaving Ocean Club, we cleaned ourselves up and readied ourselves for the main strip in San Antonio. As the walk is so lovely along the promenade, we decided to take our time as we headed towards the strip. As soon as we hit the street, you could have been on any 'strip' in any main party resort in Europe. Music pumping, promotion men and women up and down the street tempting you into their bar with drinks promotions and plenty of people younger than us were falling around. This aside, we found a handful of bars that played our kind of music and of course, much more affordable drinks! Sticky floors and a bad smell outside are two key things I took away with me but overall, we had a great night.
Our last day was all geared around heading to see Craig David. We had hoped to use the water taxi which picks you up from San Antonio Bay and drops you off in the heart of San Antonio. Unfortunately, after waiting for almost half an hour, we gave up and jumped in a taxi. The water taxi runs every half an hour and costs a couple of euros. We had seen it operating from our hotel, so we were just unlucky when we went to use it. Craig David's TS5 Pool Party takes place at Ibiza Rocks which is tucked away in a back street of San Antonio. You can stay at this hotel although it would not be my choice of accommodation. Rooms do overlook the pool which would be perfect to party on and have an amazing, private party view for each day's entertainment. While the hotel is great for these pool parties, I would be disappointed to be a residential guest. A very different set up from the beach club we had visited the day before. The stage where the DJs played from backed onto the pool and had a good size standing area to the front. DJs play before and after the main act, so you can spend the whole afternoon, and evening, partying here. Craig David did not disappoint, and we spent an amazing few hours, in the blistering heat dancing to songs old and new. A fantastic way to bring our long overdue girls trip to an end.
Ibiza, you did not disappoint after the wait we all had! I would do it again in a heartbeat and would recommend the Marina Playa hotel.