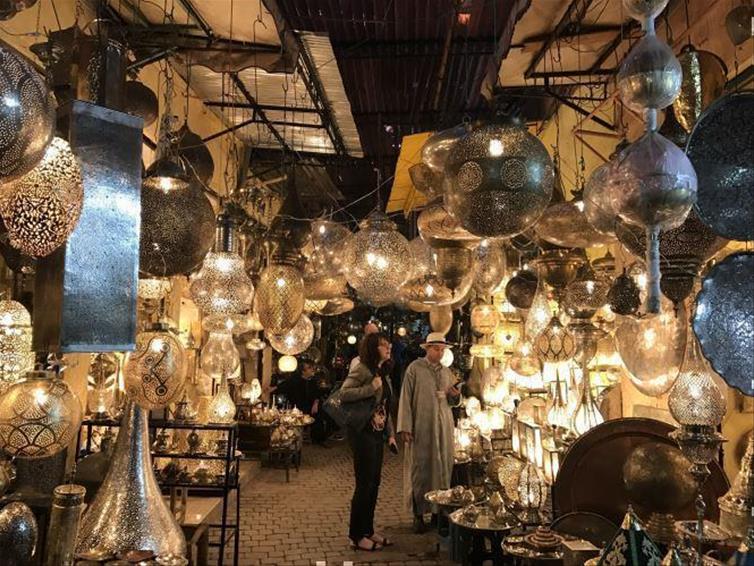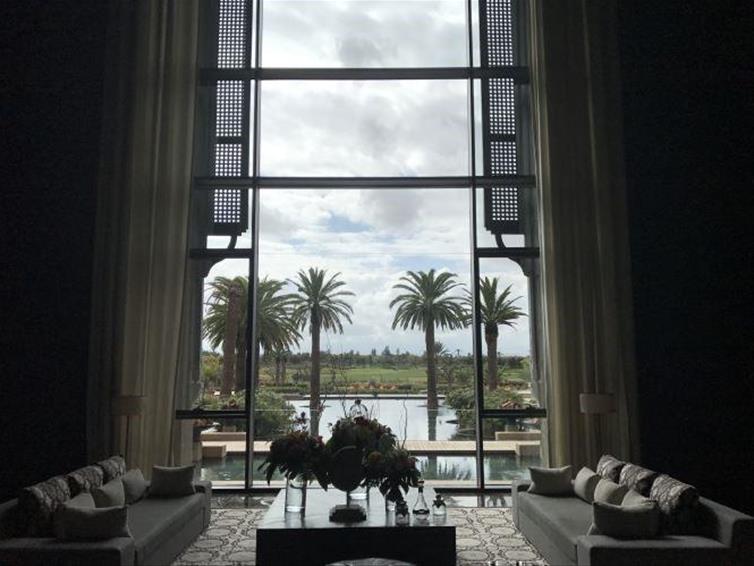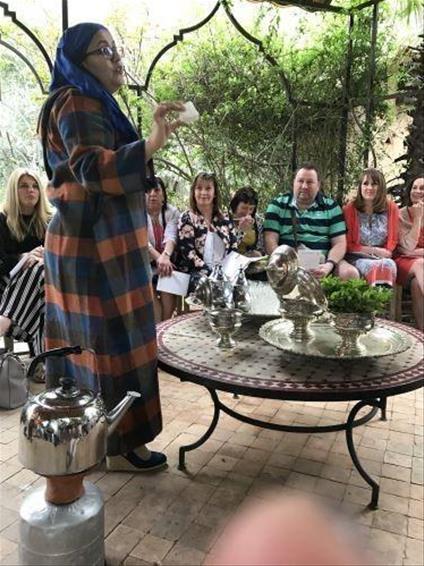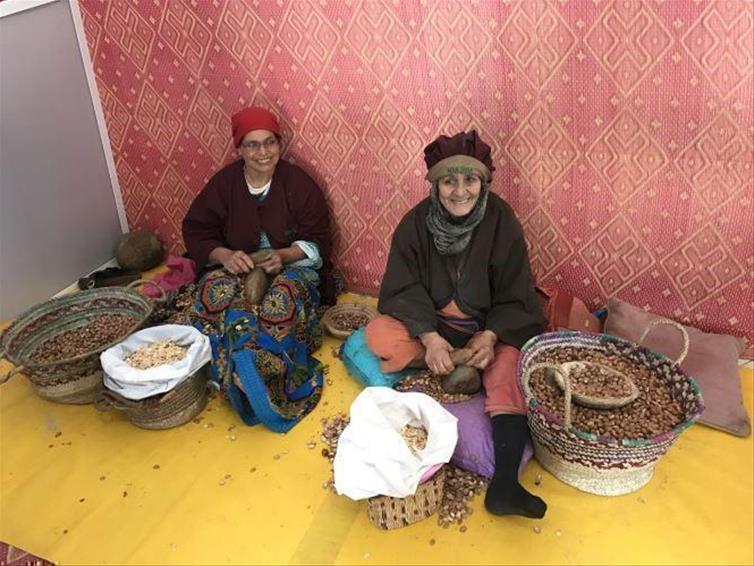 I visited Marrakech and Essaouira, in Morocco, at the end of March with a group of 40 Travel Counsellors. We were hosted by 4 members of the Moroccan Tourist Board and with the theme of Much Morocco they went out of their way to show us how much MORE there is on offer in Morocco than you may think.
The weather in March is usually hot, with the temperatures in the mid-20s the week before….and the week after we were there. We were not so fortunate with the weather being very similar to what we had left behind in the UK. As I hear myself saying to clients, we cannot guarantee the weather and of course this did not dampen our spirits or indeed the trip.
Our first stop was 3 nights at the Movenpick Hotel Mansour Eddhabi which is in the new part of the city. The layout of Marrakech finds the medina and old part of the city in the centre with the new city surrounding it. What jumped out at me immediately was how modern and clean the city was. Where we were located, there were many large hotels, bars, restaurants and just down the road from us was a shopping centre.
After settling into our hotel rooms and having lunch, we were split into smaller groups and taken by a guide to the souks in the medina. I had arrived with a preconception of being hassled and it being full of cheap souvenirs. What I found were narrow streets where you had to walk close to the souks to give way to the many motorbikes whizzing by, beautiful items that I could have spent hours perusing and an atmosphere that I soaked up. I was slightly blown away by the souks and could have happily spent hours wandering through taking it all in.
We left the souks and headed towards El Fnaa square where there are market stalls including street food. The street food tables were filled with locals, a sure fine sign that the food is good! A quick pit stop at a roof terrace for a cup of mint tea, the national drink which is made with lots of sugar (make sure you take your sweet tooth with you!) before heading to Le Salama for dinner. We were treated to traditional Marrakchi food here along with entertainment provided by belly dancers and lady's balancing huge candelabras on their head.
Hotel visits were the main part of day 2 but the highlight to me was visiting La Maison Arabe to attend a cooking workshop. We were shown the art of making mint tea and enjoyed a cup alongside freshly cooked bread before heading to the kitchen to be shown how to make chicken tagine by a dada (traditional Moroccan chef). Once the dish was cooked, we were seated in the dining room and given our dish to eat. A little souvenir from Le Maison Arabe was a Moroccan recipe book, I am looking forward to trying some of the dishes out on my family!
On our third day, we were whisked off to the Atlas Mountains to visit a brand-new hotel, L'Amandier, which is opening to the public this June. The show around was undertaken by one of the owners and it was evident how much passion he has for this amazing little gem of a hotel. Following lunch, we could relax by the pool and terrace. The sun was shining although the wind was up so without realising quite a bulk of the group came away wind burnt, myself included. Wherever you stay at this hotel, you are overlooking the mountains and being just an hour away from Marrakech this would be a perfect addition to a city break to finish your holiday off with a few days simply getting away from it all. Beware though, for someone who suffers from travel sickness, the journey to and from the hotel is testing.
Marrakech was a city I wanted to visit but what I found there was more than I could have expected. Much more than a city break, I hope to return with my husband to show him what it has to offer.
After 3 nights in Marrakech, our last day took us out to Essaouria. This is a 4-hour transfer from Marrakech and located on the coast. You can fly direct from Luton to Essaouria however the flights are not daily and did not fit into schedule of our trip.
En route to Essaouria we stopped at an Argan Oil Cooperative. Here we were shown the process of extracting the oil from the nut and the many products that are derived from it. A quick spot of shopping at the gift shop saw most of our group walking away with an argon oil product.
We had some free time in the afternoon where we could visit the medina and souks. What a contrast to Marrakech; wider and more spacious, the tell-tale sign of less tourists was evident from an ever so slightly more persistent nature of the sellers. This did not put me off and I could have spent more time than we had meandering through the streets.
Our last supper saw us being treated to Moroccan and French style food at L'Heure Bleue, a Relais and Chateaux property. The food, setting and beauty of this riad hotel and restaurant was a perfect end to our trip.
Essaouria was a coastal resort that I hadn't come across before but will be at the forefront of my mind to recommend to those clients looking to enjoy a beach holiday in Morocco.
Be sure to get in touch if Marrakech, Essaouria and indeed Morocco are on your list as the next place to visit.