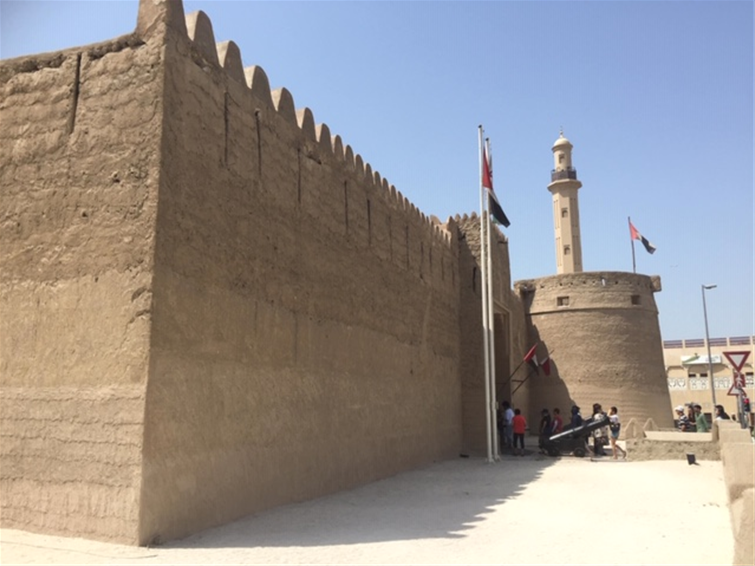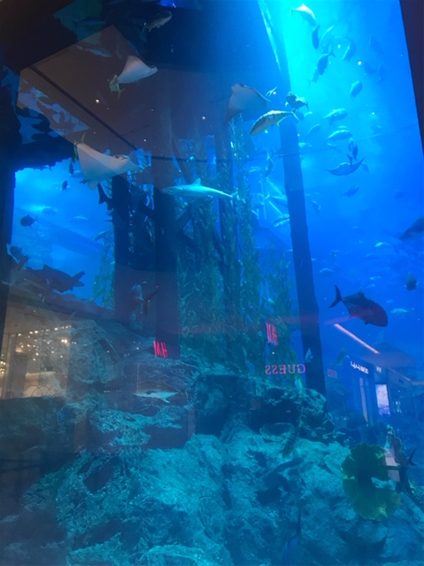 For our final full day, we got up early to do some more tourist bits which included more of the hop-on hop-off bus which we took to the Atlantis Hotel at the top of the Palm. Our bus tickets included entrance into the Aquarium which we thoroughly enjoyed and even took some time to just sit and watch all the fish, something I find quite peaceful and relaxing. Following this we headed to the original part of the city. The journey took us past the palace where the Sheikh lives which was stand alone in years gone by but is now surrounded by the city. Once in the original part of Dubai, you see traditional buildings and this area has a much different feel to it compared to the new modern Dubai. We spent some time walking along the creek where we stopped for something to eat before attempting to walk through the textile souks. The sellers in here were quite pushy and I kept on losing Dan so we soon left and walked up to Dubai museum before getting a taxi back to our hotel. The journey took about half an hour journey and early into it, we passed the QE2 hotel – I am always on the lookout for hotels!
Our final afternoon was spent by the pool and finished off with a cocktail at the pool bar whilst we watched the sun go down.
Another thing that you must do when in Dubai is visit the fountains underneath the Burj Khalifa. These run for approximately 3-5 minutes every half an hour and as you can imagine, attract many tourists. After taking these in, we picked from one of many restaurants on offer outside of the mall and enjoyed an amazing final meal.
Overall, my second visit to Dubai did not disappoint and there are still plenty of things that I would like to do meaning I will be back. Dubai is ideal as a stopover on the way to the Indian Ocean, Far East or Australia or simply as a city or beach break. There is something for everyone here, and you can go and relax on the beach or spend your days being a tourist. Dan and I certainly took advantage of our time away from our girls and enjoyed every second. My only unanswered question to him now is where we are going next!