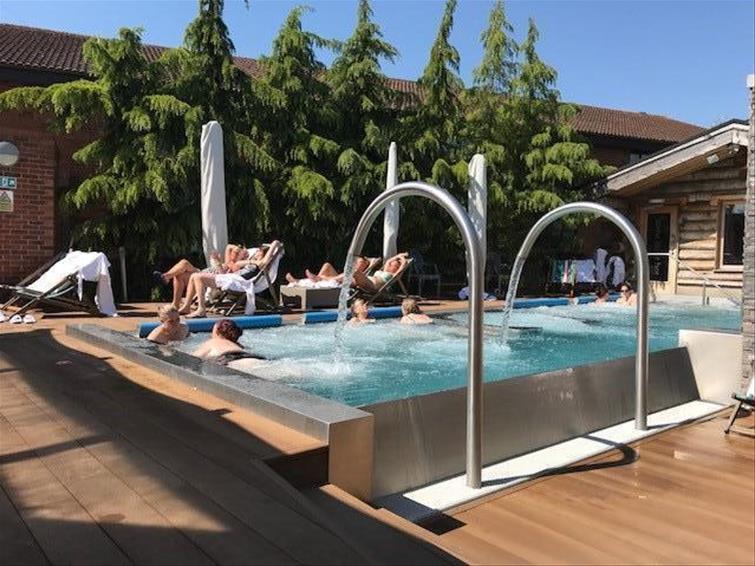 I was lucky enough to join a group of nine fellow Travel Counsellors on an overnight stay at Yspa at Wyboston Lakes as a thank you from one of our suppliers. This beautiful hotel is located just off the A1 between Bedford and Cambridge making it easily accessible. As I am located on the south coast, it was a 2-and-a-half-hour drive for me to get there.
Upon arrival, we were met by two members of staff from our supplier who were hosting us for the next 24 hours. I immediately started to relax after being a handed a gin and tonic and my appointment time for a facial that afternoon. Lunch was served in The Waterfront Restaurant and Grill and was a wide selection of hot and cold buffet food along with a selection of deserts. As suggested, the restaurant was situated with great views over the lake.
Following lunch, we had the afternoon at leisure to use the spa facilities. With both indoor and outdoor facilities, the weather was on our side with one of the first hot days of the summer and we all headed outside to grab a sun lounger and enjoy relaxing by the pool on a Tuesday afternoon. Early into the afternoon, I had my ySpa facial. The spa is located upstairs, and they offer a wide range of treatments. The facial also included a small foot massage and by the end of the treatment, I was completely relaxed. The remainder of the afternoon allowed me to make use of the outdoor pool, enjoy a couple of glasses of fizz with my colleagues before finishing off in the steam room, sauna and ice room!
Our bedrooms were located on the ground floor of an adjacent building to the restaurant, bar and spa. A small twin room but perfectly suited for an overnight stay. After freshening up, we reunited in the bar for an aperitif before making our way back to The Waterfront Restaurant. The evening meal was 3 courses and a selection of good British food.
The following morning saw us rise as normal for breakfast before heading back to work. Breakfast was buffet style again and I enjoyed the beautiful setting over the lake one last time before we checked out.
UK breaks are another break that I can help you plan and book. With spa breaks being a firm favourite for me, I would most definitely recommend this hotel. Easily accessible from various parts of the country and in a gorgeous setting. I hope to visit again!