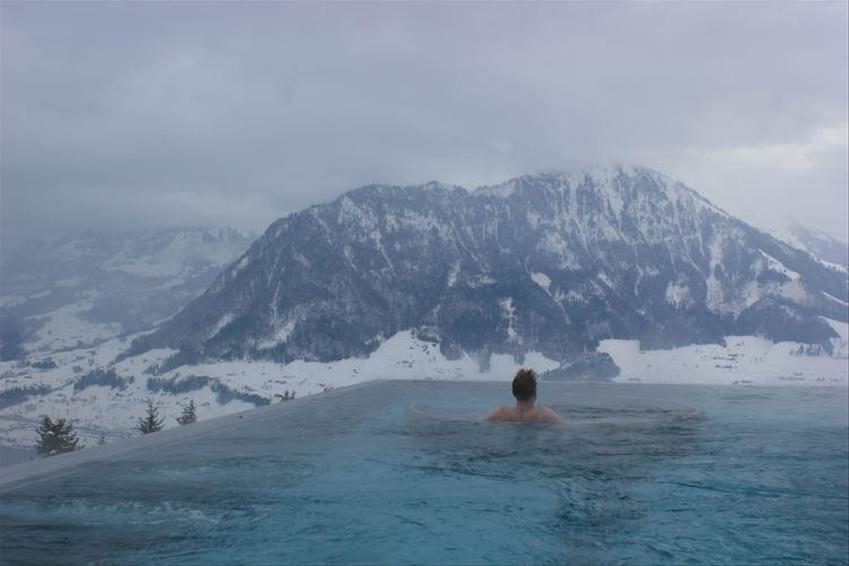 I'll admit it; I have a huge soft spot for spas. Getting that stress rubbed out of your shoulders, marinating in thermal water, getting an overload of pampering and a general detox!
So here are some of the hidden gems I have discovered whilst exploring these thermal havens...
HOTEL VILLA HONEGG, SWITZERLAND Winning the top spot on my list, is Hotel Villa Honegg. What a gem! Against the slopes of a mountain, overlooking Lake Lucerne, this is a stunningly romantic location that will leave all your friends green with envy when you post those pictures on Facebook. Secluded, and hidden away (if such a thing is possible on a slope of a mountain), I have not come across anyone who has discovered this magical place.
Winter is breathtakingly beautiful with snowy slopes and mountain peaks and gentle snowflakes gathering on your head as you hang on the edge of the infinity pool overlooking the stunning vista. You can spend hours in the spa simply staring at the view.
Cozy fireplaces welcome you inside where you will enjoy cheese and wine or afternoon tea. And when it comes to dinner, the restaurant gets five stars from me! Fine dining, excellent wine, magnificent spa, breath-taking views...What more do you want?
AQUA DOME, AUSTRIA With easy access from Innsbruck International Airport, Aqua Dome is an ideal location for a spa breakaway weekend. But you might want to consider staying longer than just a weekend, since you will most certainly be smothered in luxury!
Labelled as Europe's best spa, it really lives up to its name. Aqua Dome has something for everyone, from a crèche and waterslides for children, to fitness facilities for the exercise fanatics, beauty treatments for general pampering, sauna, spas, hot springs, and more. Hours just slip by as you move from one pool to the next trying out various detoxing scrubs and steam rooms, or cuddling next to a fireplace with a book.
Don't be put off by the reviews about nudity, most areas are not! The Sauna World is exclusively nudist, but then again there are loads of saunas in other parts of the building which require you to be in swimwear. Day visits are possible and quite common, but I would recommend booking into the Aqua Dome hotel for a full experience. Being one of the hotel guests, you get access to exclusive areas purely for hotel guests, away from the crowds, providing you with a sense of zen.
If you are into skiing, the local village Langenfeld caters for skiing equipment and there are ski slopes quite close by at Solden.