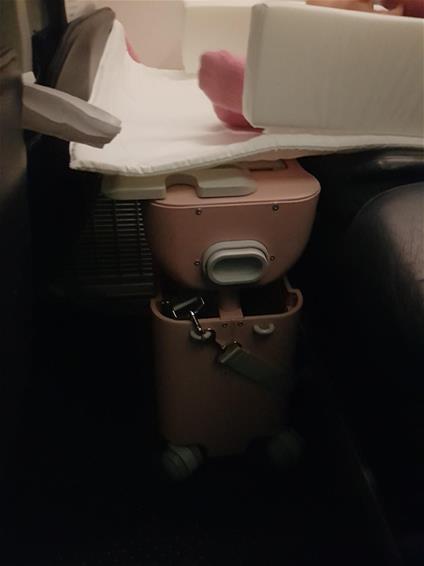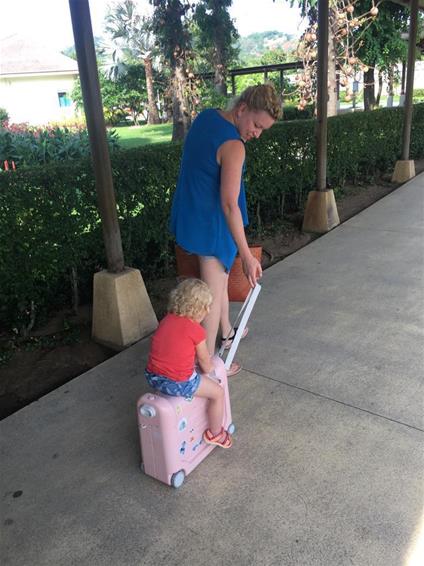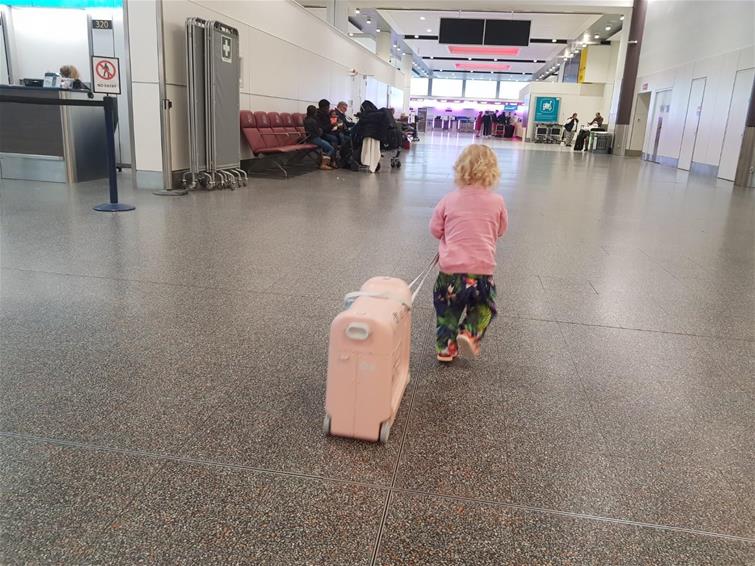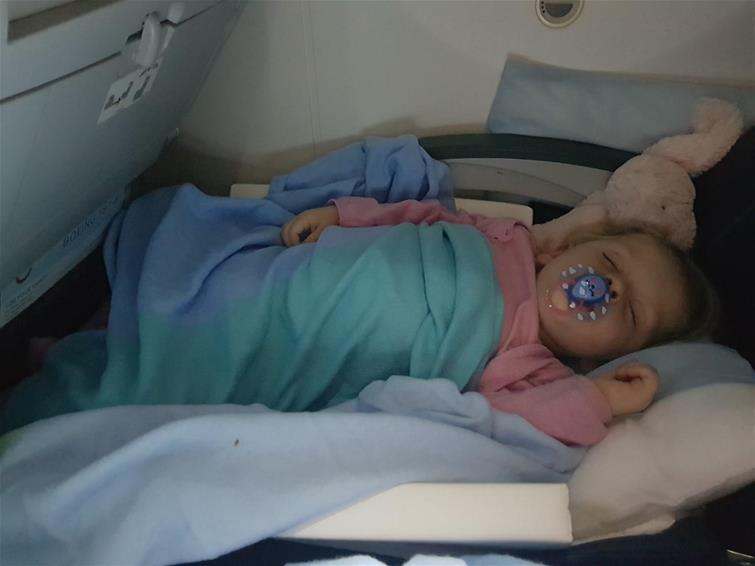 Any parent flying long haul with a young child in tow can get obsessive about how they're going to get their child to sleep for at least some of the flight. Stokke® brand, JetKids™, have a well-designed and clever piece of kit to give your child room to lie down and properly rest, the BedBox®.
Hand-luggage sized, there's room inside for your child's snacks and in-flight activities, alongside a neatly folded, lightweight mattress. The little case is light enough for the smallest of children to be able to pull it along behind them in the airport, doubling up as a fabulous distraction from the surrounding busyness. If they don't fancy pulling it themselves, they can sit astride and either propel themselves if their feet reach the floor, or rest their feet on the ledge, hold on to a strap and get towed. The BedBox® has swivel wheels at the front making it easily manoeuvrable.
The cleverness lies within the box itself. When you board the plane, the BedBox® fits neatly under the seat in front or overhead compartment. Once the seatbelt signs have been switched off after take-off, undo the lid and remove the mattress and sides. The lid fits back on and a ledge slides out, filling the footwell. The mattress sits across the plane seat and the top of the BedBox® and the sides sit next to the armrests. And there you have a mini bed.
We used a BedBox® on our 11.5-hour flight to Thailand with our two-year-old. It was great using it in the airport and, as the trip wore on, she got more used to it and loved riding on it. The BedBox® isn't formally approved by all airlines because it could block access to a lifejacket, or an exit if used on an aisle seat. But used discreetly by a window or after cabin lights have dimmed and cabin crew might turn a blind eye – or not even see it. You might want to check in advance with your airline if you're concerned.
We flew with TUI, and although Thomson is informally listed by JetKids™ as an airline that allows the use of the BedBox®, we were told onboard that they do not formally allow the use of it. However, since we only used it after dinner was served and lights were switched off, we were not asked to put it away.
My daughter wasn't ready to sleep as soon as we unpacked her BedBox® so the mattress did move as she did, but once she was asleep it wasn't a problem. We also found the ledge on top kept moving which we had to realign under the mattress.
Would I recommend the BedBox®? Overall, yes, if you want to invest in a long-term suitcase to aid travelling with a young child. It is multipurpose and great at keeping little ones busy pre-flight. But you might be asked to put it away during the flight, in which case you won't get the full benefit of the product. So not a product downside but airline-related. Check before you travel for peace of mind or take the risk knowing that whatever happens, you have a fab piece of luggage for your little one.