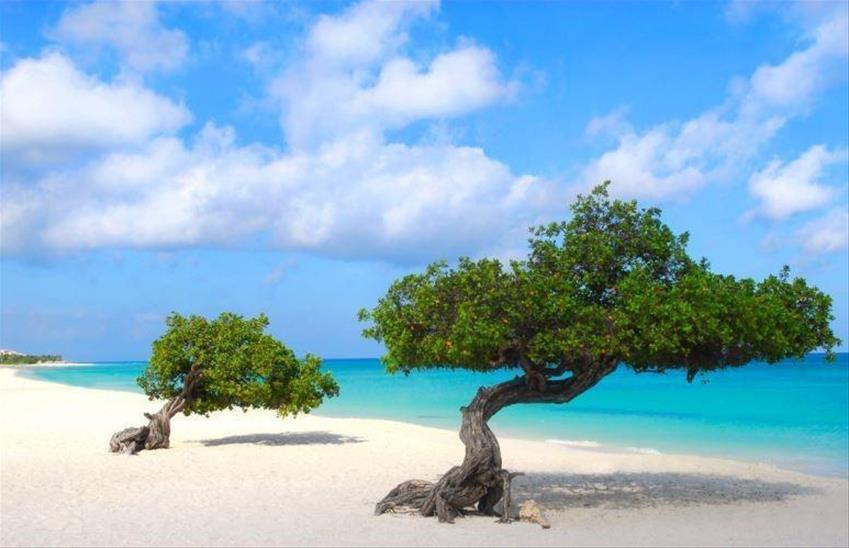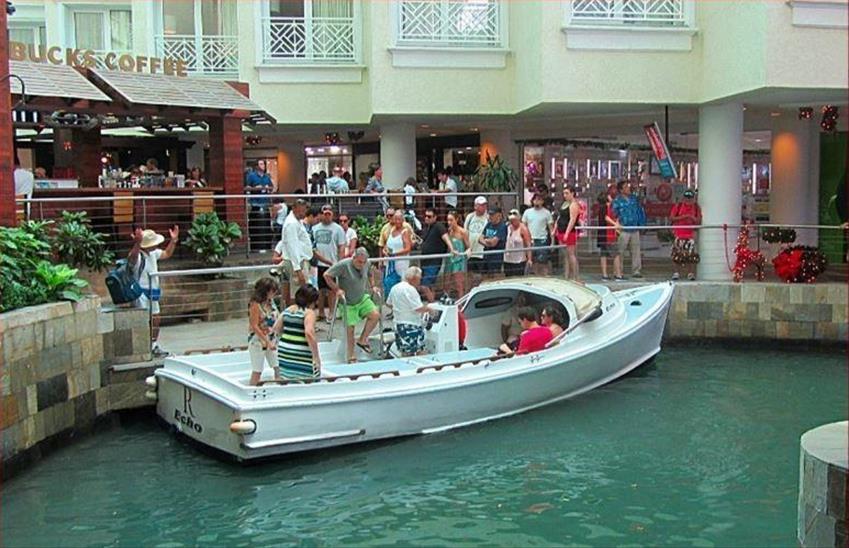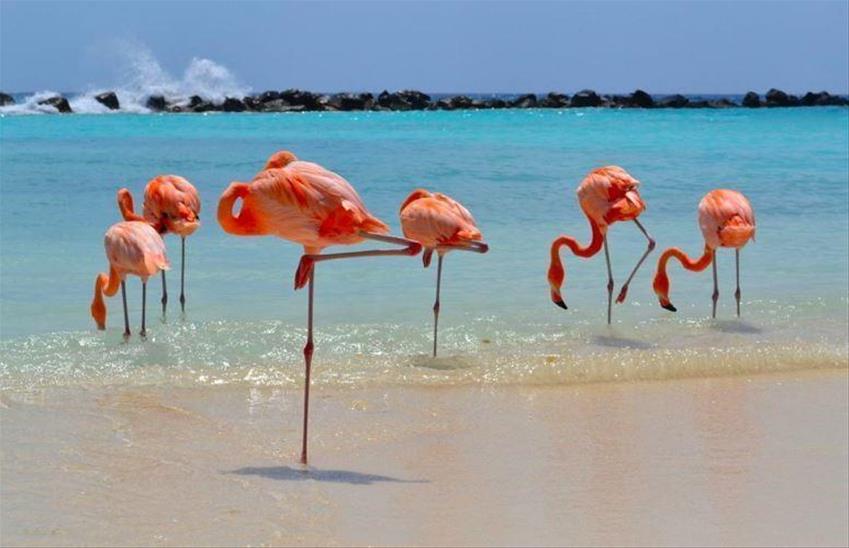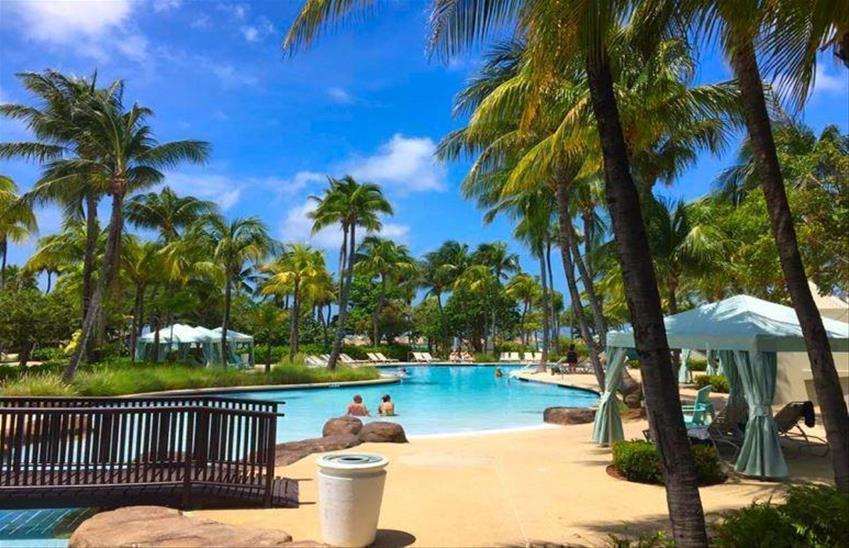 I was thrilled to be given the opportunity by the Aruba Tourist Board and KLM to visit the tiny exotic Dutch island of Aruba on an educational trip with 10 of my fellow Travel Counsellors. It was an intense, five day tour of this postcard paradise island with blond beaches, located just off the coast of Venezuela in the southern Caribbean.
Being located outside the hurricane belt, this 19-mile-long by 6-mile-wide island enjoys average year-round temperatures of 30°C and very little rainfall, which makes this island a perfect year-round holiday destination. The trade winds provide a constant cool breeze which causes the islands famous Divi-Divi trees to slope in a south-westerly direction.
Due to the high levels of employment, a decent minimum wage and good standard of social housing makes Aruba a safe place for tourists to visit. You can even drink the tap water as they desalinate all their water due to the low rainfall.
To get to the Dutch Antilles island of Aruba you can fly direct from Amsterdam with KLM. There are plenty of regional UK airports offering connecting flights to Amsterdam – I flew from Birmingham whereas my colleagues flew from various other UK regional airports.
Aruba's strapline is 'One Happy Island' which makes sense when you experience their super laid back a friendly attitude towards life.
The capital of the island is the bustling harbour city of Oranjestad with its unique blend of old and new Dutch influenced Caribbean architecture. Most buildings are brightly coloured with shuttered windows. Cruise ships dock here, so you will find plenty of international designer shops as well as plenty of restaurants, cafes, nightclubs, bars and casinos.
The southwest coast is where all the amazing beaches can be found and the majority of the hotels are located. There are two distinct resort areas – the high rise hotel area on Palm Beach with big brand hotels like the Ritz Carlton, Hilton, Grand Hyatt and Holiday Inn and the low rise hotel area located on Eagle Beach (considered to be the best beach on the island), which has a more boutique feel and is very popular with couples and honeymooners. Here you will find the stunning adult only Bucuti and Tara Resort – my personal favourite, especially the Tara Suites. I enjoyed visiting the Grand Hyatt located in Palm Beach which has beautifully landscaped gardens, spacious rooms with nice sea views, and plenty of space to relax around the different pools!
In Oranjestad, I visited the Renaissance Aruba Beach Resort which consists of three sites covering the beach and main hotel across the road in Orangestad's main shopping complex. The third site is their own private island accessible via speedboat through an underground tunnel from inside the main hotel. On the private island you can swim and take pictures up-close with the famous and very tame resident pink flamingos.
At the western most point of the island is the low rise and traditionally Caribbean-style Manchebo Beach Resort & Spa, which has some lovely facilities including a beautiful Balinese style outdoor spa on the beach and a very intimate restaurant and bar.
To the north of Palm Beach there is the wonderful privately owned and small Boardwalk Boutique Hotel, which is set in lush small tropical gardens with roomy self-catering accommodation for families that included kitchen facilities. This hotel is perfect if you want to hit the beach all day, come back, put the kids to bed and then sit out on your balcony and terrace, BBQ, relax in a hammock and open the nice bottle of wine - I liked this one a lot and especially enjoyed the colourful local artwork which adorns the hotel throughout.
The Amsterdam Manor Beach resort, located at top end of Eagle Beach is a Dutch style property with attractive apartment style rooms ideal for families with the beach literally just across the road and they have their own beach bar and restaurant where you can sit and enjoy a spectacular sunset dinner experience.
No visit to Aruba would be complete if you have not experienced the Kukoo Kunuku, Aruba's infamous party bus pub crawl, which includes riding along in a bus with no windows, lots of flashing lights, loud music and you get your own maracas to shake to the beat. Revellers enjoy singing and dancing and you couldn't help but enjoy the ride around the town, stopping off at local bars, before being dropped off back at the hotel at around 12:30am. It's a great laugh, not for the faint hearted.
I must say however, it is not recommend to do a 9am start 5 hour Catamaran Cruise the day after the Kukoo Kunuku party bus…. which we did. The cruise includes 3 stops to snorkel around some shipwrecks and then closer to land to see some wonderful marine life. Lunch is included, served up by the entertaining and very accommodating crew.
Even though the island is relatively small, there is absolutely loads to do including a rich array of water sports including snorkelling and scuba diving the great selection of shipwrecks and reefs offshore. You can also partake in windsurfing, sailing, fishing, ATV & Jeep Safari tours or visit the national park. Other attractions include the California Lighthouse, Alto Vista Chapel with its variety of different shaped Cacti, Natural Bridge, Casibari Rock formations and the Bushiribana Gold Smelter ruins. On the north coast there is a tradition where you can make a wish by stacking stones – reminded me of the same in Canary Islands.
If you would like to visit this one happy island, please feel free to call me.