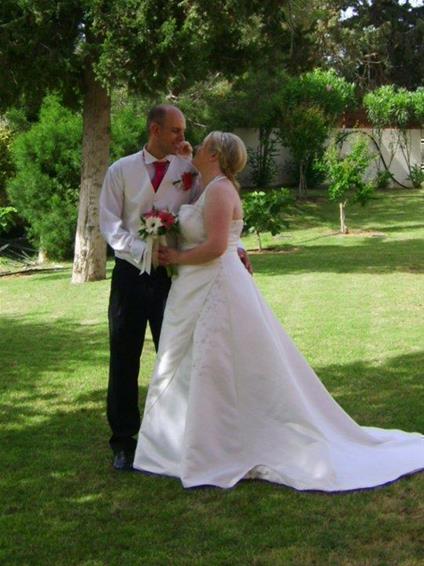 My reasons for loving Cyprus come from a couple of places. My first holiday abroad with my mum when I was 16 was in Cyprus which was amazing, we stayed in an apartment not far from the square in Ayia Napa, so of course we had to go and look around. That was an experience to say the least. But even though we were so close, we barely heard or saw much of it. The second reason it has such a special place for me is, it is where I got married.
We chose Cyprus for a couple of reasons. All the wedding paperwork is done in English, so it doesn't need to be translated, so many people speak English over there which makes understanding so much easier, and it's just so beautiful. Almost guaranteed sun, beautiful blue skies, white sandy beaches and crystal-clear waters, what more could you ask for on your wedding day?
We got married in the Nissi Beach area, and everything was done for us before we even travelled across to Cyprus. It was so much less stressful than a UK wedding in my opinion, which is probably why it's such a popular wedding destination.
My final reason why Cyprus is so close to my heart is last May, we went as a large family, myself Chris and our 3 boys, my brother and his 2 children, my sister, her partner and their little girl and my mum and stepdad. It was a very emotional holiday as we had just lost my grandad and we just all wanted to get away. Being there together made it so special for us, it helped us forget the upset and sadness and just enjoy the beauty that Cyprus had to offer.
This time we stayed in Paphos, the complete other side of the island, which was bizarre as having not stayed this side before, I wasn't sure what to expect, but it was equally as beautiful. The sea at this side of the island was slightly rougher but still crystal clear. The harbour that we visited had a lovely little castle that you could go around and again, the locals were all so welcoming and friendly. This place has such a lovely friendly feel.
With all that being said and done, just a couple of tips for anyone thinking of Cyprus:
They all drive on the same side of the road to us so get a hire car, there is so much to see and do in Cyprus that without one, you may miss out.
There are quite a lot of ex pats over there so a lot of people speak or at least understand English, which is great, especially when you're out and about.
Lastly, take it all in, the scenery, the beauty and the locals, if I could move to Cyprus tomorrow, I would be there in a flash.
My Favourite Hotels:
Atlantica Aeneas Spa – Nissi Beach Laura Beach Hotel – Paphos Olympic Lagoon – either Paphos or Ayia Napa
All of these are great for families.