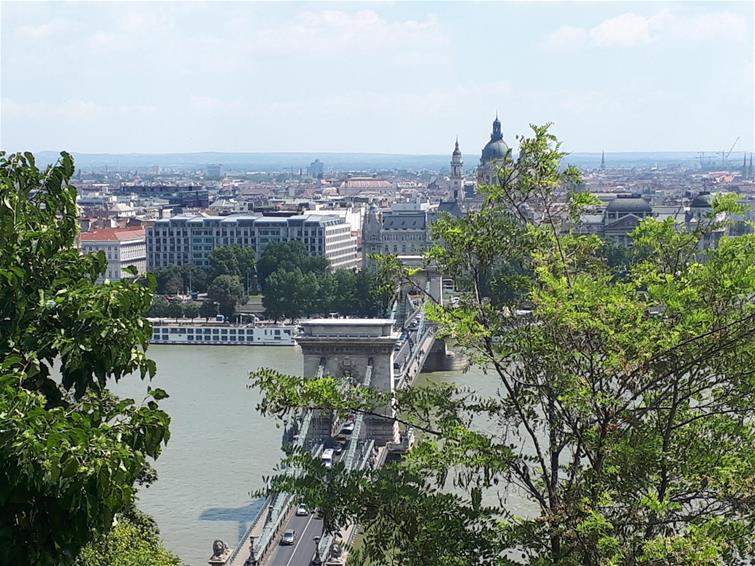 Budapest has been on my husband's wish list for a long time. As it was our 20th wedding anniversary I have decided to finally take him there.
With direct flights from many UK airports the Hungarian capital it is really easy to reach. Our hotel was a stylish 4* located in the Pest side, about 15min walk from the Danube River. This location is a top spot for quirky bars and great street food.
The first day we walked across the Szechenyi Chain Bridge to the Buda side and took a short ride on a Castle Hill Funicular up to the Castle District. You can walk up this hill but don't be fooled as it is quite steep. This UNESCO World Heritage site is truly impressive, and we spent a lovely morning there just wandering around the monuments and taking in the breath-taking views across the Danube.
For the evening we returned to Pest to take part in a Fine Wines & Ruin Bars Tour which without a doubt was a highlight of our trip. We were in a small group with two other couples and our lovely Hungarian guide. What a fun way to learn about Hungarian wine traditions (while tasting some really tasty wines with traditional snacks) and discover some quirky ruin bars. I find these small tours a real highlight of any city break, and always include them in any itinerary I create.
The next day we decided to head off to Margaret Island, a tranquil, green oasis located in the middle of the Danube. You can get there by boat or bus, but we decided to walk along the river which took about 45 minutes. You can easily spend a few hours there just wandering around the green spaces and discovering little delights along the way. My top tip would be to hire a bike or mini electric car as soon as you reach the island as it is bigger than it appears. On our way back, we boarded a one-hour river cruise which was very pleasant but in hindsight, I would prefer a night cruise to get a more magical experience.
That evening we were celebrating our wedding anniversary and booked a table at an Aszu Restaurant which definitely rose to the occasion with its beautiful interiors, traditional Hungarian dishes with a modern twist, top service and live Hungarian music, all for a very reasonable price. Highly recommended for a special occasion.
We decided to spend our last day in one of Budapest's famous thermal baths and swimming pools. Gellert Spa is famous for its lovely warm spring water pools, its architecture, its landscape, and for its spa treatments, and pampering massage therapies at reasonable prices. Please be aware that to use the main indoor pool you need a cap – even the baldies (the hotel shower cap will do). There are other indoor and outdoor pools in the Gellert complex where caps are not required. It was a very pleasant few hours and an attraction which could be enjoyed in all seasons and weathers. On our way back, we stopped at the Central Market Hall to get a few souvenirs and grab a bite of traditional Hungarian food from the market stalls.
A truly perfect long weekend, we will definitely be back.