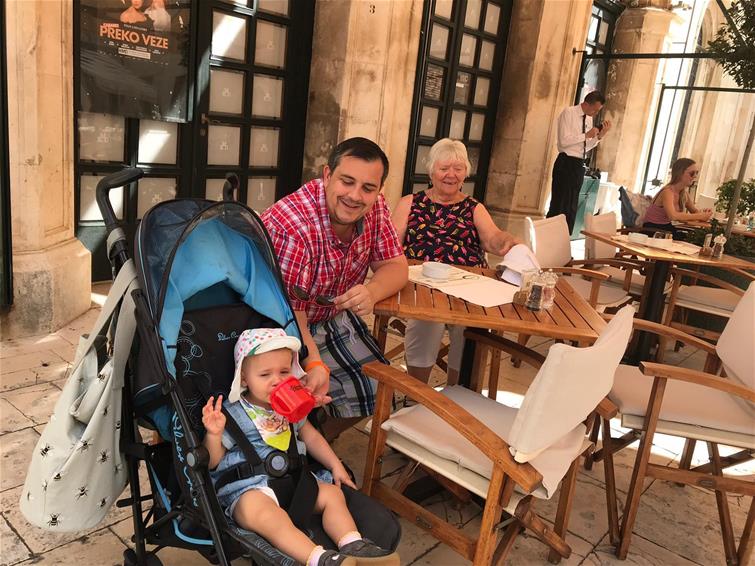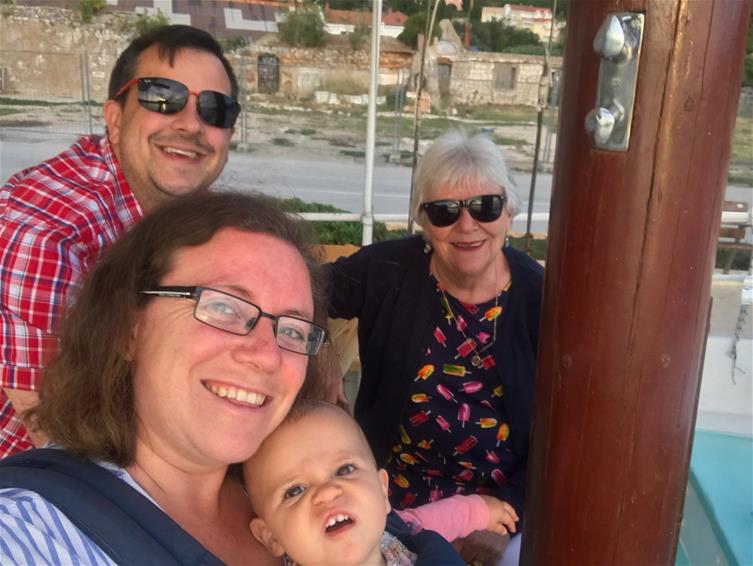 Travelling with a baby, where do I even start! Having become parents a little over a year ago Alex and I have stacked up the miles with our little one and so I wanted to share some top tips of things we have learned the hard way. I would like to start by admitting that Amelia is a seriously easy child and I fully acknowledge that no baby is the same. I hope these will be helpful hints for those of you who are new to the game.
The passport - I write this in 2019 and currently getting a first UK passport for your little one is just ridiculously easy. If you're a confident photographer and have everything you need to take a professional photo yourself you can literally get everything done and ordered through the UK's government website within an hour - and it's the photo shoot that will take up most of that time. Get it done and ordered at least 2-3 months in advance of travel and you'll be sure to have your baby's travel documents sorted in good time for check-in.
It's never too early to plan your baby packing - start making a list of items you'll need 4-6 weeks in advance and this list will differ depending on where you are going: travel cot, pushchair, baby seat, blankets, baby food, nappies, toys, onesies and back up onesies. Every stage of a baby's life is so different from the last – you'll know what you need but just make sure that you have it all in advance to avoid the night before panic.
There are shops where you're going…unless you're off to the moon. Do not stress if you have forgotten something (I am awful for this and it's usually a hairbrush) – you're parents and it's okay that you're forgetful. I promise, most countries in the world that you could possibly be taking your little one to will have shops. It might not always be Boots, M&S or Tesco but, as I constantly remind myself, there are families in that country too who have brought up their children successfully for many centuries…I am sure we will survive!
The dreaded in-flight nappy change. Eeek! A bit of genius from a fellow TC helped us on our way...Create a nappy pack! Instead of taking the entire changing bag with me to the (lets face it) less than roomy toilet facilities on our Easyjet flight, we took just one small bag. For every journey I now pre-prepare 3-4 nappy bags (you will need more for longer trips) each with a couple of wipes and a nappy. Once you're through security, slip a mini Sudacrem into your jeans/jacket/shorts/skirt pocket. You'll be in an out of the bathroom quickly without the weight of a changing bag on our shoulders.
Have distractions easily accessible that are friendly to those around you. Amelia loves watching videos of herself (#vainbaby) and she is a massive fan of Peppa Pig, even without volume. Myself, Alex and Grandma always make sure that we have Amelia videos easily accessible on our phones. Before our recent flight we also downloaded a good few episodes of Peppa Pig onto a tablet and had that in our hand luggage ready to have to hand particularly for take off and landing. The best part is that neither of these activities disturbed those around us.
Get a feed in well before the journey. We had to learn this lesson at least 3 times before it has sunk in. An icky baby is the last thing you need to complicate an already stressful situation. Thankfully for us it has only ever happened really in the car but once was on the way to Dubrovnik airport so it does sort of count. If your child has ever shown signs of travel sickness, whatever you do, don't fill their tummies with milk just before a journey. It could happen at any time though, so do make sure you have a change of clothing for your little one and at least a change of top for yourself. The last time this happened to me it was in a restaurant and Amelia was fine with a whole new outfit to wear. I wasn't so thoughtful to myself and I regretted it!
Toys and snacks for the journey and for the holiday. When your baby is interested in something you rejoice and think you've cracked it…and then 30 seconds later they've thrown it on the floor and suddenly need entertaining again. It's imperative to have an activity plan of sorts so that you're not stuck on the M25, on a plane or on a train without something for them to do. Amelia loves books, songs, toys that make noises and she loves snacking so we make sure she has all of these things for any journey. For settling Amelia at night in a strange room/cot I find that having her favourite toy is crucial – I am considering of getting a few more Iggle Piggles just in case the very worst happens!
Baby carriers - Having a carrier or sling is so useful for taking a little one onto a flight. You can get the pram/stroller stowed easily by the airline from the boarding gate and still have your hands free carry the nappy bag and had over your boarding card/passport when asked for it. We love our baby carrier as it means Amelia is safe, she can see everything around her and if she needs a sleep she can do so easily. We now tend to drop the buggy at baggage drop and just carry her around the airport terminal very easily.
Popping ears - If your little one isn't a thumb sucker like ours is, then having a dummy or something they like to suck on will, hopefully, be your saving grace at take-off and landing.
Hotel facilities - Prior to being a mum, I don't think I've ever really thought too much about laundry facilities. On our family trip to Croatia I was so thankful for having an apartment with kitchen and washing machine. Access to a fridge for Amelia's food to stay fresh, a microwave to heat up meals quickly for a hungry little lady and a washing machine to ensure we had as little laundry as possible to do on our return just made a whole world of difference. It was home from home and made for an easy first-time family holiday outside of the UK. We didn't have a baby monitor with us but there are more and more resorts these days that have these available should you need them.
Chargers and batteries at the ready - Lastly and most importantly, you're going on holiday to make memories with your family. Make sure your selfie sticks, phone charging cables, camera batteries (and charger) are all packed. There will be plenty of moments to capture that you won't want to forget. For us, it was Amelia's very first attempt at walking independently caught on video. It's one we'll keep to embarrass her on her 21st birthday and a video Alex and I will be watching for many years to come.