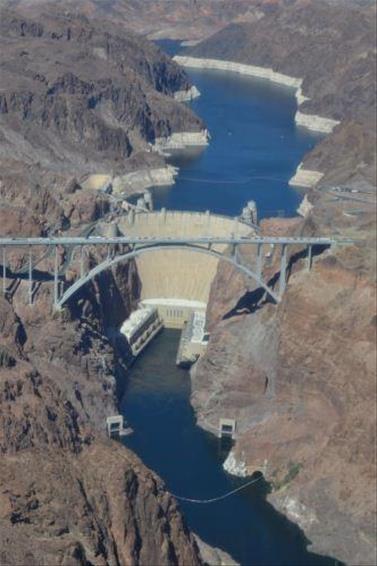 We stayed at the Grand Canyon Ranch while on holiday in Las Vegas and it was a great comparison to the Strip. We took the helicopter from Vegas airport, with great views over the Strip seeing all the hotels. Then it was onwards towards Lake Mead and the Hoover Dam. The pilot pointed out all the things of interest and we were able to get some great photographs. We flew below the rim of the canyon and had great views of the Colorado river.
We landed at the ranch where we were met by a horse drawn wagon and you could feel the gentle pace of the ranch compared to Vegas, with it's beautiful scenery and breathtaking views. We had a great lunch of buffalo burgers and checked into our cabins. The cabins had everything you needed for an enjoyable stay. It was very hot during the day but cooler at night, so the air conditioning was good in the day time but you could switch it off at night time. You could also stay in a Tipi if you preferred.
We did a sunset ride, where you could go by horse or wagon and enjoy a glass of champagne watching the sun set whilst the Buffalo herd. It was a great experience.
Night time brought us an excellent steak dinner followed by songs around the camp fire expertly sang by Casey Adams. There is no light pollution so it's great for star gazing.
After a hearty breakfast and a few more photographs we had the most amazing warm scones and then it was back into the helicopter to fly back to Vegas.
It was the highlight of our trip.
Two days later we drove to the Canyon (2 hours 30 minutes) and went on the Sky Walk, the glass bridge over the Canyon. I loved looking down through the glass to 4000 feet below. We visited Hoover Dam and some of the native American shops where we bought some lovely souvenirs.
I would highly recommend the ranch if you are staying in Vegas.