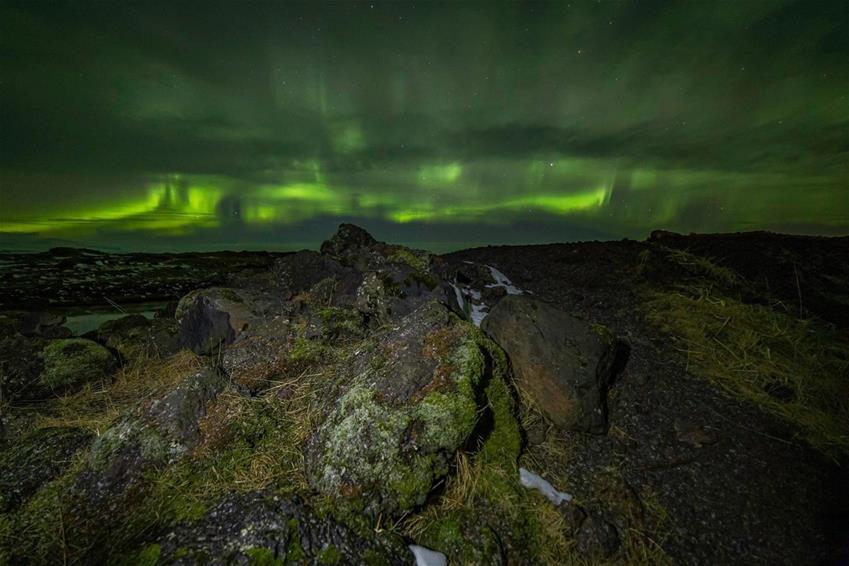 The elusive Northern Lights!
Without a doubt the most common question I get whenever a customer is thinking of visiting Iceland is "when is the best time to see the Northern Lights"? This question is a tricky one, and one where I can give my expertise whilst remembering that this is a natural phenomena so it's all just guessing…or is it?
Here I share with you some Northern Lights wisdom!
For some reason somebody, at one time said that February was the best month, which is something that baffles our Partner supplier that lives in Iceland. February isn't necessarily better than November, or March for that matter. So FORGET anything you've heard about a specific month being better than another.
The Northern Lights season in Iceland is very simply from the 1st September until the 15th April. This is the season that we run the scheduled Northern Lights tours. Any day during this entire season you can simply be lucky or unlucky. It's that simple - BUT there are other things you may want to consider when thinking of visiting Iceland and seeing the breath taking Northern Lights:
Overall enjoyment of your holiday. Remember that the Norther Lights are a BONUS to your holiday, try to focus on all the other amazing things your holiday to Iceland will give you, and if you see the lights it'll be an incredible bonus. I can give you my promise that when booking a trip with me and having our on the ground partners looking after you, they will to do their absolute best to enable you to experience the Northern Lights. Join a cruise or coach tour on the first evening and if you don't see them, come again for free. This means we multiply your chances of seeing them. We will also let you know if there is no chance of seeing them so you can spend your evening differently (the technology used in to track the lights is amazing and they will not take you out on an evening if they know in advance the cloud cover is too thick etc), and rebook you automatically for tomorrow. They monitor their great forecasts every hour of the day.
September, October, March and April are very good "shoulder months". These months are milder than the harshest winter, meaning more daylight hours and typically milder weather. November - February is peak winter. This means less daylight hours and more likely to encounter snowstorms or harsh weather conditions. Don't worry we will always take care of you, and turn around your program if needs be, but be prepared for colder, darker days. The darker the better for Northern Lights, certainly, but don't forget your excursions during the day which may be more enjoyable in the milder months.
If there are ANY guideline you'd want in regards to Northern Lights, the only real guide is to come within the season (obviously) and try to avoid full moon (top tip). A full moon really brightens up the sky and may jeopardize the magnitude of the Northern Lights sight. In early 2021 Northern Lights season full moons fall on the 28th January, 27th February and the 28th March
I can tailor any adventure to Iceland complete with unbelievable experiences! Get in touch and have something amazing to look forward to it 2021!