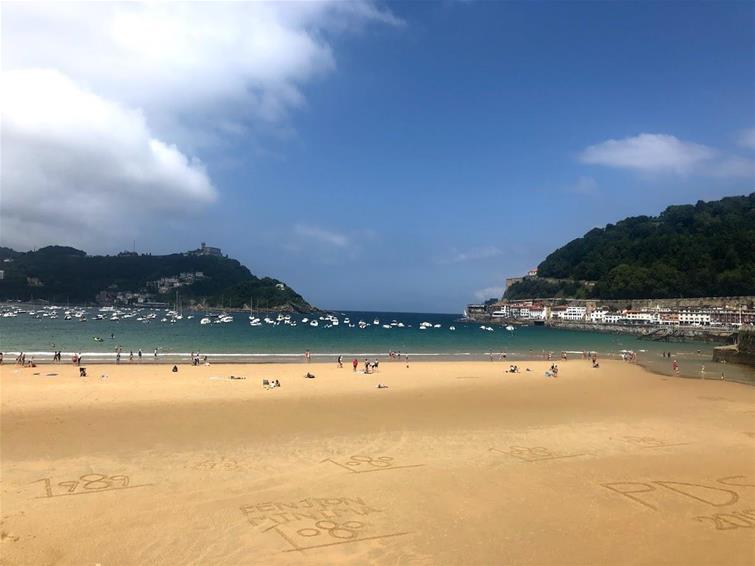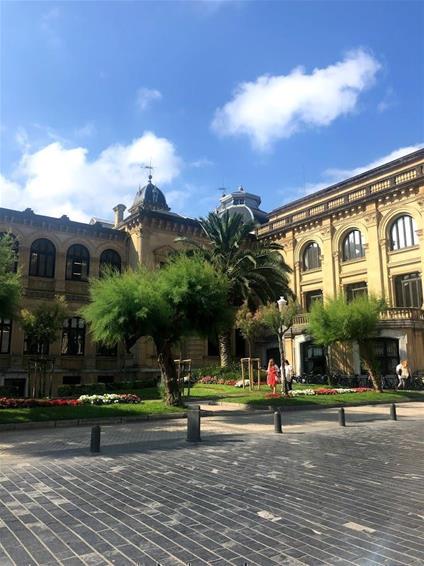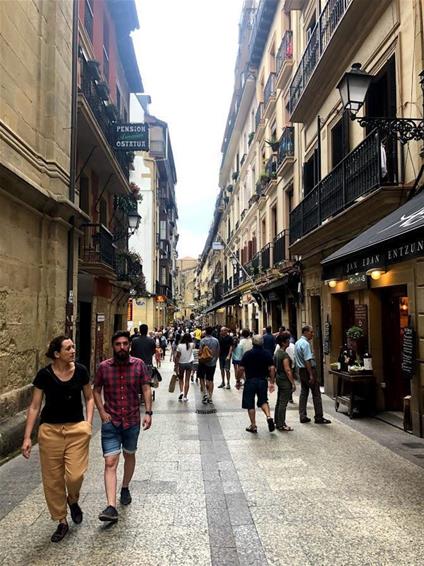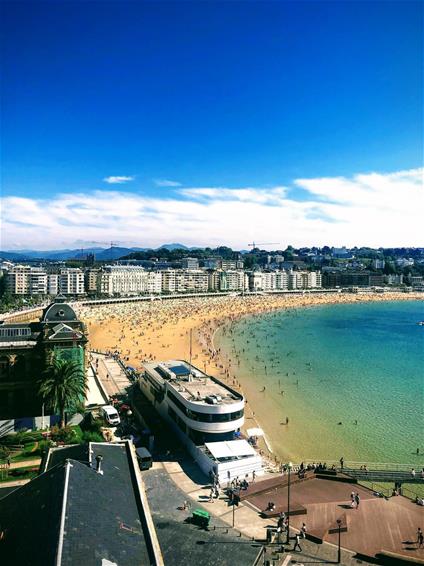 This small city has it all. Pintxos bars aplenty, lively bars, a beautiful sandy beach with crystal waters, breath-taking views and chic hotels.
After arriving from our short flight to Bilbao, we took the bus we runs every 30 minutes and costs 17eur pp within an hour we had arrived. The weather was perfect and just a short walk from the bus terminal we arrived at our beautiful hotel. It was right in the heart of Old Town and overlooking the bay. Perfect. We had a sea view and we went straight to the roof terrace for a glass of champagne.
Being so central meant we were minutes from visiting our first of many Pintxos bars. It was so hard to choose. Little plates of food designed for you to eat a small bite, gulp a glass of Rioja and move on to the next one. What a life! Needless to say with only a €1 for a glass of wine I was feeling a little tipsy after a couple of visits! This carried on the theme for the rest of the evening. Small cobbled streets lined with more restaurants than you could imagine possible! Perfect. With bellies full and a little wobbly on our feet we stumbled back to our lovely room taking us all of 3 minutes to get back to!
The next morning was all about getting out and about. We had the mandatory croissant and coffee before hitting the shops. Pedestrianised streets made this so easy to navigate, and my goodness Saturday shopping was not like the UK! It was so quiet. We shortly realised that was because the whole town was on the beach! People sunbathing and swimming; it really was a sight and made you slightly green with envy that this was not on our doorstep everyday! Late lunch was had, because after all this was Spain and nobody eats dinner before 10pm!
Dinner was more of the same. Pintxos and Pintxos, however we decided to do our own Pintxos Tour and we googled our way around the recommended ones and boy was it worth it! My husband was in his element, not only was he spoilt for choice in food decisions but he also found craft beer! His nectar! We partied like the Spanish (well tried to, we were very tired so did have to go to bed before the party stopped!)
Sunday was more walking. We managed to walk right around the sea boulevard. It was very dramatic. Waves crashing into the barriers against a backdrop of hills. It rains a lot here so it is very green which makes the scenery even more dramatic! The afternoon saw us both relaxing by the little pool on the roof of our pool myself reading a book, whilst my husband bent over his phone trying to watch the cricket final! We were both happy!
Monday was check out day, however as the flight time was a respectable early evening it gave us just a few more hours of walking with our feet in the sea watching the world go by before getting in just a few more Pintxos and catching the bus back to the airport.
It was all so easy, and we plan on coming back next year to do it all again! It is now my favourite European City and its going to take some beating!