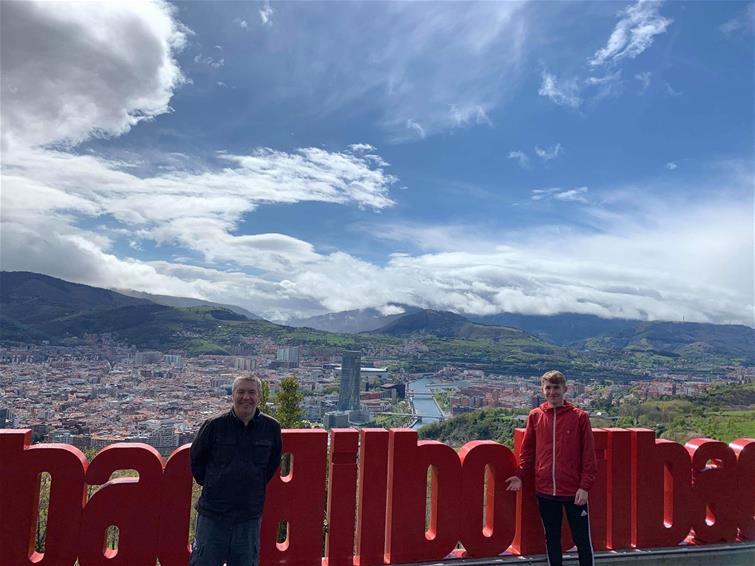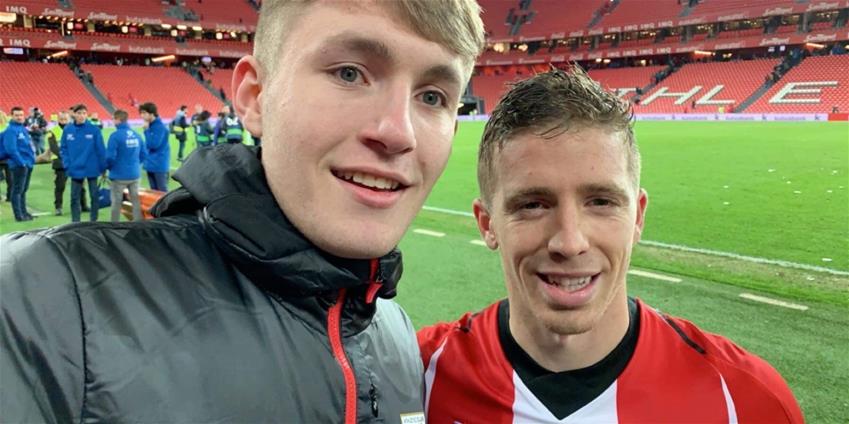 This April my son Liam turned 18. For the last few years he has had what can only be described as an obsession with a Spanish player called Iker Muniain. This was with the help of computer game Fifa'14 as it was and now just released Fifa'20. Every Christmas we'd buy Liam the latest replica shirt, this was the away shirt as coming from Newcastle the Bilbao home shirt may confuse. His love for this team grew once he discovered that unlike any other team, they only signed players who came from the Basque region of Spain. I was quite proud of this and the values this created.
Today we want everything now, only follow the winners, so plenty of young boys and girls will have their favourite team in England, but as a second team they'd follow a Barcelona or Real Madrid. Not Liam, he very much bought into Bilbao's culture and coming from Newcastle saw similarities between the two cities.
So, a quick check of the fixtures it turned out that Bilbao had a home game vs Levente on 3rd April. The great thing about travel now is the memories you can create on these special occasions, whether that be a significant birthday or anniversary. With no direct flights from Newcastle this meant connection via London, then the flight from Gatwick being early meant overnight stay. However, we're only 18 once and I found a great deal and able to upgrade into Club Europe on British Airways. Feeling quite proud of the deal and although a little tense in waiting for tickets to be released, these are 3 weeks before the game we were ready. With the flight being from Gatwick an early departure, we took the option to stay over the night before. All very smooth with a transfer between Heathrow and Gatwick all pre-booked.
Next day we left Gatwick Hilton which is connected to the terminal with only 5-minute walk, once passed security into the BA Lounge, now 18 and allowed to drink although 6am a glass of bubbly seemed right. Flight very quick arriving in Bilbao shortly after 9am.The local bus service quick, easy and efficient took us outside airport to city in 10 minutes.
With the city quite compact it's very easy to get to where we were staying, the 4* Mercure Hotel in Jardine's area. Central and easy to navigate. Bags dropped off straight out and ready to explore. We walked about taking in the buildings and architecture noticing how similar feel the city had to Newcastle, then this was almost rubber stamped when we found the 'San Mames' Bilbao's home stadium. In Newcastle St James' has been called the cathedral on the hill, San Mames is sometimes known as the church.
The stadium tour was good value, the guide acknowledged us speaking in Spanish for the group, then repeated in English. The guide explained his first ever game was vs Newcastle aged 6, he remembers the city very busy and singing, also Bilbao fans running on the pitch at the end to thank the people of Newcastle. This tour and subsequent purchases in club store took us through to mid-afternoon, this leaving time for a few drinks and a snack before that evening.
The city itself has a good vibe with the local bars, I was hoping we'd maybe sample a few Tapas restaurants, but this being Liam's birthday a steak was asked for. We found a steak house in Bilboa and i'm pretty sure Liam enjoyed the evening. I am also sure if Liam was with his mates, he'd probably have a different night, than being with his dad. But this trip all about one man and one team.
On match day the game wasn't until evening so a bit of time to kill. This isn't a problem as Bilbao is very much a growing and a modern city. We explored and really enjoyed the feel of the city, plenty of 'street' art to be seen, which only adds to the city's character, but when they have The Guggenheim on your doorstep you have to. Weather wasn't great so we were grateful. Many parks within the city with another highlight taking the Funicular to the top of the city where amazing views can be enjoyed.
Anyway, enough of the culture, my son is only interested in the game. Once we got to the San Mames another link to Newcastle and just for us the havens opened, monsoon like rain running down the street. Once in the ground Liam tried to buy a program which lead to a conversation with match day steward, the magazine was free, but they were curious why a lad from Newcastle was here. Explanation given, more of this steward later. Liam's favourite player was on the bench (much disappointment) due to being involved with the national team a few days earlier. The game kicked off and we had really good seats and only 7 from the front. Within 6 minutes Bilbao 1 up, the game took off like lightening and fast break after break, so no surprise 2 nil before 30 minutes and really should have been 4 or 5 at half time if truth be told. However if chances are not taken the other team gets a chance, so just before half time corner swings in Levente heads the ball into goal 2-1, but no wait as the goalkeeper claims foul, the referee already on it, VAR in action this from a country knowing how to use technology, no goal foul and half time 2-0 Bilbao.
Quick chat to locals and they seemed tense, second half kicks off, before you know it, penalty to Levente and now 2-1, game on and amazing atmosphere created in this 50,000 stadium seemed very nervous and quiet, after 60 minutes think the coach couldn't take it any longer and brings on Muniain to huge cheers, no more than the lad from Newcastle. Within minutes impact made, little jinx, swapping of feet and dancing through the Levente defence, but no just past the post. So, game fizzles out and 2-1 it looks, 88th minute corner to Levente and 2-2 urgh.......stadium killed and no coming back so mass exit, no change to England really. But I've always said stay till the end and thank players for effort. Kick off and board shows 5 minutes extra, 93rd minute and penalty to Bilbao won and scored by Muniain electricity again through stadium, still time for Levente player to be sent off, whistle 3-2.
The steward Liam was talking to was stopping people running onto pitch, Liam was at the front and after TV interview complete, steward mentioned to Muniain that Liam had come all the way from Newcastle, so over he walked perfect English said hello and picture taken. Liam speechless for a long time.
Happy Birthday son. Travel broadens the mind, but more importantly creates a lifetime of memories.