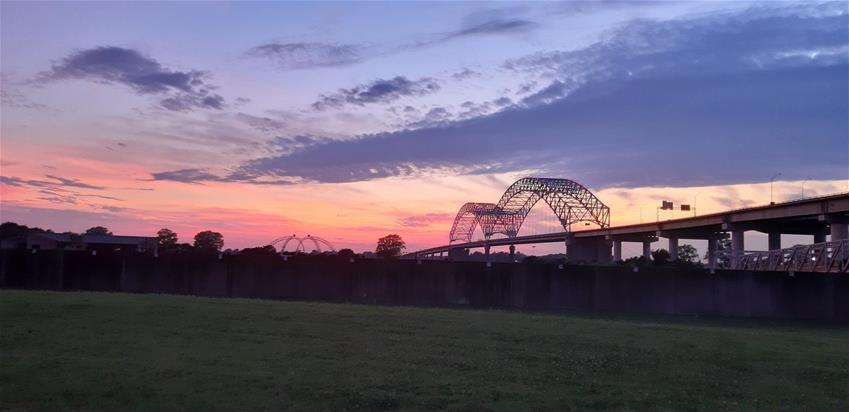 On to Memphis and what is feeling like a musical journey. The drive was just over 3 hours. You can break this up with stopping in Jackson (exit 80A on Interstate 40), Casey Jones Village, the Old Country Store for Southern Food or quick snack of fudge.
Arriving in Memphis the weather had turned and raining, but not to be put off went to explore and walked towards the Mississippi river, we passed The Mud Museum for all John Grisham fans, also during our time passed The Peabody hotel, missed the ducks though, just couldn't get our timing right. We came across an area called Outdoor World Sportsman's Paradise. You can't miss it, a huge Pyramid on the riverbank. This outdoor sports store catered for all your needs whether fishing or hunting, but in the middle a lift takes you to the top, you can book a table in the restaurant, or as we did check out the amazing views which overlooked the city.
Next morning took the trolley for $1 each to downtown, here you can find the Lorraine Motel and a tour of the National Civil Rights Museum. Got to say this was excellent, difficult subject and even now some stories very raw, example being the little 6-year-old girl taken to school with police escort, then in a class by herself, my son asking why the bus separated for different people. The museum tells the story very well from slavery coming off boats right through and leading up to Martin Luther King, freedom speeches and news footage from the clashes with Police and Army.
Before you know it, you're in the hotel room which is set up exactly how Martin Luther King had left it. You can see the balcony where he was when assassinated. All very powerful, you can then cross the street and follow the events of that day, see where his killer took that shot. After an interesting morning to say the least we had lunch in one of the many bars on Beale Street, lots of choice and I am sure this might have been the first time on this trip having proper southern chicken. If the history of this region interests you and I must admit it's difficult to avoid, another excellent museum in Memphis is Slave Haven Underground Railroad Museum, here again takes you through those times. Visitors can tour the tunnels used by runaway slaves who stopped at this plantation, one of the stations of the Underground Railroad.
After lunch we walked to the banks of the Mississippi, here we found a 90-minute cruise on a traditional cruiser along the Mississippi. The cruise was at a nice steady pace and very informative, guides on these trips make the difference. That night for our evening meal we headed to Huey's, just off Beale Street and claiming the Best Burger in Memphis. Not tasting them all I can't say, but the burgers, food and atmosphere with friendly staff can see why recommended.
Memphis day 2, Elvis! Having a car is useful and the trip to Graceland not that far from Memphis does add to your flexibility. When you arrive, Graceland is on the opposite side to where you check in and car park. They have little minibuses taking you from the main exhibitions across to Graceland, since you have time slots. We filled this time checking out Elvis' cars, Rolls Royce's, Cadillac's, Mercedes and Ferrari's to name a few. Along with his motor bikes, you can also check out exhibits showing his Army and movie careers. Each of these displays were very detailed. Elvis' army career although quite short (2 years from 1958), the exhibit was detailed showing his life in the army, equally with making over 31 movies between 1956 to 1969, again plenty to see and get an idea just how popular he was.
Then finally the 'Icons' which had everyone from Tina Turner, Elton John, Johnny Cash and Bruce Springsteen to name a few. In Graceland you can only view downstairs, but everything is still in the 70's as it was when Elvis passed. You are taken through living and dining rooms, downstairs bedroom where his parents stayed. On to the kitchen, his den and famous 'Jungle' room. The tour takes you outside where his pool was and eventually to the memorial where he and his parents are. All very good, I am not a great Elvis fan but appreciate his contribution and stature in music. Before we went, we had time to visit his 2 private planes. In today's celebrity culture, don't think many or anyone would match Elvis.
Next and last day before we went to Atlanta, had time to drop into Sun Studios, these studios being where Elvis made his 1st recording, but also interesting stories of Roy Orbison and Johnny Cash. The studios are still used and working today, recordings made during the night. The guide was excellent, told the stories of who recorded and what was recorded in these studios, Sam Phillips the owner even had a recording session with some prisoners, who at the time were still serving time. He was that impressed by their harmonies, he had them record in the studio with chains on their ankles. A drum kit from U2 left when recording with BB King was left behind and on display. The tour in total takes about 1 hour and very well done. Memphis if you like music, or Elvis fan you must add to your bucket list.