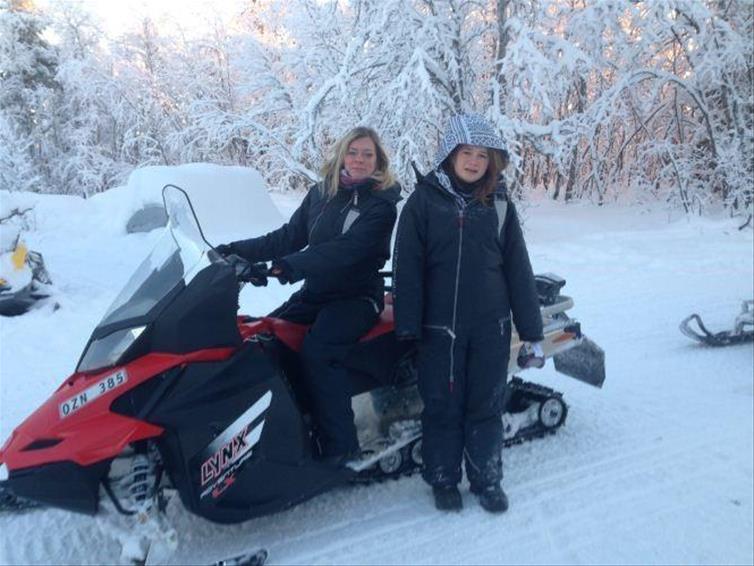 I was so excited when I learned I had won a trip for me and my daughter to Lapland, courtesy of Simply Sweden. But nothing could have prepared us for perhaps one of the best experiences of our lives.
It felt like we had been placed literally on top of the world. With outstretched arms, I felt I could almost touch the stars above me! The scenery is not like anywhere else I have experienced. The sun peeks above the horizon, creating a wonderful pink sky above pure white landscape. The area is flat, with snow covered forests and lakes. Everything felt pure and fresh. There was a stillness that filled the air, creating an unusual atmosphere.
Temperatures normally drop on average to -20 but during our visit it went as low as -40! Thank goodness for the warm snow suits and boots provided. The coldness hits you as soon as you go outside. Ice forms on every exposed bit of hair, icicles form inside your nostrils and the ice cold air captures at the back of your throat. Your body acclimatises to the coldness and it is soon forgotten (well almost!)
The highlight of our trip was the stay in the original IceHotel. It is like entering a huge igloo. The entrance is a long room with ice carvings on the walls, ice chandeliers hang from the ceilings and at the end of the room is a life size ice carving of a unicorn. Each suite has an individual theme. All have their wow factor. Seeing is truly believing! A trip to the IceHotel is not complete without a visit to the Ice bar, where you can try one of the vodkas, served up in a glass made of ice.
We checked in at the warm quarters of the IceHotel and were given a small room, where we could keep our luggage etc. At bedtime we changed into our thermals and warm pyjamas, put on our warm hat and gloves, collected our special thermal sleeping bags and retired to our ice room. Our beds were made of ice with a mattress covered with reindeer skin. Our room reached -5 through the night. I thought we would be freezing, but it was surprisingly warm. In the morning a girl woke us with a glass of hot berry juice.
Our first day was spent on a Husky sleigh ride. The Huskies were like a bunch of noisy teenagers, eager and excited to be on their way. We sat on the sleigh, whilst they raced through pretty forests and over iced lakes. I let out a few laughs and screams, it was so much fun. During our experience, our guide lit a fire in a small tepee, where we enjoyed delicious homemade soup.
Later that day, we embarked on our next adventure. A snowmobile trip to Wilderness Lodge. Our two hour night journey took us across the ice lakes and forests. I was brave enough to drive one myself. I was a little nervous to start with, but it didn't take long to master the skill and I was soon enjoying the whole experience. We had a sweet little lodge, with its own log burner and sauna. A hearty meal was serviced in the main lodge, cooked by the proprietors. It was a unique experience with a homestead feel. The journey on our snow mobiles the next morning was magical, made special by the appearance of a wild reindeer which ran across our path.
Our last evening was spent back at the IceHotel and this time we stayed in a lovely warm room, with under floor heating. Food during our stay was hearty and rustic, with ingredients used from the surrounding forests and waters. Reindeer and moose is also on the menu and must be tried. The IceHotel a la carte restaurant is expensive, but exquisite and worth every penny. Otherwise a 15 minute walk to the Old Homestead, is a less expensive alternative.
Overall, the trip was an amazing adventure and experience. With more time there, you can try ice fishing, ice driving or ice sculpting. Take a wildlife experience or try snow shoe walking, have a reindeer sleigh ride and Sami experience or even take a trip to the Aurora Sky Station!
One of the highlights of this trip is the chance of seeing the Aurora Borealis. We were not lucky enough to see the Northern lights. But perhaps it is a good enough excuse to go back again!