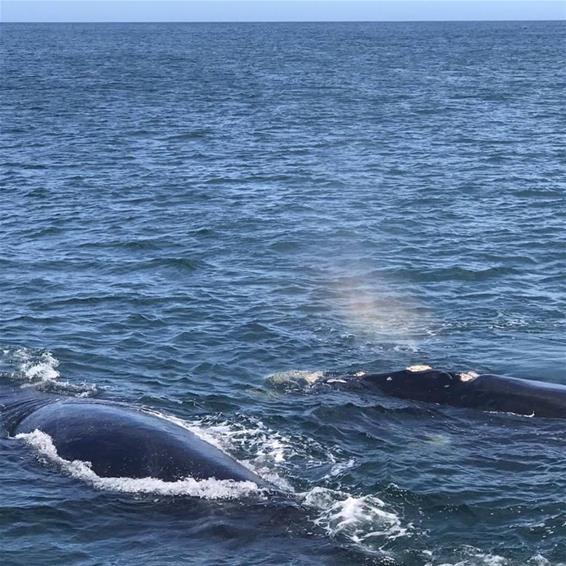 With our Winelands hangovers subsiding we set off on the next leg of our journey, back down towards the coast and the town of Hermanus. World famous for whale watching, and land-based whale watching at that, we were excited to see what it had to offer.
The drive itself was picturesque, just over an hour and via some beautiful mountain passes, we arrived at our guesthouse right on the harbour, the Auberge Burgundy. It was in a prime spot a stone's throw from the shore where the whales were due to come out and play, putting on a show for those watching on land. The room was absolutely huge but once more, we had designs on not spending too much time there at all. Indeed, almost straight away we headed out to explore the seafront and see what all the fuss was about.
To our surprise within mere seconds we had spotted our first whale, a Southern Right Whale splashing playfully less than 100 metres from where we stood. It was a breath-taking sight and was only a sign of things to come. During certain times of the year these whales flock in their thousands to this area "on holiday" to warmer waters, bringing whole families including younger whales on their vacation too. It has changed Hermanus undoubtedly for the better, with tourism booming during these periods, allowing a huge array of bars, restaurants and shops to open supported by the rise in footfall.
We found several delightful places to eat and a particular favourite, Char'd, which lured us in with some outstanding cocktails. Try the Espresso martini for a real pick me up! The most stunning however is Bientang's Cave, built as the name would suggest into a cave on the shore and with views of the sea you could only dream of. It is important to note that it is only open at lunchtime and can get extremely busy as you can imagine, but it is well worth persevering. Indeed, while we tucked into a light lunch the whales only a few yards away and clearly visible with the naked eye, put on a live cabaret performance, breaching and splashing with unending regularity. It was incredible and one of the true highlights of our whole trip.
Bewitched by these amazing creatures we got up nice and early the following day to head out on the water via a local charter company in an attempt to see them at even closer quarters. Southern Right Charters come highly recommended as one of the best locally and they did not let us down. The friendly guide gave us a vast amount of information as we sailed out on their comfortable yacht and their expert knowledge took us right to the heart of the whale's environment. We were able to witness sights that took our breath away. Huge Southern Right whales, often in twos and threes, playfully splashing and breaching yards from our boat, thankfully unnerved by our presence. It was a magical experience to witness such majestic creatures so close up, able to observe their graceful beauty in their own backyard.
Our two nights in Hermanus simply flew by, yet the memories will live with us forever. If you are visiting the area then it is simply a must do, bucket-list worthy experience. Yet onwards we must go, with the longer inland drive to Oudtshoorn next on the agenda.