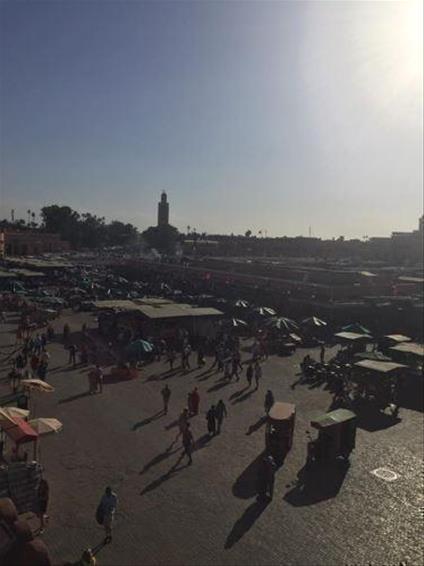 Marrakech is always somewhere that has fascinated and intimidated me in equal measure. I love the idea of exploring different cultures that put me out of my comfort zone, but a holiday should also allow some time to reset, relax and unwind. As much as I looked forward to exploring this historic city, I also doubted whether I would be able to find the time to relax in a place where the pace of life is unwaveringly hectic.
My expectations would be proven quite wrong, but arriving into the city did little to dilute them. Hustle and bustle of people milling around in all directions, on all forms of transport from motorbikes to donkeys, were prevalent everywhere. As we arrived at our riad on the outskirts of the ancient medina in the old town our hearts were racing. However, to our delight, the riad was a haven of tranquility in a world of unrelenting chaos.
Riad 58 Blu is a beautiful property with a stunning courtyard, where nothing but the sound of birds tweeting echoes in the air. We had a fantastic, spacious suite in which to bed down and having a base such as this allowed us to take stock and unwind from whatever exploration had taken place that day. The roof terrace too was a perfect place to start the day with a traditional Moroccan breakfast, while the staff were what gave the riad a home away from home feel. They literally could not do enough for you and gave excellent local advice and recommendations.
Marrakech itself is split primarily into two areas, the old town, where the medina is located, and the new town. As you would expect they offer exactly what their names suggest, with the new town boasting more modern areas, shops, restaurants and boutiques, while the old town has the souks and markets with a far more traditional feel. They are both very accessible to each other so basing yourself in either would be fine, but I enjoyed the daily walk into the souks where you really feel a part of the ancestral Morocco.
The highlight of the old town and medina for me is certainly the main square, the Djemaa El Fna, or square of the dead owing to a rather brutal history of executions there. With the famous landmark of the Koutoubia Mosque towering over the square on one side, it really feels like stepping back in time. During the day a series of market stalls and entertainers including snake charmers and Arabic storytellers create a crescendo of noise that billows through the warm air. While at night, the place seems to have a life of its own, gathering crowds amongst musicians and entertainers, battling for their share of the limelight amongst the catcalls of yet more traders. The restaurants dotted around the square all tend to have balconies and terraces, so having dinner or a Moroccan mint tea while people watching can make hours seem like minutes.
While this can be quite an intimidating atmosphere to some for the most part everyone is polite and respectful. They may hawk their wares at you quite vociferously, but a polite decline usually results in a thank you and they move on. I will admit, the semi-constant refusal to engage in this activity can get quite tiring, but it is at these points you can beat a hasty retreat to a café or back to your riad for some stolen peace.
Another option to escape the furore of the city is to visit some of the countryside nearby. We took a day out with a very reasonably priced local guide to escape to the Atlas mountains where we made our way up to a beautiful waterfall, ably assisted by one of the local Berber guides. The walk was a little more energetic than I had initially thought, so make sure you wear some decent trainers for this one, but it is certainly worth the visit. Again, it feels like a world away from the commotion of the medina as the fresh water from the melted snow-caps gushes refreshingly down into the river.
In four days alone we managed to squeeze so much into our trip to Marrakech, which seems apt given how much this city seems to want to cram in on a daily basis, never stopping for breath. Visiting the souks, the Atlas mountains, riding camels, a desert oasis, the Jardins Majorelle - curated by Yves Saint-Laurent, and so much more. Yet there are still things we didn't even get the chance to consider. Marrakech doesn't even just have to be a city break in the style we opted for. With a number of luxury hotels located on the outskirts of the city, you could easily spend your time relaxing there and soaking up the almost year round sunshine, or just dipping into the city when you wish.
I was hugely impressed with what Marrakech had to offer, with such variations to suit every holiday style, need and budget. You may get lost there, but I don't think you'll mind...