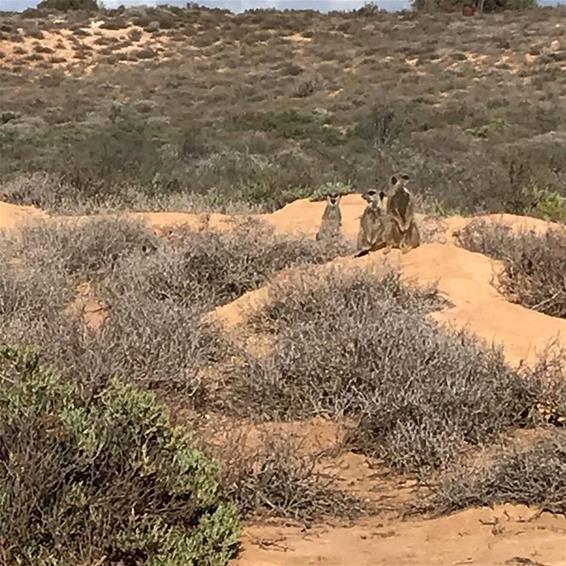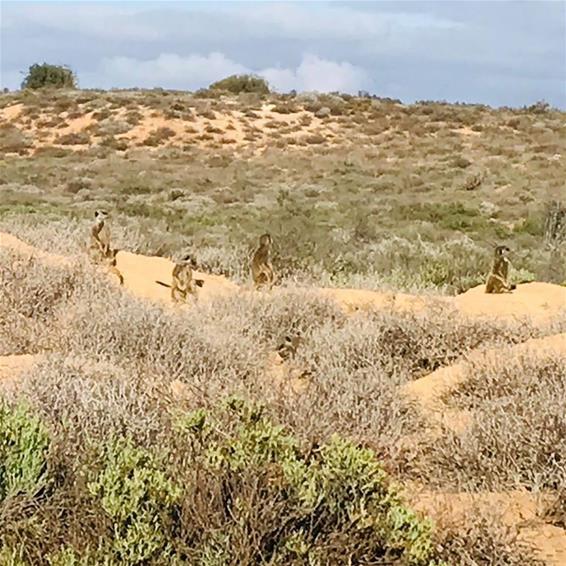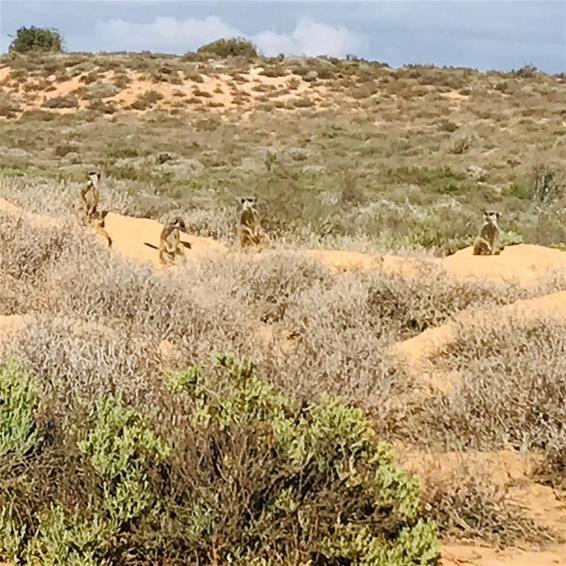 Our drive from Hermanus to Oudtshoorn was the longest of the trip so far at around four hours, but once more it was a drive filled with stunning scenery, particularly crossing a number of mountain ranges as we headed further inland.
Oudtshoorn itself is particularly famous for ostriches and these are visible from the outskirts of the town and throughout, but I would be lying if I said that these were the main reason for our visit, as we had primarily decided on this destination due to the chance to meet one of my favourite animals - the meerkat!
The town itself is nothing to really write home about, although like many in South Africa there were still some beautiful views to be had of the mountains surrounding it. While our hotel, the Hlangana Lodge, was an oasis of calm and beauty with stunning gardens. It felt like an Eden at the heart of a more urban location.
However, it was for the meerkats that we came and it was fully worth the trip, not to mention the exceptionally early rise, where we had to meet our guide, the owner of Meerkat Adventures, at 5.15am. It was still dark while we parked up at the nearby farmland and the coffee and tea was handed out to waken our senses as the sun began to rise, washing the horizon in a beautiful array of orange and purple. The expert knowledge of the guides meant that they knew exactly where the meerkats had gone to bed in their sprawling burrow the night before, so we were able to plant our deck chairs mere yards away from where they were expected to rise. Indeed, his extensive studying of this particular family had allowed this group of notoriously shy animals to become habitualised to human presence, so they would not run for the hills on seeing our morning-weary faces.
A tense wait ensued as we eagerly waited for our first glimpse of these intensely cute creatures before Jo eventually spotted the first one rise to keep lookout and to check whether it was safe for the rest of them to come out. I have to admit the noise I made upon seeing it was not my most masculine of moments but I make no apologies as these really are some of the most gorgeous of animals, so hypnotic in their behaviour. Sure enough as the guide had said, another one followed, then another, then another, until there were nine little meerkats popping their heads above the parapet and surveying their kingdom. To say it was a highlight would do it an injustice for me as it was one of the most incredible things I have ever been privy to, and worth the trip to Oudtshoorn for alone.
It is certainly an experience I have etched on my mind and one I would always recommend to all of my customers who venture even close to this area; such was the powerful impact it had on me. It is something that needs pre-booking but add it to your bucket-list now, it will not be something you would ever regret I promise you that.
Our inland journey was spellbinding but now we had our eyes on the coast, and the Indian Ocean at that, where we set our GPS for Plettenberg Bay and hit the road once more.