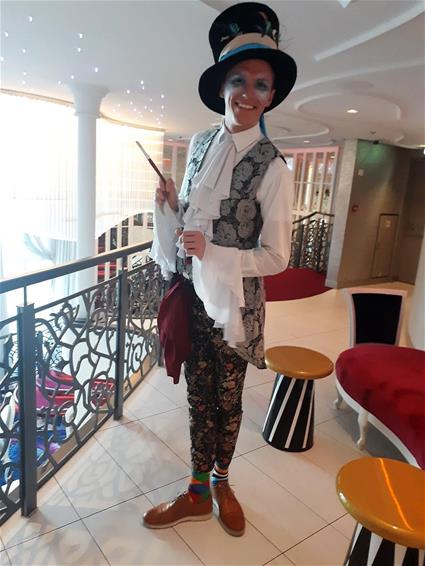 In June this year, I was lucky enough to be invited by Royal Caribbean to learn and experience everything about their newest and largest cruise ship – Symphony of the Seas.
WOW! That was the first word that came out of my mouth after taking in all 18 decks of Symphony – she is simply massive, spanning 1,118 feet long and 215 feet wide. I knew then and there this was going to be an impressive ship!
After a quick and friendly check-in, we stepped onboard the biggest cruise ship in the world. To be honest I just stood and did a 360 turn numerous times just to take in everything the Royal Promenade had going on. We headed up to the Windjammer for a quick bite of lunch with so much fresh, and tasty food on offer; this became a quick favourite for breakfast and lunch throughout the cruise.
Next it was time to find our Stateroom – you would think that with the capacity to hold 6,680 passengers in 2,759 Staterooms it would take a while to find where you'll be staying, but with the interactive ship's directory on every level, finding your stateroom is a breeze. When I entered my stateroom, I was surprised at how spacious and modern it was, and we were lucky enough to be given balcony staterooms as well.
After a quick shower and change it was time for the sail away cocktail party in Boleros followed by dinner in the main dining room and to end the evening we were treated to the breath-taking show 'Hiro' in the Aqua theatre. I won't spoil it by explaining what the show is about, but it's safe to say you won't have seen anything like this on a cruise ship.
After a great night's sleep and a delicious breakfast, we explored Symphony at our own pace. Made up of seven different neighbourhoods, there really is a space to suit every taste. From the Royal Promenade bustling with shops, the bionic bar (that's a robot that actually makes the best cocktails) and even a Starbucks at sea to leafy Central Park, which is actually planted with over 12,000 plants and trees, to the Boardwalk with its full-size carousel. If you're feeling brave try out the Ultimate Abyss – the world's tallest slide at sea where you drop a heart pumping 100 feet in a matter of seconds.
We worked up an appetite after all our exploring, so we stopped off at El Loco Fresh for some seriously good Mexican food before lounging around the pool under the warm Mediterranean sun for a little rest before experiencing some of the activities onboard Symphony. There are so many different activities available - you can learn to surf onboard thanks to the two Flowriders, or for adrenaline junkies you can even zip line across Central Park over nine stories high, or if rest and relaxation is more your thing, then a visit to the Vitality spa is a must.
Our evening entertainment came in the form of the unique show on ice – 1977, some of the skaters onboard could give Torvill and Dean a run for their money! After dinner it was down to the Royal Promenade again to dance the night away thanks to the 80's street party, where the all the top hits were in full flow (along with the all-inclusive drinks!)
Day three was spent learning more about the value Oasis Class ships in Royal Caribbean's fleet deliver, and to be honest I was shocked at how much was actually included especially if you're travelling with kids. If you're used to going on a 'normal' land-based holiday think about how much extra you spend when you're on holiday for things like waterparks, evening entertainment and other kids' activities – you'll be pleasantly surprised that the majority is included with your cruise fare.
After another outstanding meal in the main dining room it was off to see the Broadway hit 'Hairspray' – and this was a full-blown production, not some pared-down offering. By the end of the show everyone was singing away to the songs.
Day four came too soon as it was time to depart Symphony of the Seas for our flights back home. I grabbed myself a coffee from the onboard Starbucks and sat for a few minutes in the middle of the Royal Promenade thinking wow…. Just wow!