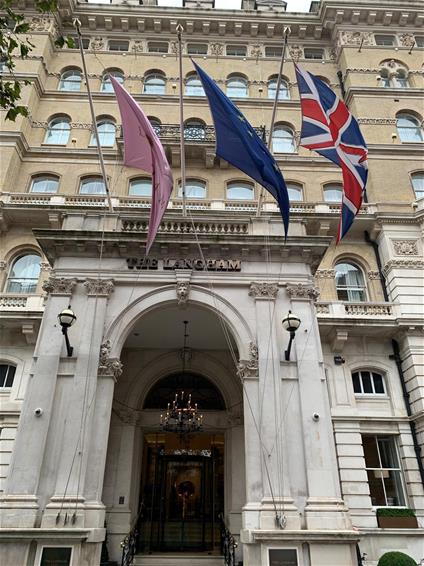 What a stunning building from the outside, it's very grand as soon as you approach the entrance.
I was greeted before I'd even got to the rotating doors by a very smartly dressed gentleman who took my suitcase for me and this then made its way to my room ready for when I arrived there. I went to the main reception area and was then advised that as I had Club Level access that I could go to the Club Lounge on the 3rd floor to check in there. I was taken up to this area by the Guest Manager Selina who also gave me a very brief tour of the restaurants and bars on the ground level before heading up.
I was then greeted in the Club Lounge by the ever so helpful Ani who arranged my check in and showed me the private lounge area and went through the perks of Club Level and things that I could do in there (mainly lots of eating and drinking!) I was shown to my room by Cindy who was incredible and really helped make my stay, she was just so attentive and friendly. Cindy had got a map of London for me, marked where the Langham was, gave me a theatre guide as well and took a real interest in the things that I had planned for my few days.
The room itself was incredible, this was a Deluxe room so I can only imagine what the other rooms are like! The hotel are very much for supporting local businesses as in my room were 2 fresh apples from Brogdale Farm in Kent, I loved to see this! After 10 minutes of being in my room I was greeted with a phone call to make sure that I had settled and if I needed anything then to let them know!
All of the staff that I met were amazing and friendly it didn't feel forced or just part of their job, they new my name and showed a real interest in me. Nothing was too much trouble and the service provided was faultless.
The Club Level is worth upgrading to or this does come as part of some room packages automatically! The service is 5* in the Club Lounge, it is either table service or you are free to help yourself to food or drinks. It is a very relaxed and quiet area, it is open until 10pm and I did quite a lot of my work from here whilst sipping on a soya latte! In this area breakfast was served, there were samples of the afternoon tea between 2:30 – 5pm and then between 5:30 – 8pm canapes were served. The food was just stunning, there was a huge selection with the breakfast, there was a menu for fresh foods or there were enough selections laid out for you to choose.
With the sample of afternoon tea, it was like having an actual afternoon tea, it was a scrummy selection of mini cakes, you could actually request some finger sandwiches separately which I did and didn't regret it (my waist line did though!) The canapes in the evening were more like a small selection buffet of yummy foods, they had a tasty soup and a mouthwatering mushroom quiche, along with freshly made humous and a meat and cheese selection, whats not to enjoy! I can imagine if you want to go to London but not fussed on the sightseeing side of it then you could quite happily stay at the Langham and not need to leave as everything you need is actually there under the one roof.
I did experience the swimming pool, it is where the old vaults used to be (an old bank), it is amazing in there, could have spent all day there and there is a steam room actually in the men's changing rooms!
The pictures are a good example of what I ate and they don't do the food enough justice really, the food is 1st class! I was truly spoilt rotten in the club lounge. I love my afternoon teas and never had one on this scale/level before, I didn't want to come home! You don't need to stay there to experience the afternoon tea though as you can book in just for this if you are ever in London or want to give this as a gift to someone.
Had a cheeky mojito, glass of champagne and G&T whilst in there as well! The biggest surprise in my eyes was how much of a family hotel it is, kids happily playing in the swimming pool and children also allowed in the club lounge. The kids were treated with as much respect by the staff as the parents and the staff new the kids on a first name basis so a very personal service for the whole family!
Even though the hotel is huge, once inside you forget how big it is, it is very quiet and relaxing.
I have never experienced service like I have at the Langham, I wish it went higher than 5* as they deserve more, needless to say, I shall return!