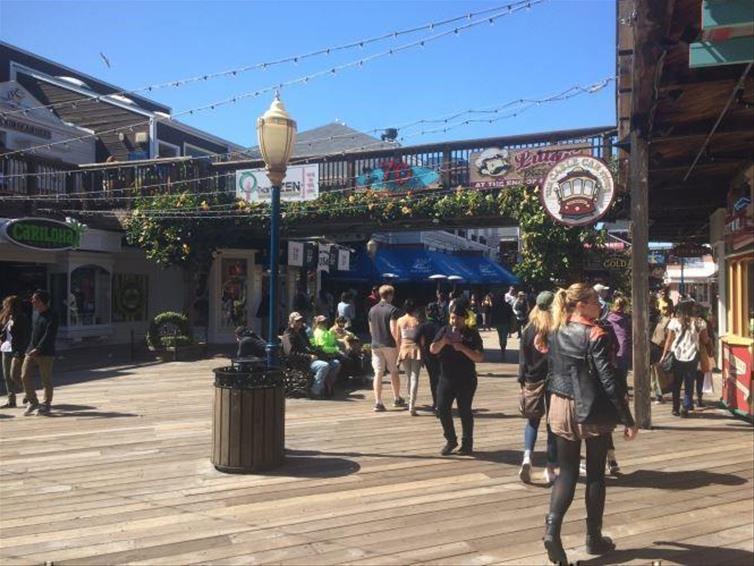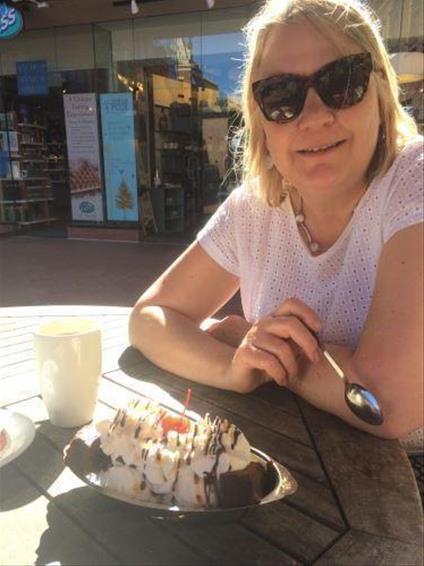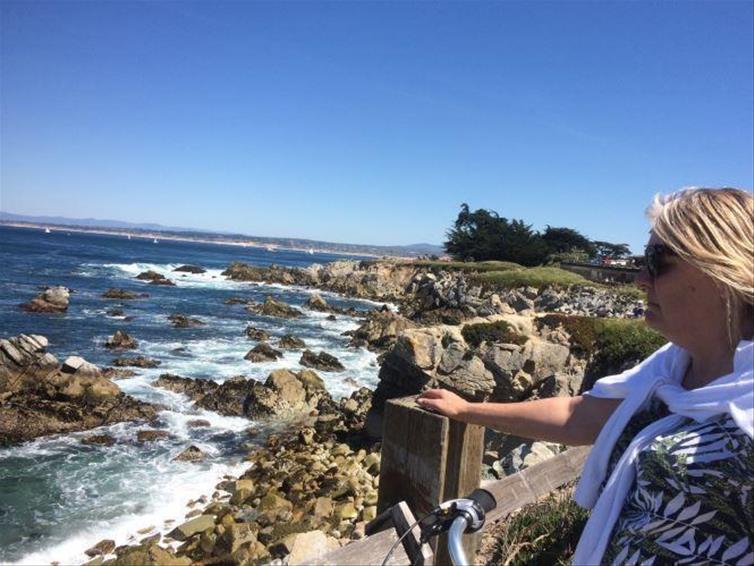 This year I was lucky to be able to visit my daughter in Santa Cruz, North California. This town is very laid back and has a lovely 1950's vibe. Soon it will be easy to fly direct from Manchester to San Francisco by Summer 2017.
On my first day I had a walk around Santa Cruz, walked along the beach and watched the surfers by the pier. The pier is original and is was built in 1914 and is the longest pier in Western California. I visited the original boardwalk and tried out some of the original wooden rollercoasters. Santa Cruz also has a quiet beach, Natural bridges with rock formations that reminded me of Portugal's Algarve a good spot for a quiet picnic.
The architecture in this part of California is typically Victorian and the houses have the nickname "painted ladies". It makes for a very quant colourful looking street.
On day two I travelled into San Francisco over the Oakland Bay Bridge into the financial district. An amazing view of the city skyscrapers. In the distance I could see the Golden Gate Bridge and the famous but gloomy Alcatraz. I was looking forward to our trip over to the prison later that day.
I started off my tour of San Francisco at the famous Fisherman's Wharf and Pier 39. The whole view is dominated by the fabulous Golden Gate Bridge, glowing in the sunlight. After walking around and marvelling at the cable cars, and how they managed to go up such steep hills, it was time for an ice cream.
At Ghirardelli we had ice cream sundaes at the famous chocolate factory. From there we sat out on the steps looking across the bay.
Now it was time to make our way to the ferry to take the ride over to Alcatraz. As we got closer the prison loomed out of the sea, very imposing and gave me quite a chill. Once on the island a guide explained that it was now a national park. Then we walked up the hill to the main prison building. Once inside you can listen on headphones to real ex-prisoners talking about their life on each wing. I was lucky to see the cells were Al Capone was kept in total darkness – I stood inside for only a few seconds for a photo – that was enough!
In the bookshop I was lucky to meet an ex prisoner – William Baker, one of the last prisoners to be on Alcatraz and now back on the island signing his book.
Then it was time to take a walk up to the city of San Francisco and look at the fabulous shops and buildings, such as Grace Cathedral.
Later in the week we travelled down the coast to Capitola, which has fabulous views of Monterey Bay and the Pacific Ocean. Once in Monterey we hired bikes and cycled along the coastal path.
What I loved best about California was the very friendly people, great food, with lots of home grown fruit and vegetables, and so much to see and do,